From rescuing ancient Egyptian temples to the emergence of Black Power in 1966.
Click here for additional new Prepub Alert columns
Achorn, Ed. The Lincoln Miracle: Inside the Republican Convention That Changed History. Atlantic Monthly. Feb. 2023. 512p. ISBN 9780802160621. $28. HISTORY
A Pulitzer Prize finalist for Commentary, Achorn follows up the Economist and Amazon best-booked Every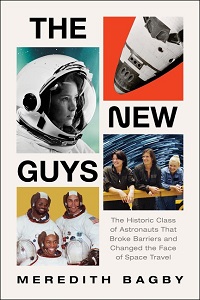 Drop of Blood: The Momentous Second Inauguration of Abraham Lincoln with a study of how Lincoln actually won the nomination for the presidency in May 1960. Tough going, as Sen. William Seward looked to have a lock on the nomination, and Lincoln had just lost his Senate bid against incumbent Stephen Douglas.
Bagby, Meredith. The New Guys: The Historic Class of Astronauts That Broke Barriers and Changed the Face of Space Travel. Morrow. Feb. 2023. 320p. ISBN 9780063141971. $29.99. CD. HISTORY
In 1978, NASA decided to look beyond white male fighter pilots when hiring its first class of civilian astronauts for the new Space Shuttle program. The class included NASA's first female, Black, and Asian American astronauts, a Jewish and a gay astronaut, and NASA's first mother to set sights on space. Bagby, a former political reporter for CNN who now works as a TV/film producer, tells their story. With a 75,000-copy first printing.
Kurlansky, Mark. The Core of an Onion: Peeling the Rarest Common Food. Bloomsbury. Feb. 2023. 256p. ISBN 9781635575934. $27. HISTORY
The New York Times best-selling Kurlansky, whose honors have ranged from the James Beard Award to the Dayton Literary Peace Prize, does another of his famous one-subject drill downs (think Salt and Cod) as he sorts through the 20 varieties of the onion, the world's only sulfuric acid–producing plant. The cultural references date back to ancient Egypt; as Julia Child proclaimed, "It is hard to imagine a civilization without onions." With a 60,000-copy first printing.
Matejka, Adrian & Youssef Daoudi. Last On His Feet: Jack Johnson and the Battle of the Century. Liveright: Norton. Feb. 2023. 336p. ISBN 9781631495588. $29.99. BIOGRAPHY
In graphic format, Pulitzer Prize finalist poet Matejka and celebrated illustrator Daoudi revisit Reno, NV, on July 4, 1910, when Jack Johnson, the world's first Black heavyweight champion, squared off against former heavyweight champion Jim Jeffries. Jeffries, dubbed "the Great White Hope," was expected to wallop the man who had challenge the sport's racial hierarchy. But Johnson walloped him, and race riots resulted. Interspersed with the fighting are scenes of Johnson's rise as the self-educated son of formerly enslaved parents.
Olson, Lynne. Empress of the Nile: The Daredevil Archaeologist Who Saved Egypt's Ancient Temples from Destruction. Random. Feb. 2023. 448p. ISBN 9780525509479. $32. HISTORY
With the construction of the Aswan High Dam in the 1960s, a dozen ancient Egyptian temples were set to be inundated. They were saved by the efforts of fierce French archaeologist Christiane Desroches-Noblecourt, who battled Egyptian President Gamal Abdel Nasser and French President Charles de Gaulle as she persuaded 50 countries worldwide to contribute the funds needed for the temples' rescue. From the New York Times best-selling author of Last Hope Island.
Prud'homme, Alex. Dinner with the President: Food, Politics, and a History of Breaking Bread at the White House. Knopf. Feb. 2023. 528p. ISBN 9781524732219. $35. HISTORY/COOKING
George Washington's meager meals at Valley Forge—and, later, the escape of his enslaved chef, Hercules Posey, to freedom. Teddy Roosevelt's supper with Booker T. Washington and Jimmy Carter's Camp David détente between Israel and Egypt. Plus efforts by First Ladies from Dolley Madison to Michelle Obama to link food to politics and policy. There's more to U.S. presidential dining than what meets the tongue, as evidenced by this study from Prud'homme, coauthor of Julia Child's memoir, My Life in France.
Ramirez, Janina. Femina: A New History of the Middle Ages, Through the Women Written Out of It. Hanover Square: Harlequin. Feb. 2023. 320p. ISBN 9781335498526. $29.99. CD. HISTORY
Europe's medieval era is generally regarded as a repressive time for women, but Oxford lecturer and BBC broadcaster Ramirez says it isn't necessarily so. Claiming that much of what women accomplished then has been struck from the official record, she sorted through artifacts, writings, and personal possessions to reveal that many women had richer and more influential lives than was once thought. With a 50,000-copy first printing.
Whitaker, Mark. Saying It Loud: 1966—The Year Black Power Challenged the Civil Rights Movement. S. & S. Feb. 2023. 400p. ISBN 9781982114121. $28.99. HISTORY
In 1966, a pivotal year for the Civil Rights movement, the cry Black Power emerged to challenge the nonviolent approach of Martin Luther King Jr. and John Lewis. Whitaker, a former managing editor of CNN Worldwide, takes readers through key events, from Stokely Carmichael's ouster of Lewis as chair of the Student Nonviolent Coordinating Committee (SNCC) to the founding of the Black Panther Party for Self-Defense to the white backlash that made Ronald Reagan California's governor. Also here: Black Power's ongoing significance today.
Wright, Jennifer. Madame Restell: The Life, Death, and Resurrection of Old New York's Most Fabulous, Fearless, and Infamous Abortionist. Hachette. Feb. 2023. 320p. ISBN 9780306826795. $30. Downloadable. HISTORY
In Gilded Age New York, Madame Restell was famous not just for her fashion flair and penchant for public arguments but for providing much-needed family medical care. In particular, she helped unmarried women procure birth control and, notoriously, she performed abortions. From pop history author Wright (It Ended Badly), previously the political editor-at-large for Harper's Bazaar; with a 20,000-copy first printing.