Click here for additional new Prepub Alert columns
Auci, Stefania. The Triumph of the Lions. HarperVia. Mar. 2024. 304p. tr. from Italian by Katherine Gregor. ISBN 9780062931702. pap. $18.99. HISTORICAL
The Florios are known as the Lions of Sicily, with ruthlessly ambitious Vincenzo having built a vast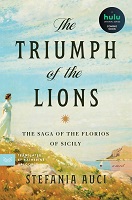 empire of palaces and factories from scratch. But he gave up his true love in the process, and son Ignazziddu is a gentle soul who wants nothing to do with his family's fame and fortune. Look for a forthcoming Hulu series.
Beaird, Rowan. The Divorcées. Flatiron: Macmillan. Mar. 2024. 272p. ISBN 9781250896582. $28.99. Downloadable. HISTORICAL
Having married in the 1950s to escape loneliness, Lois Saunders now wants to escape her empty marriage. So she heads to a divorce ranch in Reno, NV, where she enjoys a brisk frivolity she never knew in her heartlands suburb and meets a woman who changes her life. Beaird debuts with a 75,000-copy first printing.
Conley, Garrard. All the World Beside. Riverhead. Mar. 2024. 352p. ISBN 9780525537335. $28. Downloadable. HISTORICAL
In 1700s Puritan New England, stern, pious Rev. Nathaniel Whitfield dominates his congregation and attracts followers from afar. One such congregant is physician Arthur Lyman, and the growing passion between the two men threatens their earthly existence and their relationship with their God. From the author of the New York Times best-selling memoir Boy Erased.
Labuskes, Brianna. The Lost Book of Bonn. Morrow. Mar. 2024. 384p. ISBN 9780063259287. pap. $18.99. HISTORICAL
Sent to post–World War II Germany by the Library of Congress to help retrieve and catalog books looted by German forces, librarian Emmy Clarke finds a touching handwritten dedication, "To Annelise, my brave Edelweiss Pirate," in a collection of Rilke's poetry. She's determined to find out more about this story. Following the best-selling The Librarian of Burned Books; with a 150,000-copy paperback first printing.
Michaels, Anne. Held. Knopf. Jan. 2024. 240p. ISBN 9780593536865. $27. Downloadable. HISTORICAL
Badly injured during World War I and nearly lost under a blanket of falling snow, John returns to North Yorkshire, Canada, and tries to get on with his life. But his trauma affects the following generations. From the internationally best-selling Michaels, whose honors include the Orange and Guardian Fiction prizes.
Ryan, Jennifer. The Underground Library. Ballantine. Mar. 2024. 368p. ISBN 9780593500385. $28.99. Downloadable. HISTORICAL
The Blitz may have descended upon Britain, but deputy librarian Juliet Lansdown is determined to revive the ailing Bethnal Green Library as a source of solace for the community. She's helped by Jewish refugee Sofie and university student Katie, whose boyfriend was killed in the war. Then the bombs hit close to home. From the author of the beloved The Chilbury Ladies' Choir.
Click here for additional new Prepub Alert columns