The next thrillers from authors with track records.
Click here for additional new Prepub Alert columns
Abrams, Stacey writing as Selena Montgomery. Rules of Engagement. Berkley. Sept. 2022. 336p. ISBN 9780593439395. $26. lrg. prnt. CD. ROMANTIC SUSPENSE
After two New York Times best sellers, masterly politician/activist Abrams continues flourishing her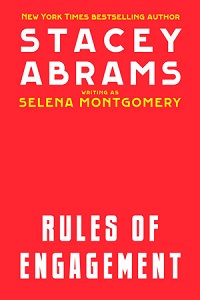 writing skills with this story of Dr. Raleigh Foster, an intelligence operative asked to infiltrate the terrorist group Scimitar, which has stolen dangerous environmental technology. Handsome new partner Adam Grayson, anxious that he may have caused a friend's death in another operation countering Scimitar, sets her sparkling.
Hamdy, Adam. The Other Side of Night. Atria. Sept. 2022. 304p. ISBN 9781982196189. $27. THRILLER
In this new work from Sunday Times best-selling novelist/screenwriter Hamdy, cofounder of the popular UK literary festival Capital Crime, police officer Harriet Kealty is struggling to recoup professionally from a bad call when she finds an inscription in a secondhand book leading her to David Asha, apparently a suicide after his wife's death. But would he really leave young son Elliot behind? And what does this case have to do with Harri's old flame Ben Elmys, a family friend to the Ashas and surrogate father to Elliot? With a 75,000-copy first printing.
MacNeal, Susan Elia. Mother Daughter Traitor Spy. Bantam. Sept. 2022. 352p. ISBN 9780593156957. $28. Downloadable. THRILLER/ESPIONAGE
Author of the Barry Award–winning, New York Times best-selling "Maggie Hope" series, MacNeal offers a stand-alone about a mother and daughter who move to Los Angeles in June 1940 to start life afresh. Daughter Veronica quickly realizes that her new boss is a vitriolic antisemite helping to recruit for the Nazi Party in the United States, but the FBI dismisses her claims as baseless. Thus do Veronica and her mother, Violet, end up going underground to assist Ari Lewis, the city's anti-Nazi spymaster.
Raybourn, Deanna. Killers of a Certain Age. Berkley. Sept. 2022. 368p. ISBN 9780593200681. $27. Downloadable. THRILLER/ESPIONAGE
Having long worked for an exclusive network of assassins called the Museum, Billie, Mary Alice, Helen, and Natalie are hitting 60 and being sent to pasture with an all-expenses-paid vacation, their well-honed people skills no longer needed in an age of technology. It's soon evident that high-ups at the Museum have marked them for assassination, and they must figure out how to survive. From the New York Times best-selling ("Lady Julia Grey series"), Edgar Award–nominated ("Veronica Speedwell Mysteries") Raybourn.
St. John, Katherine. The Vicious Circle. Morrow. Sept. 2022. 320p. ISBN 9780063224056. $27.99. THRILLER
After triumphing with The Lion's Den and The Siren, St. John aims to prove that three's the charm with a story set at a mysterious wellness center called the Mandala, housed at a villa deep in Mexico's jungles. When its charismatic leader dies, he leaves his entire estate to estranged niece Sveta, who confusedly travels to what's billed as a flowering paradise and instead finds a sinister conclave of numbed individuals devoted to dangerous beliefs. With a 75,000-copy first printing.
Stephenson, Simon. Sometimes People Die. Hanover Square: Harlequin. Sept. 2022. 320p. ISBN 9781335429254. $26.99. THRILLER
Physician–turned–screenwriter Stephenson, who drew on his current career in his recent, nicely received Set My Heart to Five, returns to medicine in this story of a young British doctor working at a hard-pressed east London hospital after returning from a suspension for stealing opioids. When his patients start dying, he suspects murder. With a 75,000-copy first printing; film interest.
Tudor, C.J. A Sliver of Darkness: Stories. Ballantine. Sept. 2022. 288p. ISBN 9780593500163. $27. Downloadable. THRILLER/STORIES
After a string of hits ranging from The Chalk Man, winner of ITW and Strand debut novel honors, to the NYPL best-booked The Burning Girls, Tudor offers several slivers of corrosive mayhem in a debut story collection. A deadly case of mistaken identity, a hatbox hiding something decidedly unpleasant, and a chilly killer falling for an odd girl he meets at a service station—these are some of the scenarios that should hold readers' attention.