Proud boys, privacy, pandemic, and more.
Click here for additional new Prepub Alert columns
Campbell, Andy. We Are Proud Boys: How a Right-Wing Street Gang Ushered in a New Era of American Extremism. Hachette. Oct. 2022. 336p. ISBN 9780306827464. $29. Downloadable. POLITICS
Having long covered extremism in the United Stated, HuffPost senior editor and reporter Campbell draws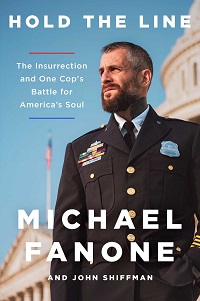 on new reporting to track the rise of the Proud Boys, examining their role within the Republican Party and arguing that the goal of this virulent Far Right group is to legitimize political violence. With a 25,000-copy first printing.
Citron, Danielle Keats. The Fight for Privacy: Protecting Dignity, Identity, and Love in the Digital Age. Norton. Oct. 2022. 320p. ISBN 9780393882315. $30. PRIVACY
A MacArthur Fellow who serves as the vice president of the Cyber Civil Rights Initiative, Citron interviewed activists, lawmakers, and victims worldwide to deliver some bad news: reeling under the impact of everything from nonconsensual pornography to selling our data for profit, privacy as we understand it has largely vanished, with current laws unable to provide sufficient defense. At least she has recommendations for going forward.
Draper, Robert. Weapons of Mass Delusion: How the Republican Party Lost Its Mind. Penguin Pr. Oct. 2022. 352p. ISBN 9780593300145. $28. POLITICS
Author of the LJ-starred To Start a War, Draper traveled nationwide from January 6 to the 2022 midterm runups to show that the crucial and profoundly disturbing story of politics today is not Donald Trump's presidency but what happened in its aftermath, as many Republicans cling to big-steal extremism and follow the lead of a new generation of politicians like Marjorie Taylor Greene and Matt Gaetz.
Dudley, Renee & Daniel Golden. The Ransomware Hunting Team: A Band of Misfits' Improbable Crusade To Save the World from Cybercrime. Farrar. Oct. 2022. 352p. ISBN 9780374603304. $30. CYBERCRIME
ProPublica reporters Dudley and Golden, a Pulitzer Prize finalist and winner, respectively, visit a bunch of ordinary folks with extraordinary techie skills: they challenge hackers and criminal gangs worldwide who lock up computer systems and then seek to extort money from businesses, schools, hospitals, government agencies, and others. With a 200,000-copy first printing.
Fanone, Michael & John Shiffman. Hold the Line: The Insurrection and One Cop's Battle for America's Soul. Atria. Oct. 2022. 256p. ISBN 9781668007198. $28. MEMOIR
Twenty-year police veteran Fanone self-deployed to the Capitol on January 6, 2021, and urged fellows officers to hold firm against the insurrectionists. Then he was dragged into the mob, tased to the point of heart attack, and beaten with a Blue Lives matter flag by people shouting for his death. Here, the former Trump supporter chronicles that day while calling for new views on race, politics, and policing and crediting his closest friend—an informant who is a Black, transgender, HIV-positive woman—for helping him rethink his attitudes.
Foroohar, Rana. Homecoming: The Path to Prosperity in a Post-Global World. Crown. Oct. 2022. 368p. ISBN 9780593240533. $28.99. ECONOMICS
Arguing that globalization has created economic inequality and distrust, Financial Times/CNN regular Foroohar points to the pandemic's supply-chain disruptions and the rise of everything from decentralized manufacturing and digital currencies when she argues that the globalized economy will soon be overshadowed by rising local, regional, and home-grown businesses.
Giridharadas, Anand. The Persuaders: At the Front Lines of the Fight for Hearts, Minds, and Democracy. Knopf. Oct. 2022. 352p. ISBN 9780593318997. $30. POLITICS
Author of the multi-best-booked Winner Take All, former New York Times reporter Giridharadas laments the refusal to shake off ironclad convictions and be persuaded to accept other viewpoints—or to seek to persuade others. To show how it's done, he talks to a cofounder of Black Lives Matter, white parents at a seminar on raising adopted children of color, activists supporting immigrants' rights, and a cult member–turned–QAnon deprogrammer.
Haberman, Maggie. Confidence Man: The Making of Donald Trump and the Breaking of America. Penguin Pr. 480p. ISBN 9780593297346. $30. lrg. prnt. POLITICS
Having covered Donald Trump for many years and won a Pulitzer Prize for reporting on investigations into his and his advisers' connections to Russia, New York Times reporter Haberman here assesses his rise as a calculating businessman/politician always asking what's in it for him, the world that made him possible, and his impact on the U.S. body politic. According to the news website Axios, the book Trump fears the most.
Miller, Chris. Chip War: The Fight for the World's Most Critical Technology. Scribner. Oct. 2022. 352p. ISBN 9781982172008. $30. POLITICS
Running everything from missiles to cars to the electric grid itself, microchip technology is foundational in the modern world, and the United States once dominated the market with the speediest chips. But Miller, an assistant professor at the Fletcher School of Law and Diplomacy at Tufts, points out that it's been losing firepower to Taiwan, Korea, and Europe, with China eager to join the fray.
Quammen, David. Breathless: The Scientific Race To Defeat a Deadly Virus. S. & S. Oct. 2022. 352p. ISBN 9781982164362. $28.99. BIOLOGY
Given how viruses have been leaping from animals to humans with ongoing ecosystem disruption, infectious disease experts have been predicting the current pandemic for two decades, but their warnings were brushed aside for political or economic reasons. The exact origins of SARS-CoV-2 won't be known for years, but it will likely be with us forever. Learn this and more from go-to science writer Quammen (Spillover), who drew on interviews with nearly 100 scientists worldwide
Schulten, Katherine. Coming of Age in 2020: Teenagers on the Year That Changed Everything. Norton. Oct. 2022. 192p. ISBN 9781324019442. pap. $24.95. SOCIAL SCIENCE
Drawing from 5,500 diary entries, comics, photos, poems, paintings, charts, lists, Lego sculptures, songs, recipes, and rants submitted to a contest on the New York Times Learning Network, network editor-in-chief Schulten creates a portrait of what COVID-wrecked 2020 meant for U.S. teenagers.
Whipple, Chris. The Fight of His Life: The Inside Story of Joe Biden's White House. Scribner. Oct. 2022. 384p. ISBN 9781982106430. $30. POLITICS
Former 60 Minutes producer Whipple (The Gatekeepers) takes readers inside President Joe Biden's White House and right up to the Oval Office, where he draws on insider connections to report on the tumultuous transfer of power and how decisions are being made amid pandemic, climate disaster, ongoing racism, the Afghanistan withdrawal, and, finally, the siege of Ukraine.