The design for Ontario's Ottawa Public Library and Library and Archives Canada is unveiled, Babson College's Horn Library gets a new Commons, St. Charles Public Library District will join three sections of the library, and the unBound Library Branch of Meridian Library District, ID, is scheduled to reopen in a new location this fall.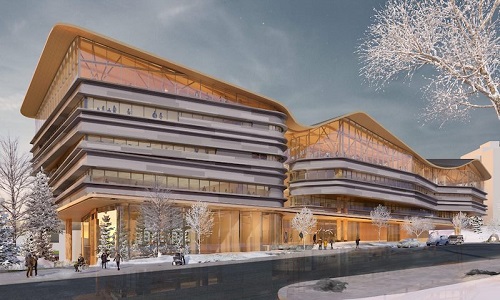 Rendering of Ottawa Public Library and Library and Archives Canada
Courtesy of Diamond Schmitt Architects
The design for Ontario's Ottawa Public Library and Library and Archives Canada (OPL-LAC) joint facility, combining the resources of both partner institutions, was unveiled at a ceremony on January 23. The $193 million, 216,000 square foot facility is being designed jointly by Diamond Schmitt Architects and KWC Architects, with input from area residents Indigenous community members, and Canadians across the country through four public workshops. The new building will include exhibition and collection space, reading rooms, a creative center, a children's area, a genealogy center, an Indigenous center, and a café across five floors and configured around a large town hall. The stone and wood exterior will complement the surrounding green space, while the windows, top floors, and rooftop offer views of the Ottawa River and Quebec's Gatineau Hills. The project is targeting a minimum of LEED Gold certification, and is scheduled to open in late 2024.
Finegold Alexander Architects has announced the completion of the new Commons and first floor renovations for Babson College's Horn Library, Wellesley, MA. The new 10,000 square foot, double height Commons provides a welcoming forecourt plaza and new, accessible, grade-level entry; inside, it offers an informal student gathering space, four-season garden, café, collaborative work areas, and a new, prominent home for the Stephen D. Cutler Center for Investments and Finance. A classroom and two group study rooms occupy the upper level, with casual seating at the balcony overlooking an atrium space. The Commons' green roof reflects the college's commitment to sustainability. At the library's existing first floor, 22,000 square feet were renovated and reconfigured, creating additional study space with group study rooms and open seating, a new accessibly entry, new circulation desk, and new centralized staff office. The work also included the relocation and design of the President's office. A skylight and generous use of glass provide ample natural light throughout.
The St. Charles Public Library District, IL, and the City of St. Charles have approved a $18.6 million project for the renovation and expansion of the library, under Sheehan Nagle Hartray Architects. The project joins three existing sections of the library into a 66,500 square foot space; a new building entry will integrate the original Carnegie Library, and a new main stair and elevator will improve accessibility. Additional construction will include a new public meeting room near the library entry, as well as group and individual study rooms, a teen space, and youth library program room, and expanded seating capacity and staff work areas. Groundbreaking is expected to take place in March, and the project should be completed in 2021.
The unBound Library Branch of Meridian Library District, ID, is scheduled to reopen in a new location this fall. The original incarnation of unBound—a technology library, geared toward entrepreneurs and the tech-savvy, where patrons can experiment with emerging technology, attend classes, and hold meetings—was located in the former Farmers and Merchants Bank building near Meridian City Hall from October 2015 to February 2019, but when the building changed ownership and was scheduled for demolition, the branch relocated to a cramped space in the system's Main Branch. A new space was located in April 2019, and the following month the library passed a $14 million, ten-year facility levy to fund several library projects, including the new building. Renovations are expected to begin this spring, and should take four to five months; plans are currently in the design stage.