LJ's Design Institute: Columbia, SC served as a shining—and welcoming—example of how a library can define its community vision with the help of great design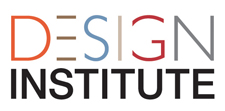 Held on Friday, May 3, LJ's Design Institute: Columbia, SC, was infused with Southern hospitality from start to finish. The host, Columbia's Richland Library, went the extra mile—from holding over an art exhibit at the Main Library for those touring the branches on May 2 to bringing attendees out to the citywide First Thursday party on Main Street. Guests were welcomed, entertained, and informed throughout the event.
Richland's library buildings reflected that ethos of hospitality as well, largely thanks to the last decade's leadership of executive director Melanie Huggins. Huggins was an early adopter of human-centered design, understanding that a library's design needs to address the needs and desires of its community and staff—not only library-related wishes, but larger aspirations that the library can then step up to meet.
Since Huggins took the helm, the 11-branch Richland Library—LJ's 2001 Library of the Year—has expanded and upgraded both its physical plant and its services. A $59 million bond referendum to build and renovate facilities throughout the system, passed nearly six years ago, meant that facilities from small neighborhood branches to the 242,000 square foot Main Library were able to radically rethink how to best serve stakeholders. (Richland's "Building Your Library" website, which tracked construction on each project, earned it an Honorable Mention for LJ's 2016 Marketer of the Year award.) As a setting for the spring 2019 Design Institute, therefore, Richland was able to provide not only a first-rate venue in its soaring flagship library but a firsthand example of how a vibrant system can recreate its mission through design—and vice versa.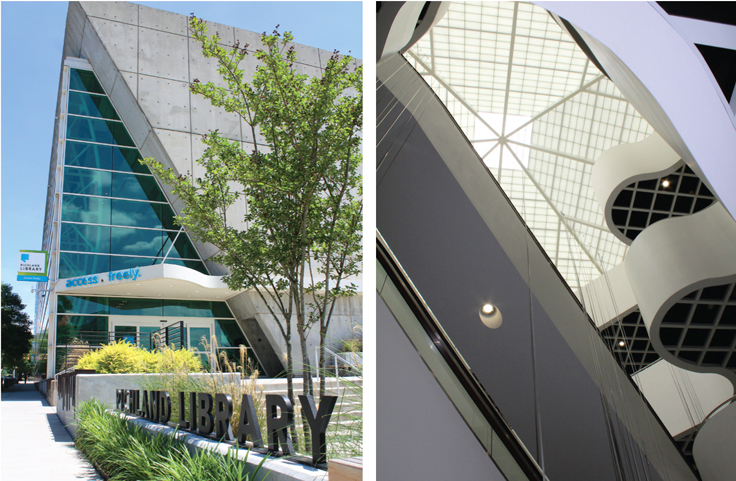 Richland Library's flagship Main Branch, DI host and example of design in action. Photos by Kevin Henegan
VISITING THE BRANCHES
Thursday's optional bus tour offered attendees a sampler of new and renovated buildings. The first stop, Richland's 13,000 square foot Ballentine branch, exemplified the many ways a site—in this case, seven wooded acres—can drive both aesthetics and objectives. The low-slung brick and cedar building, with its walls of windows and clear sight lines throughout, lets in the surrounding forestland at every opportunity, including a comfortably furnished outdoor patio and a birdwatching station. A well-used Maker space allows patrons to start projects at the library or bring their own, and the children's area offers both sunshine and privacy. Quality finishes and a flexible layout, as well as pleasing art installations, add to the sense of a building that is busy without feeling crowded.
The St. Andrews branch renovation, completed in late 2017, anchors the corner of a busy exurban strip mall corridor. The library stands out as an oasis in the commercial area, starting with the brightly colored sculpture in front and continuing around the perimeter with an outdoor garden growing vegetables, herbs, and native plants; later in the season the produce will be available for patrons to help themselves. Creatively repurposed existing finishes supplement new flourishes for a bright, contemporary look, enlivening a versatile Maker room and recording space, career coaching center, holds pickup window, and spacious staff space, all lit with solar tubes that bring in natural light.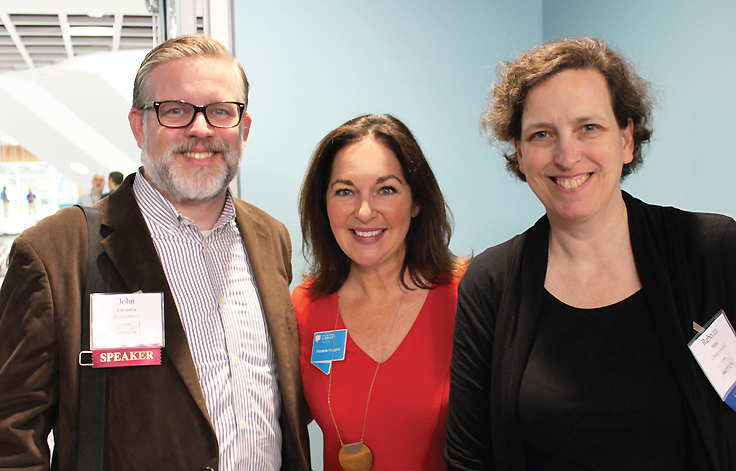 Richland Library Executive Director Melanie Huggins (c.) welcomed EveryLibrary Executive Director and Design Institute keynoter John Chrastka, and LJ Editorial Director Rebecca T. Miller. Photo by Kevin Henegan
Set in Columbia's historic Old Shandon suburb, the Wheatley branch, which reopened in 2018, makes the most of a small footprint. Renovations aimed for a neighborhood-friendly living room/bookstore feel, accomplished through a series of cozy reading nooks, a whimsical children's area decorated by a local artist, and eye-catching finishes throughout.
The tour wound up with Richland's flagship 240,000 square foot Main Library, which completed renovations in 2018. The state-of-the-art four-level building, with its light-drenched spaces and modern finishes, is home to an abundance of programs and services based on a vision of "library as studio"—for kids, teens, and adults, encompassing career training, arts and literature, media and technology, and education. To attendees' delight, Huggins kept an exhibit of original art from winners of the Coretta Scott King Illustrator Awards, scheduled to be taken down that day, on the walls through the end of the afternoon.
Later that evening, Richland invited all Design Institute guests to a gathering at Boudreaux Architecture and a tour of Main Street for Columbia's First Thursday, where local cultural institutions and artists' spaces opened their doors and invited the public in.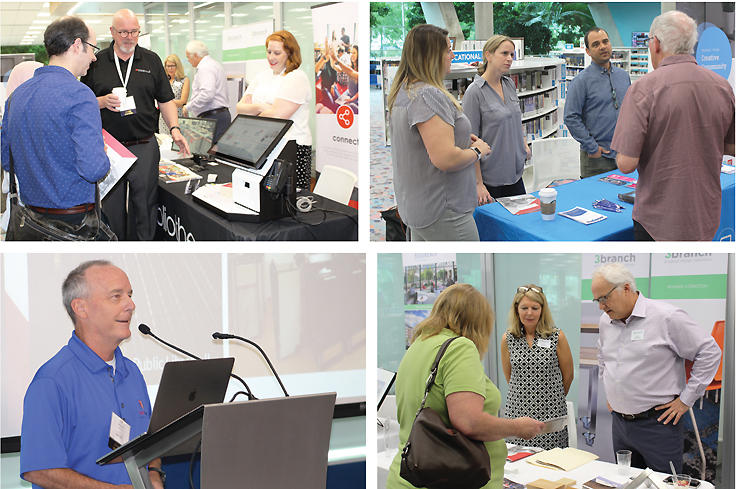 Design Institute vendor sponsors shared ideas and information with attendees; present were (clockwise from top l.) bibliotheca, BiblioBoard, 3Branch, and Tech Logic. Photos by Kevin Henegan
ENVISIONING THE LIBRARY AS STUDIO
For Friday's opening keynote, Huggins offered a replicable narrative of how she brought about transformation at Richland—and why internal conceptual shifts were necessary to drive external change.
When she arrived in 2009, said Huggins, her first questions in the strategic planning process were: What kind of library do we want to be? What kind of experience do we want to create for customers? What do we want them to say about us? Your brand isn't your logo, she noted, but rather how the organization is understood by patrons and other stakeholders.
The system's major alterations may have involved its physical spaces, but there were many changes in organizational culture that needed to accompany the building projects for them to succeed. One of the first steps in Richland's foundational shift, said Huggins, was "a promise to be welcoming"—encompassing everything from how easy it is to get in to the parking lot to how clean the bathrooms are—"caring, fresh, and fun." Those personal interactions, large and small, are "where we show up to tell people about the library."
This rethinking was in progress when the bond referendum passed in 2013. With that infusion of funds, she said, "We actually had the money to make our spaces reflect what we were doing around customer experience." The next step was to imagine the new and renovated spaces to reflect the outcomes Richland wanted for its customers. For Huggins, this translated into a vision of the Library as Studio—"a creative risk-taking environment where ideas are explored, problems are solved, talents are practiced, and passions are uncovered—a place where you can learn and share."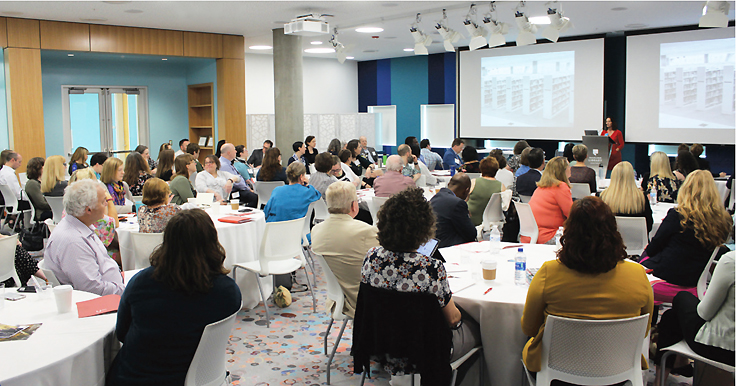 Programming and panels in the garden level auditorium. Photo by Kevin Henegan
Huggins and designer Patrick Quattlebaum used human-centered design practices to conceptualize what customers were experiencing before, during, and after their experiences with the library. They put together a building advisory group, with a selection of staff representing different kinds of expertise, and began storyboarding what customer journeys might look like, as well as potential staff roles in the various spaces. They made a vision board for every branch, and "used a lot of sticky notes." (Richland's visioning process is outlined at www.learncreateshare.vision.)
The library also conducted community conversations, "because even though we had this vision, we needed some affirmation that that was what the community wanted." The results of both internal and stakeholder input were mapped to four areas: domains (areas to focus on, both systemwide and in individual communities), enablers (the things and people necessary to make change happen), components (potential pieces of each library's environment, such as art gallery, social club, coworking space, garden, etc.), and principles.
Results ranged from gut renovations and ground-up new construction to tweaks to signage, holds pickups, and website icons—small adjustments that produced big changes in patrons' everyday interactions with the library. Throughout the visioning process, human-centered design—and the community conversations it engendered—shaped the lens through Richland imagined changes large and small.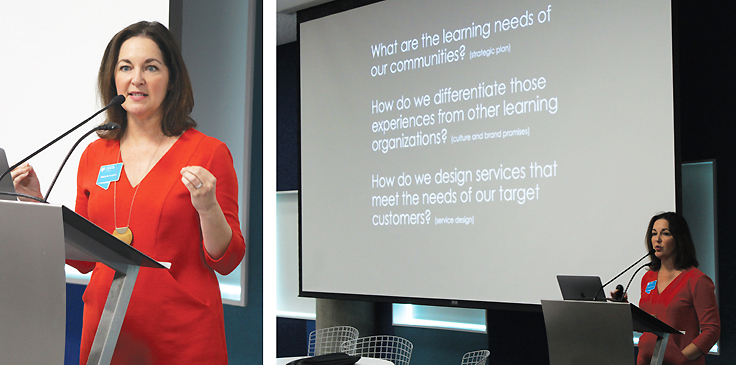 Richland Executive Director Melanie Huggins shared her Library as Studio approach in her keynote. Photo by Kevin Henegan
DESTINATION: RENOVATION
The day's first panel "Renovating the Future," invited Heather Mitchell, president of Boudreaux Inspired Design; David Moore, principal at McMillan Pazdan Smith Architecture; and Lyna Vuong, senior design strategist at Margaret Sullivan Studio to weigh in on flexible solutions to redesign challenges. Many libraries today don't have the funds for new construction, noted moderator Huggins, yet their spaces are outdated, worn, or inadequate for current needs. How can libraries redesign existing spaces to meet the needs of current and future users? How do you help a library prioritize space allocation needs, and balance them with community wants?
Mitchell suggested that libraries first define the non-negotiables in their spaces, such as bathrooms that can't be moved, as well as the good things in the space that don't need changing. However, noted Moore, spaces that are Americans with Disabilities Act (ADA) noncompliant are always non-negotiable, and must be addressed.
Consider how the space can foster ideal community experiences and outcomes, said Vuong, both now and in the future. For inspiration, go to case studies of what successful institutions are doing, and pay attention to how they allocate square footages for various needs—reducing public spaces devoted to shelving is a good place to start, she suggested. Think aspirationally at the beginning of the job, she added. "Having sticker shock earlier is better than later, and getting a frame of reference helps set the context for gives and takes."
Weighing in on the subject of renovating for the future were McMillan Pazdan Smith's David Moore (top l.), Boudreaux's Heather Mitchell (top r., middle), and Lyna Vuong from Margaret Sullivan Studio (top r., r.). The panel was moderated by Richland's Melanie Huggins (bottom l., standing). Photos by Kevin Henegan
Multiuse functions are critical, especially when space is an issue. Think about how multi-purpose spaces can be taken advantage of when not being used in their primary role, said Mitchell, and make sure they're wired for flexible power use. Flexibility involves furnishings, too, Moore pointed out; make furniture and shelving easily movable so that staff can rearrange layouts themselves. Existing furniture can be repurposed, noted Vuong—she suggested refinishing large reader tables and using them for Maker spaces or book display, or cutting down tall shelving. Huggins also spoke up in favor of reusing old bookshelves, painting the base and end panels and not worrying about the parts hidden by books.
When it comes to environmental stewardship, added Moore, renovation (as opposed to new construction) is one of the most sustainable actions a library can take. Think about the operations approach early in the process as well, and whether phasing a renovation to keep the building in use throughout construction will save on relocation and moving costs.
Above all, said Mitchell, approach any renovation with the attitude that it's an opportunity to rethink not only the building but service processes as well. And don't forget to consider staff space with the same mindset used to design for the public. "You have to have a great team," added Moore. "It's OK if you, in your role, don't understand all the nuances. You don't have to have all the answers."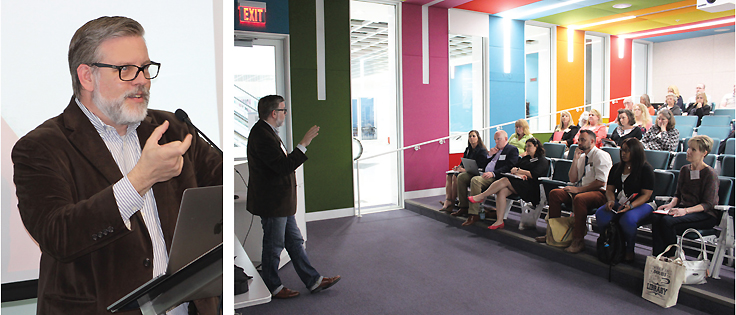 Chrastka talked fundraising basics during his keynote (l.), and led a power session later in the day on next steps in funding library projects. Photos by Kevin Henegan
TELLING THE RIGHT STORIES
After a morning of breakout sessions featuring on-the-ground brainstorming for real-life library design challenges, the second keynote of the day, offered by EveryLibrary executive director John Chrastka, focused on the basics of how to raise funds for capital building projects.
As in political elections, said Chrastka—a 2014 LJ Mover & Shaker—there are four ways voters react to a library ballot: to a shared value system, shared identity, personal characteristics, and finally policy issues. It's the library's advocacy job to express its value through the ideas it puts forward, including design. No voter cares whether you want to use PVC versus copper plumbing, he noted, but everyone hopes that what you're proposing is going to benefit them.
To that end, tell voters the right kinds of stories, said Chrastka. Personal and organizational stories about the library's successes emphasize values; stories about where the library has failed demonstrate integrity; stories about people show who and what is important to the library's mission; and stories about "why you do what you do" go beyond what people may already know. Don't be afraid to lead with the most important conversation, he added, but don't focus on marketing and messaging that emphasize joining the library—you want to reach both users and non-users who nonetheless share the library's ideals. When it comes to voter advocacy, Chrastka emphasized, "Cardholder rates don't matter. There's a value system we need to activate." (Chrastka followed up with a deeper dive via a "Next Steps in Funding" power session at the day's end.)
"LISTEN FIRST, DRAW LATER"
Amplifying Chrastka's message of outreach, the second panel, "Community-Responsive Design," featured Peter Bolek, president of HBM Architects; and Jennifer Charzewski, principal at Liollio Architecture; moderated by Leesa Aiken, director of the South Carolina State Library, discussing the architect's role in community engagement.
That role, said Charzewski, can go in a more specific direction than "universal truths" to tell a community's story. Inviting community members to participate in the visioning process builds advocates in a grassroots fashion. This also involves educating stakeholders about what's possible, added Bolek; architects can serve as an extension of the library's thought process during community conversations, which in turn allows participants to see what's important to other community members. If public conversations feel intimidating, said Charzewski, a library can start small by talking to staff.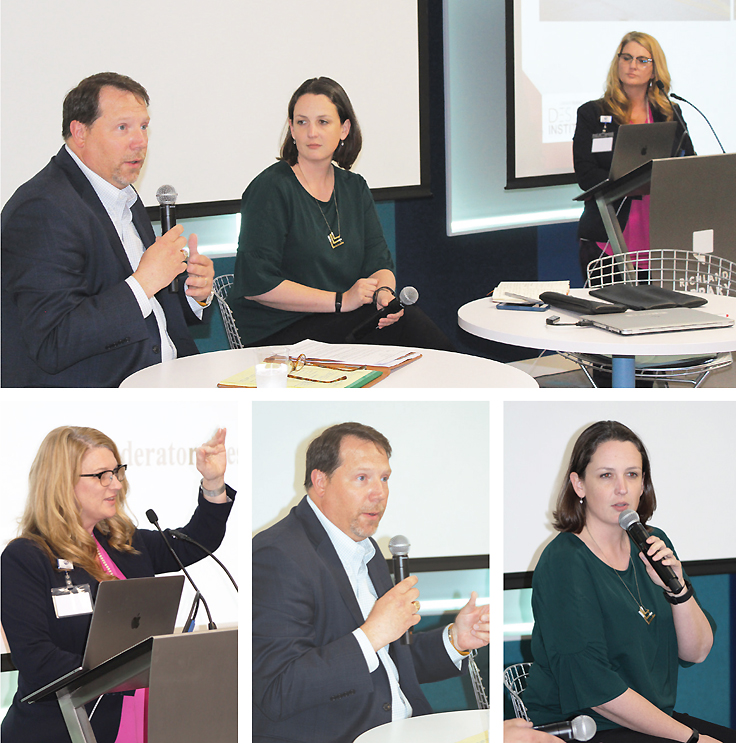 Top: HBM's Peter Bolek (top l.) and Liollio's Jennifer Charzewski (middle) shared their views on community-responsive design, moderated by SC State Library Director Leesa Aiken (r.). Second row: Aiken, Bolek, and Charzewski. Photos by Kevin Henegan
An architect can help the library engage its community, reaching both users and non-users, in a number of ways. Take the opportunity to educate, but also break down barriers to participation, such as ensuring that input is anonymous. One library she worked with passed out disposable cameras, recalled Charzewski, and asked community members to take pictures of the things that were important to them. Above all, show up—at non-library community events, farmer's markets, wherever stakeholders gather.
Resist the urge to start designing right away, both agreed. "We listen first, draw later," said Charzewski. Once plans begin to take shape, however, a community reveal can underscore the value of residents' engagement, giving them ownership and a voice and completing the loop between a library and its stakeholders.
This is a process of working with people, rather than just showing slides, noted Bolek. Once they start to learn more in an engaged way, they begin to see that they can move the needle—or, conversely, communicate about what is already working in the library that may not need to change.
Is there a point at which you stop asking for input, asked Aiken, or are there iterations throughout the project? How do you share those back to the community? At the beginning, said Charzewski, there is more leeway to change design plans, and the cost of making those changes gets bigger as the process moves along. If you've thought the process through and made big decisions early on, added Bolek, you can reach a natural stopping point.
Most important, engaging community members can bring in a wealth of new ideas that might not be surfaced otherwise, such as potential educational partnerships, workforce and career development opportunities, or the incorporation of public art. "You'll also find people willing to share their knowledge, come in, or volunteer," said Bolek. "Where there is a need, you'll be able to find people in the community who are experts."
Huggins has wholeheartedly incorporated just this kind of curiosity about what customers want from their libraries into her work as director and leader. "I used to be a fan of surveys," she said in her keynote. "Now I'm a fan of just talking to people." Through her embrace of human-centered design, Huggins has helped Richland become the system its city and suburbs want, need, and use. And as demonstrated at Design Institute: Columbia, community members are not the only ones to find a warm welcome at the library.
---
SPONSORS
Boudreaux
---
HBM Architects
---
Liollio Architecture
---
Margaret Sullivan Studio
---
McMillan Pazdan Smith Architecture
---
3Branch
---
BiblioBoard
---
bibliotheca
---
Tech Logic
---
Richland Library
---