Rather than offering a subset of in-person programs live streamed to the at-home audience, concurrent schedules of separate virtual and in-person sessions, or both, this year's Charleston Conference is offering its in-person and virtual conferences two weeks apart.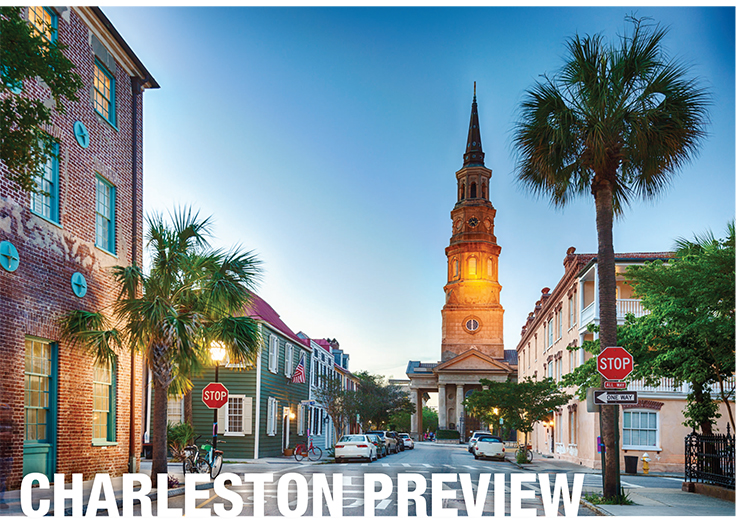 Several years of pandemic-driven online-only events have shifted the expectations of many attendees—perhaps permanently. Even as many "Zoomed out" library workers celebrate the return of in-person gatherings, others are reluctant to lose the greater accessibility, affordability, and COVID safety of virtual convenings. As a result, conference organizers are trying a variety of different models to create hybrid events.
Among these, the Charleston Conference may be unique. Rather than offering a subset of in-person programs live streamed to the at-home audience, concurrent schedules of separate virtual and in-person sessions, or both, Charleston is offering its in-person and virtual conferences two weeks apart. The in-person conference (plus live streams for the plenary sessions) will be held November 1–4 at Charleston, SC's Gaillard Center (GC) and Francis Marion Hotel (FM). The online version will take place November 14–18 and offer all the in-person content, plus online only sessions, through the Cadmore Media platform.
Below are selected sessions from the preliminary program, with their in-person dates and times (the online ones weren't yet available at press time). For the full schedule, visit charleston-hub.com.

Wed, Nov. 2
How to Make Open Access Management Easier—Lessons Learned and Best Practices Shared
8:30–9:10 a.m. (FM Gold Ballroom)
Carol Hoover, Los Alamos National Laboratory Research Library; Jennifer Matthews, Rowan University; and Olaf Ernst, Knowledge Unlatched will address how they handle and reduce pain points in the process of managing article processing charges, administering transformative agreements, and dealing with the lack of centralization or consistent workflow across publishers.
Bridging to the BIG Collection: Putting a Collective Collection into Practice At the BTAA
9:40–10:20 a.m. (GC Grand Ballroom 3)
The session will explore the process of combining 15 institutions' holdings into a single collective collection, including how ideas take shape, priorities are established, and pilot projects gain support, plus the development of common central infrastructure services, such as a "data lake." Presenters will include Maurice York and Kate McCready of the Big Ten Academic Alliance, Lee Konrad from the University of Wisconsin Library, and Emily Campbell from the University of Michigan Library.
Opening Keynote: We Will Get There, Together!
11–11:50 a.m. (GC Grand Ballroom)
Buhle Mbambo-Thata, University Librarian, National University of Lesotho, will speak to how information professionals can promote equity and social justice between the global North and South as well as rural and urban communities, and other instances of unequal power, through transformation, digital equity, and decolonization.
Rebuilding After Adversity
1:15–2:15 p.m. (FM Colonial Ballroom)
Representatives from the University of North Carolina Libraries, which suffered $3.7 million in cuts to its materials budget (now reversed), and Texas A&M University, where librarians had to choose between staying in the library as professional staff or remaining tenured faculty members in an academic department, will speak to how libraries should respond to unexpected, unwelcome change, particularly when it plays out in a public forum. Opportunities to re-examine structure and procedures, identify positives, create new opportunity, and recruit after negative publicity in a tight job market will be considered.
Confronting our Fast and Furious World of Disinformation and Misinformation
1:15–2:15 p.m. (FM Carolina Ballroom)
Speakers from Scientific American, Indiana University, Proceedings of the National Academy of Sciences, and Southern New Hampshire University will speak to the roles that journalists, librarians, and publishers can play in understanding and confronting misinformation.
How to Diversify Your Board: A More Equitable Path to Customer Advisory Board Membership
4–4:40 p.m. (Courtyard Marriott Ashley Room)
In 2021, the JAMA Network Library Advisory Board formed a diversity, equity, and inclusion (DEI) committee to better align the practices of the board with the health equity goals of the American Medical Association (AMA) and the JAMA Network. (JAMA's editor in chief and deputy editor stepped down in 2021 after the latter's statement rejecting the concept of systemic racism drew widespread criticism). The DEI committee recommended that the board replace recruitment by peer recommendation with an open call. In this session Ellen Gibson and Natasha Nekola of the JAMA Network; Tamara Nelson, University of Tennessee Health Science Center; and Aidy Weeks, University of Nevada, Las Vegas Libraries will share their experiences of implementing this change (creating the application, reviewing, selecting, and onboarding members) and choices such as seats for early career members and term limits.
Thurs., Nov. 3
What's the Role of the Librarian in Supporting Intellectual Freedom?
8:30–9:10 a.m. (GC Grand Ballroom 2)
As libraries of all types face intense challenges to materials, programs, and displays, intellectual freedom experts will address the role of academic librarians in addressing bans, protecting themselves, steering patrons away from misinformation, and more. Speakers will include Emily Knox, University of Illinois Urbana-Champaign; Aaisha Haykal, College of Charleston; Shannon Oltmann, University of Kentucky, and John Burgess, University of Alabama.
Very Practical Accessibility Tasks for Acquisitions and Collections Teams
9:40–10:20 a.m. (FM Colonial Ballroom)
How can academic librarians assess collections of licensed, vendor-hosted content for whether they meet federal accessibility standards and serve disabled students and faculty effectively? Attendees will share their ideas and experiences and discuss challenges. Athena Hoeppner, Tina Buck, and Sara Duff from the University of Central Florida will describe recent projects, including inventorying interfaces and licenses; checking external sites for Voluntary Product Accessibility Templates and existing accessibility assessments; and reviewing licenses for clauses about accessibility.
Losing Our Libraries: Misguided Leadership and When Your Destination Changes: Creating a Culture of Flexibility and Change
1:15–2:15 p.m. (FM Gold Ballroom)
Combining two thematically related presentations, this session will first ask whether library leaders are creating stressful, or perhaps even toxic, workplace environments for their staff by overemphasizing businesslike models and technology, and then offer practical strategies to prepare for organizational change and restructure workflows when needed.
Thinking Beyond the Spreadsheet: Forecasting for Uncertain Futures and Beyond the Budget: A Lively Discussion on Creative Alternate Funding Options for Library Subscriptions
1:15–2:15 p.m. (FM Colonial Ballroom)
Another two-for-one offering, this combo session will start out by addressing how to forecast future trends as they apply to their specific local context rather than at a macro level that may not apply, and how to bring library personnel into the process of predicting and adjusting for continuous change. The second part of the session will zero in on one kind of change: funding sources. As budget reductions and stagnation remain facts of life, the facilitators will lead small group discussions of alternative funding routes such as cost sharing, in-kind support, grant set-asides, and resource sponsorships.
What to Do in the Interim—Excelling in Library Leadership on a Temporary Basis
2:45–3:30 p.m. (GC Grand Ballroom 2)
Interim leaders, whether of a department or entire library, can feel isolated, overwhelmed, and unprepared. To remedy the latter, this presentation will focus on broad issues that an interim leader is likely to encounter, such as finances/budgeting, personnel, fundraising, hiring and staffing, faculty development, and long-term planning for facilities and collections. Then an interim leader will discuss some of the challenges she has encountered, including a total organizational restructuring.
Open Web Tools + Taming the Open Web
4–4:40 p.m. (GC Grand Ballroom 1)
INFOdjs Curtis Michelson and Gary Price (creator of LJ's infoDOCKET) will share their latest finds, including archiving and discovery tools, multi-media and big data projects, open applications, collaborations and more. In Taming the Open Web, Stephen Rhind-Tutt from Coherent Digital Libraries will discuss challenges and the role of libraries in stewarding informal, born digital open web content and the technical challenges in capturing, preserving, and enriching it.
Sustainability, Open Science and Scholarly Communications
4–4:40 p.m. (FM Carolina Ballroom)
In this session, speakers from Cabells, the University of Pittsburgh, Springer Nature, and Scientific American will address ways that the scientific community, publishers, and librarians can drive change through open science policies and embracing the United Nation's Sustainable Development Goals (SDGs) as a key topic in research impact, mission, and practice. It will also feature case studies on the current state of open science, open science policy, and how open science is impacting the SDG program.
Making Preservation Inevitable
4–4:40 p.m. (FM Gold Ballroom)
Mikael Laakso, Hanken School of Economics, will present new research on the preservation status of Open Access books and make recommendations. Gaelle Bequet, ISSN International Centre, will describe the roles that indexing services, hosting platforms, and preservation services can play in improving the long-term availability of Open Access journals. Jason Colman will describe University of Michigan's efforts to align preservation efforts underway in academic departments, library, and press. And Alicia Wise of CLOCKSS will share progress from a working group of libraries and preservation services to review license clauses that cover long-term preservation.
Fri., Nov. 4
Aligning the Research Library with the University's Organizational Strategy
12:15–1 p.m. (FM Carolina Ballroom)
Ithaka S+R, the Association of Research Libraries, and the Canadian Association of Research Libraries recently co-published a report on aligning the research library with the university's organizational strategy. Report author Roger Schonfeld will facilitate a panel of academic library leaders about their efforts to align with their wider institutional strategy, as well as the political and organizational complexities of pursuing this work in the context of library strategic planning.