Library Journal's 2018 Directors' Summit, held December 6–7 in San Diego, CA, convened 170 attendees at the San Diego Public Library's Central Library to explore innovative ideas, programs, and services around the theme "Break Through: Unconventional Approaches, Exceptional Impact."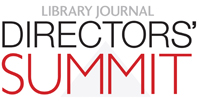 Library Journal's 2018 Directors' Summit, held December 6–7 in San Diego, CA, convened 170 attendees at the San Diego Public Library's (SDPL) Central Library to explore innovative ideas, programs, and services around the theme "Break Through: Unconventional Approaches, Exceptional Impact." If the virtual thunderclaps of inspiration during the summit's two days weren't enough, a heavy rainstorm that interrupted power throughout San Diego County had those attending Thursday night's cocktail reception on the library's window-wrapped ninth floor networking by the light of their smartphones.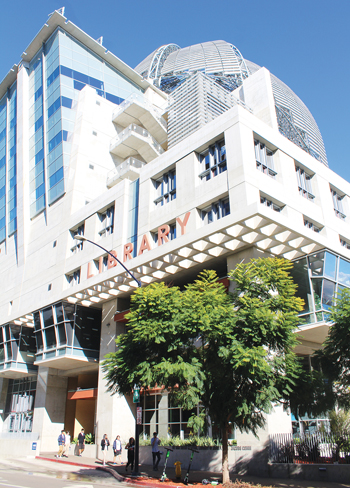 A tour of San Diego's Innovation District and the Central Library Thursday morning was undeterred by intermittent rain. After lunch, the summit proper kicked off with a keynote from filmmakers Lucie Faulknor and Dawn Logsdon. The two talked about their years-long immersion in the library world making the documentary Free for All: Inside the Public Library, and what they have learned about the nature of the library stories they've collected. Said Logsdon, "What I'm hearing is longing"—not for technology or novelty, but for a place of connection in a divided America.
Faulknor and Logsdon gave the room an intriguing sneak peek at several clips from Free for All, which is scheduled to wrap in early 2019. Noting that many of the issues that libraries have engaged with for the past 150 years are still in play, Faulknor said that the wonder of libraries hasn't dimmed over the years, either: "Where else can you borrow an iPad and they trust you to bring it back, or borrow a cake pan, and the person behind the desk would go to jail in order not to tell the FBI what kind of cake you just baked?"
REINVENTING INCLUSION
Such evergreen concerns were top of mind during the first panel, "Reinventing Inclusion," which featured Michael Lambert, acting city librarian at San Francisco Public Library (SFPL), LJ's 2018 Library of the Year; and Catherine Hoang, SDPL public technology services librarian. It was moderated by LJ executive editor Meredith Schwartz.
Lambert highlighted several of SDPL's services for immigrants, including its Pathways to Citizenship initiative, which offers free citizenship workshops and one-on-one pro bono legal help, and citizenship ceremonies. To ensure that services reach those who need them, noted Lambert, the library considers timing as well as content—for instance, scheduling a workshop on procedures for dealing with Immigration and Customs Enforcement (ICE) agents after story time to engage caregivers.
In 2014, the mayors of San Diego and Tijuana, Mexico—neighbors across the border—signed a formal agreement to work together to strengthen their cities' economic and civic ties. Hoang has helmed SDPL's Binational Outreach and Collaboration initiative to bring the partnership with Tijuana's Instituto Municipal de Arte y Cultura (IMAC) into the library. The focuses of the collaboration have been safety and security, early literacy, technology and teen spaces, and the celebration of culture and history of the shared region. Programming includes summer reading collaborations, bilingual poetry night, celebrations of holidays and history, as well as the creation of a Binational Library Services Committee and partnerships with other cultural organizations, and the continuation of SDPL's sex trafficking awareness initiative. Thanks to the mayoral memorandum of understanding (MOU), a formalized travel process has been put in place to facilitate cross-border visits.
Continuing the theme of widespread access, California State Librarian Greg Lucas spoke about the Zip Books project, which provides an alternative model to interlibrary loan (ILL). A partnership between the California State Library (CSL) and the NorthNet Library System, Zip Books facilitates patron-driven acquisition straight from Amazon.com to customer. Books are then returned to the customer's local library, to be added to its collection or passed along to another participating library. The project has received $2 million in state investment over the past two years, and it currently operates in 373 locations within 55 library systems. While it performs better in some jurisdictions than others, said Lucas, and doesn't work for materials such as out-of-print, academic, or technical books, Zip Books has so far been a success—and operates at one-third the cost of traditional ILL. Going forward, CSL hopes to test in more urban and suburban libraries, double the annual state investment, simplify the online purchasing process, and develop a sustainability plan.


Top: Erik Caldwell, interim deputy COO, smart and sustainable cities, City of San Diego, and SDPL director Misty Jones. Bottom: keynoters Lucie Faulknor and Dawn Logsdon, creators of the documentary Free for All, flank LJ's Lisa Peet. Photos by Kevin Henegan
BREAKING BARRIERS, THINKING OUTSIDE THE BOX
A panel on "Breaking the Fine Barrier," featured Pam Sandlian Smith, director of Anythink Libraries, Adams County, CO; Heidi Daniel, president and CEO of Enoch Pratt Free Library, Baltimore; and moderator Misty Jones, SDPL director. The three discussed their libraries' paths toward going fine-free—including Anythink's transition nearly ten years ago, EPFL and SDPL within the past year. All stressed that the decisions were driven by the imperative to reduce barriers for patrons who need the library most, and that solid research on the various costs involved was often the last piece of the puzzle necessary to convince governing authorities.
When Jones crunched the numbers for SDPL, for example, she discovered that the library was spending about $1.3 million a year to collect $650,000 in fines. She mitigated the loss even further by instituting auto-renewal first; fine revenue plunged to $200,000. Daniel also gathered research to support going fine-free, which included the fact that Baltimore's highest-poverty neighborhoods were also those with the highest number of blocked users. The library instituted an amnesty month first and then launched its fine-free status with a festive block party. Anythink began with an experiment, waiving fines for anyone who signed up for summer reading. A staff task force followed, which led to a policy recommendation that the board approved. Sandlian Smith summed up the thinking behind going fine-free: "Our team can be on the side of the customer because you don't have to say no."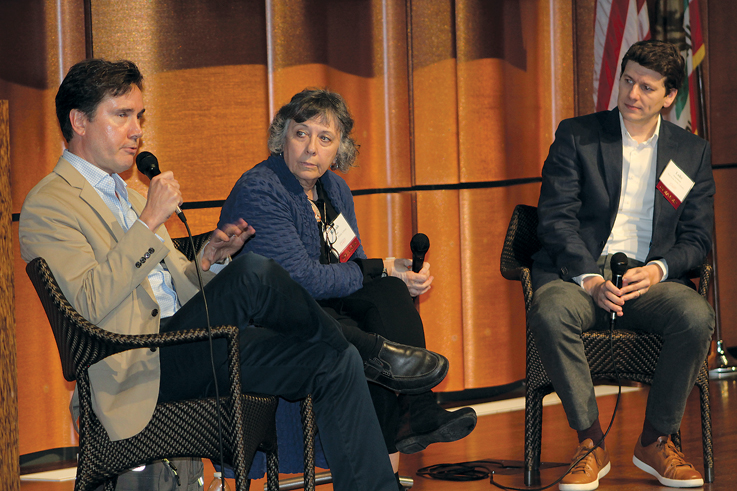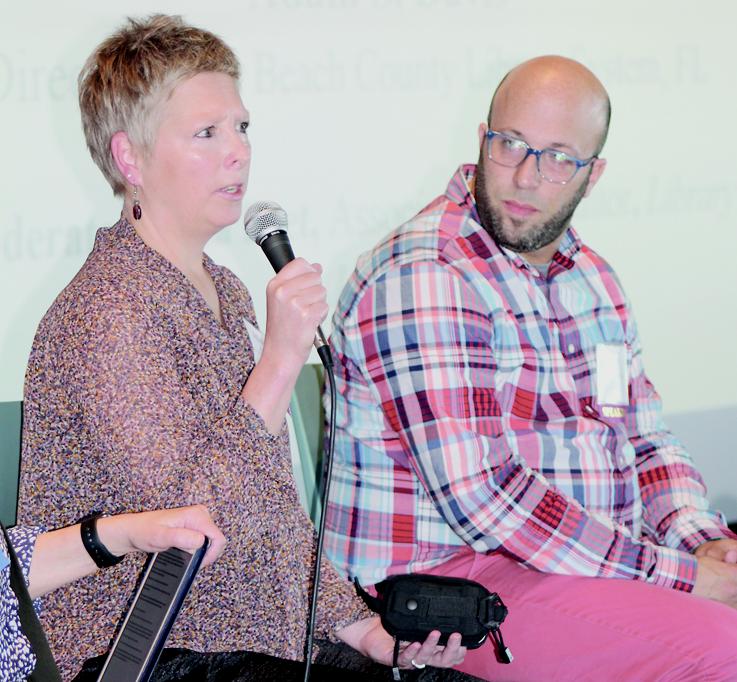 Top: SDPL's Shaun Briley, Sacramento PL director Rivkah Sass, and NYPL's Luke Swarthout address out-of-the-box programs. Bottom: Denver City Librarian Michelle Jeske and Adam S. Davis, Palm Beach Cty. Library, on libraries as first responders. Photos by Kevin Henegan
Jackie Nydes, CEO of Indianapolis Public Library (IndyPL), shared the nuts and bolts of "Indy's Shared System," a collaboration between the library and local public, private, charter, and parochial schools and four special libraries. The partnership allows school library and media center staff to draw from materials at IndyPL and all member schools and libraries—and, emphasized Nytes, it is very much a two-way partnership, rather than a program that the library provides to schools. With the upcoming addition of a new integrated library system (ILS) at IndyPL, the shared system will be able to keep growing.
For the day's final panel, "Outside the Box Programming," moderator Rivkah Sass, director of the Sacramento Public Library (SPL), CA, joined New York Public Library director of digital policy Luke Swarthout and Shaun Briley, branch manager at SDPL's La Jolla Library and a 2016 LJ Mover & Shaker, to focus on innovative offerings. Sass collaborated with the county elections board to make SPL a ballot drop-off spot starting with the 2014 midterm elections; more libraries were added for the 2016 presidential election, and by the 2018 midterms in November, all 28 locations were ballot drop-off service sites. The library kept every facility open from 7 a.m. to 8 p.m.; new voters could register at the library, and voting booths for preschoolers let them vote for a favorite storybook character.
Swarthout discussed NYPL's SimplyE borrowing platform and collaboration with Brooklyn Public Library and Queens Library on the Subway Ebook Library for commuters. The subway program was successful in terms of numbers, he noted, but in retrospect, Swarthout felt that the platform was designed to appeal to readers who were already ebook users, and a missed opportunity to attract new users. To that end, he enlisted Califa Group assistant director Veronda Pitchford for a playful visual demonstration of equitable ebook distribution. Briley described the development of his trailblazing library biotech lab and citizen science bug collecting initiatives, which have attracted participants "from eight to 80." The programs have continued to bring in new partners as well, Briley said, and noted that when particular industries are strongly represented in a community's economy—such as biotech in San Diego—people will have a great interest in connecting with those areas of expertise. Being that kind of community connector is what he and SDPL have tried to do, he added.
Erik Caldwell, interim deputy chief operation officer of the City of San Diego, talked about smart cities—what they are, how they're implemented, and their commonalities with the forward-thinking work of libraries. "Smart cities is about taking technology, data, and industry best practices and using and leveraging [them] to improve the services that you're delivering," explained Caldwell—as well as rethinking the paradigm of how you're providing it, and rethinking past practices.
The torrential rains at the end of the day, and the dramatically dark cocktail reception, didn't dampen the spirits of summit attendees. The SDPL crew met the challenge head on, making sure everyone on the premises stayed comfortable and safe.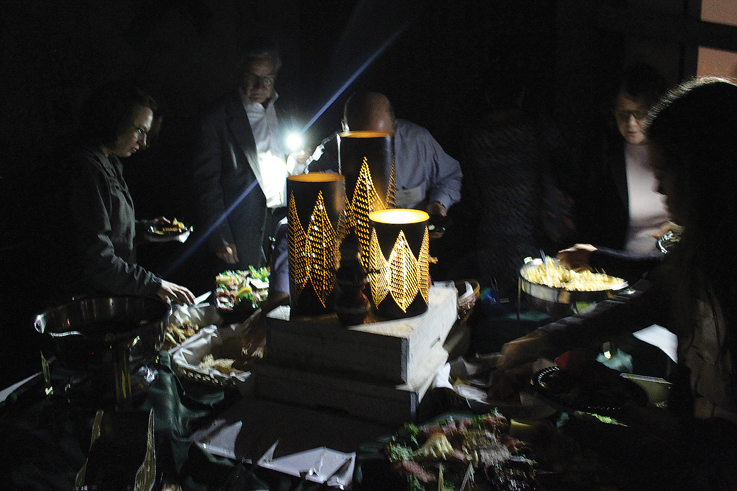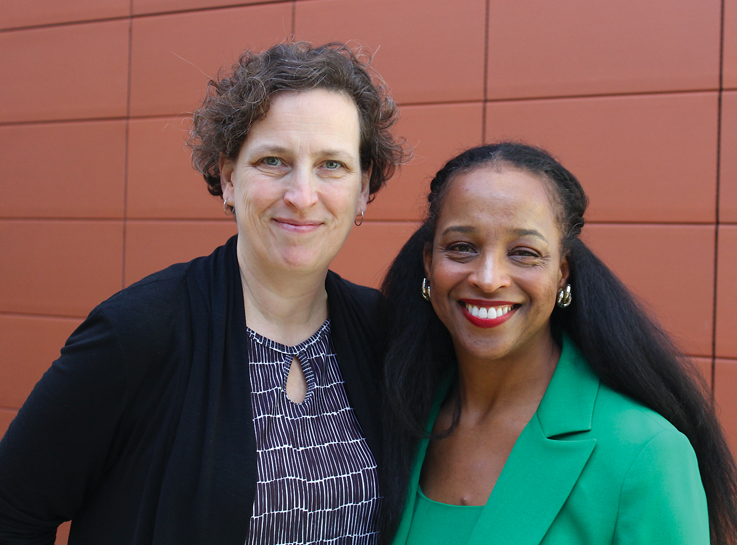 Top: a power outage at the evening's cocktail reception couldn't deter the fun. Bottom: LJ editorial director Rebecca T. Miller with Dr. Mary Wardell-Ghirarduzzi, president of the San Francisco PL Commission. Photos by Kevin Henegan
EQUITY THROUGH INTENTIONALITY
Safety—and sanctuary—proved to be essential themes of Friday's content. The morning began with a stirring keynote from Dr. Mary Wardell-Ghirarduzzi, president of the SFPL Commission and vice provost for diversity engagement and community outreach at the University of San Francisco. Her family recently came together for her mother's funeral, she recounted, and Wardell-Ghirarduzzi took the opportunity to find out more about her mother's childhood and early years, growing up in and ultimately moving beyond the Jim Crow south. What that endeavor drove home for her, she said, was the deep importance of public policy to change lives, and how "the intersection of equity and sanctuary is a sweet spot for the American public library."
Those two things, Wardell-Ghirarduzzi stated, create a framework for libraries to do things that other institutions cannot—a critical responsibility. A commitment to equity means that leaders need to do more for those who are least like themselves, and prioritize patrons and their needs—especially those who are most challenging to serve—and to reassess and critique their beliefs and ideals. "Sanctuary is for anyone who has been left out of the promise," she said, adding, "I want to leave you with this idea that there's someone in this community—there's someone in your city—that requires you to do more."
In "Libraries and First Responders," Michelle Jeske, city librarian at Denver Public Library (DPL), and Adam S. Davis, director of system services, Palm Beach County Library, FL, spoke on a panel moderated by LJ associate news editor Lisa Peet about how their libraries have stepped up to keep patrons safe in times of crisis. Following a fatal overdose in the library in 2017, Jeske authorized DPL social workers to carry and use Narcan (a brand name for Naloxone). The library has since trained more than 500 staff members and security officers to administer Narcan, and they have reversed 22 overdoses. Davis outlined the library's disaster response work, embedding librarians in Palm Beach County's Emergency Operations Center during hurricanes and floods, where they serve as operations center information specialists. In an emergency situation, information can be the key to saving lives—and librarians are uniquely positioned to serve their community in a crisis; librarians served 16,000 people in shelters during Hurricane Irma, many of them patrons they recognized. Noted Jeske, "Librarians are everyday first responders. They work with people in crisis on a daily basis."
Tom Fay, Seattle Public Library's director of library programs and services, joined Karen Jensen, the creator and administrator of School Library Journal's "Teen Librarian Toolbox" blog, and moderator Schwartz to examine "Intentional Equity." Fay highlighted the ways in which the library has incorporated equity into every aspect of its work as a key player in Seattle's Race and Social Justice Initiative. Intensive data reporting helps ensure that everyone in the library understands outcomes and impacts, noted Fay, and embedding librarians in the community to check in with stakeholders and patrons means that the library has the information—and the material—it needs to provide library services where they are most needed—and defend those decisions. "The outcomes we are collecting make the arguments against equity work really difficult [to sustain]," said Fay.
Jensen described developing a diversity audit of the YA collection at the Public Library of Mount Vernon and Knox County, OH—motivated, she explained, by realizing that teens couldn't find books on the subjects they were looking for, and that she wasn't doing as good a job as she had thought at purchasing materials with good representation of LBGTQ characters. After much research and some trial and error, Jensen began with an Own Voices audit and enlarged her scope as she gathered results. She spoke of several ways to break the process down into manageable tasks, and urged the library leaders present to put the effort into building equity in their collections. "You have to work really, really hard to have a diverse collection," she said, "because what's out there isn't representative of our children."
The closing keynote was given by Louise Bernard, founding director of the Museum of the Obama Presidential Center (OPC) in Chicago. As with the summit's opening previews of Free for All, much of what she had to show the audience is still under wraps as the OPC is deep in the planning phase. But Bernard, a former exhibitions director at NYPL and curator at the Beineke Rare Book Library, offered a fascinating look at how a broad concept such as equity can be incorporated into a complex cultural institution. The key to that work, as well as the other intriguing initiatives and ideas featured throughout the two days, is intentionality. And with that in mind, as the skies cleared, the LJ Directors' Summit sent attendees home with much to think about.