All manner of death for December.
Click here for additional new Prepub Alert columns
Burcell, Robin. Clive Cussler The Serpent's Eye. Putnam. (Sam and Remi Fargo Adventure, Bk. 13). Dec. 2023. 400p. ISBN 9780593419618. $29.95. lrg. prnt. CD. ACTION & ADVENTURE
Husband-and-wife treasure-hunting team Sam and Remi Fargo are back at it, though who know where their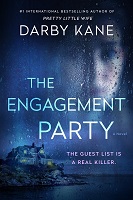 adventures will take them this time. One of five best-selling Cussler series and one that the publisher sees as especially appealing to women readers.
Cook, Robin. Manner of Death. Putnam. Dec. 2023. 352p. ISBN 9780593713891. $29. lrg. prnt. CD. THRILLER/MEDICAL
As New York City's chief medical examiner, Laurie Montgomery thinks that pathology resident Ryan Sullivan needs to polish his skills and has him join her on a suicide autopsy. A few days later, Ryan arrives on the autopsy table, apparently a suicide himself, and Laurie is guilt-ridden until her medical examiner husband determines that this death could be murder. More medical terror from a pro.
Cooper, Helen. The Couple in the Photo. Putnam. Dec. 2023. 368p. ISBN 9780593544907. pap. $18. THRILLER
Author of the LJ-starred The Neighbor Downstairs, Cooper introduces us to two couples, Lucy and Adam and their best friends, Cora and Scott. Spotting Scott with a mysterious woman in a colleague's vacation photos, Lucy fears he's cheating on Cora and is even more worried to learn that the woman has vanished. Then she begins unearthing secrets about both her friends and her husband that make her wonder what's really going on.
Dumas, Luke. The Paleontologist. Atria. Dec. 2023. 320p. ISBN 9781668018262. $27.99. THRILLER/PSYCHOLOGICAL
Paleontologist Simon Nealy surprises himself by returning to his Pennsylvania hometown to work at the Hawthorne Museum of Natural History—the very place his six-year-old sister disappeared decades ago under his care. Still closed owing to the pandemic, the museum is near financial collapse, but what's worse is that Simons starts hearing eerie sounds and finds an animal's bloody, unidentifiable tracks. Following the multi-starred A History of Fear.
Faulkner, Katherine. The Other Mothers. Gallery: S. & S. Dec. 2023. 384p. ISBN 9781668024782. $28.99. CD. THRILLERS/DOMESTIC
Tash is thrilled to find a playgroup for her young son in a wealthy enclave near her home, even as a young nanny is found dead in the area. In rather macabre fashion, she starts investigating the death as a way to reignite her journalism career, but with another death she starts to suspect that she's been accepted by the enclave's polished moms so that they can watch her every move. Following the well-received Greenwich Park.
Frear, Caz. Five Bad Deeds. Harper. Dec. 2023. 352p. ISBN 9780063091108. $30; pap. 416p. ISBN 9780063091115. $18.99. THRILLER/DOMESTIC
Raising a family, renovating her house, and job hunting, ever-conscientious Ellen Walsh is dumbfounded when she receives a note that states, "People have to learn there are consequences, Ellen. And I'm going to teach you that lesson." What did she do? Nothing intentional, but she starts considering her missteps. A stand-alone from the Barry-nominated author of the "Cat Kinsella" series; with a 75,000-copy paperback and 25,000-copy hardcover first printing.
Kane, Darby. The Engagement Party. Morrow. Dec. 2023. 368p. ISBN 9780063345072. $30; pap. ISBN 9780063225626. $18.99. CD. THRILLER/PSYCHOLOGICAL
Old college friends celebrate an engagement on a remote Maine island while recalling a classmate's graduation-week death 12 years earlier and a campus loner's subsequent suicide, which for the police explained everything. Sierra Prescott, the group's only outsider, senses unresolved tensions around the two deaths, which proves prescient—a dead body is soon discovered bearing the note "Time to tell the truth." Both LibraryReads picks, Darby's Pretty Little Wifeand The Replacement Wife have been optioned for television; with a 100,000-copy paperback and 30,000-copy hardcover first printing.
Laskowski, Tara. The Weekend Retreat. Graydon House: Harlequin. Dec. 2023. 320p. ISBN 9781525811456. $18.99. CD. THRILLER/DOMESTIC
Heirs to a fortune derived from copper mining, the glittery Van Ness siblings always blow out their birthday candles together, bringing their partners to the family vineyard in New York's Finger Lakes region for a frolicsome weekend. This time, secrets plaguing all three couples bubble up, even as a stranger stands staring at the vineyard gates. Laskowski won multiple debut honors for One Night Gone and Anthony finalist honors for The Mother Next Door; with a 75,000-copy first printing.
Parks, Adele. Two Dead Wives. Mira: Harlequin. Dec. 2023. 352p. ISBN 9780778305293. $30; pap. 368p. ISBN 9780778333579. $18.99. THRILLER/DOMESTIC
Somewhere in England, a bigamist has gone missing, and her two husbands are suspected of a murder that can't be proved without a body. Their story will come up clashingly against that of a young woman in a remote village is being nursed back to health by her father. Following the LJ-starred One Last Secret; with a 75,000-copy paperback and 10,000-copy hardcover first printing.
Rich, Roberta. The Jazz Club Spy. Gallery: S. & S. Dec. 2023. 320p. ISBN 9781982191313. pap. $17.99. THRILLER/HISTORICAL
Cherishing big dreams while working as a cigarette girl in a Depression-era Manhattan jazz club, Giddy Brodsky is shocked to board a streetcar and spot one of the Cossacks who years earlier drove her family from their Russian village. As it happens, Ellis Island's chief commissioner is hunting for the same man, and they team up—only to find themselves in the midst of a political conspiracy. From the author of the acclaimed The Midwife of Venice .
Soloski, Alexis. Here in the Dark. Flatiron: Macmillan. Dec. 2023. 256p. ISBN 9781250882943. $27.99. Downloadable. THRILLER/PSYCHOLOGICAL
Vivian Parry, a former actress who's now a famously bristly-tongued theater critic in New York, grudgingly agrees to be interviewed as a ploy to get a promotion. Then she learns that her interviewer has disappeared and steps into the role of amateur sleuth to find out what happened. From New York Times theater critic Soloski.
Wilkes, Ally. Where the Dead Wait. Emily Bestler: Atria. Dec. 2023. 400p. ISBN 9781982182823. $27.99. THRILLER/SUPERNATURAL
Victorian explorer William Day once led a disastrous expedition to the Arctic that resulted in loss of life and cannibalism. Now, Jesse Stevens, his second-in-command on that venture, is lost on another Arctic expedition, and Day is determined to find him and bring him home (if only to redeem himself). Not surprisingly, as Wilkes is a Bram Stoker Award nominee, mysterious messages and rattling old bones soon figure in the plot, though this is billed not as horror but as a thriller.