Thriller series and stand-alones from award-winning authors.
Click here for additional new Prepub Alert columns
Berry, Steve. The Last Kingdom. Grand Central. (Cotton Malone, Bk. 17). Feb. 2023. 400p. ISBN 9781538720998. $29. Downloadable. THRILLER/HISTORICAL
With the help of protégé Luke Daniels, Cotton Malone has discovered a plot to wrest Bavarian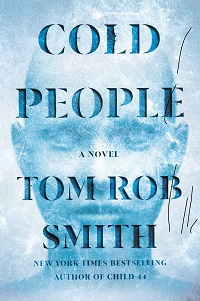 independence from Germany and restore the Wittelsbach monarchy. It's all based on a lost document purporting to grant King Ludwig II legal rights to land now wanted by Germany, China, and the United States. And the race to find the document is on! With a 200,000-copy first printing.
Dorsey, Tim. The Maltese Iguana . Morrow. Feb. 2023. 336p. ISBN 9780063240629. $28.99. lrg. prnt. CD. THRILLER/HUMOROUS
In his next over-the-top adventure, a fully vaccinated Serge A. Storms is finally ready to set out on a Florida road trip with some revelrous friends. Change of plans: they encounter a man on the run from the CIA, hired by the agency as a local liaison for a revenge mission in Honduras and the only surviving witness when the mission implodes. With a 75,000-copy first printing.
Ellison, J.T. It's One of Us: A Novel of Suspense. Mira: Harlequin. Feb. 2023. 336p. ISBN 9780778311768. $27.99. THRILLER/DOMESTIC
Already distraught after failing to conceive despite fertility treatments and IVF intervention, Olivia Bender is completely undone when police arrive at her door to report that her husband has a son (the result of a long-ago sperm donation)—and that he's a suspected killer. As Olivia is hiding her own uncomfortable secrets, this is one troubled couple. With a 100,000-copy first printing.
Engberg, Katrine. The Sanctuary. Gallery: Scout: S & S. Feb. 2023. 336p. ISBN 9781668002278. $28.99. CRIME
A corpse has been found split in two on a local playground, and Copenhagen police detective Jeppe Kørner—on the island of Bornholm for the winter, taking leave after a friend's death—offers to follow up a lead for colleague Anette Werner. That plunges him into the island's dangerous past. From the internationally best-selling author of The Harbor.
Johansen, Iris & Roy Johansen. More Than Meets the Eye. Grand Central. Feb. 2023. 432p. ISBN 9781538726235. $29. lrg. prnt. CD/downloadable. THRILLER
No. 1 New York Times best-selling Iris Johansen joins with her Edgar Award–winning son, Roy Johansen, for another thriller featuring investigator Kendra Michaels. Here, a serial killer is about to disclose the whereabouts of his many victims to the FBI, and Kendra gets involved. With a 100,000-copy first printing.
Kellerman, Jonathan. Unnatural History: An Alex Delaware Novel. Ballantine. Feb. 2023. 320p. ISBN 9780525618614. $28.99. lrg. prnt. CD. THRILLER
When a celebrated photographer is found murdered, Dr. Alex Delaware and Det. Milo Sturgis wonder whether he was killed because of his high-profile—and highly controversial—series of street people photographed enacting their fantasies of how they'd like to be living. Although maybe someone in his painfully eccentric family is to blame. Next in a No. 1 New York Times best-selling series.
Kent, Kathleen. Black Wolf. Mulholland: Little, Brown. Feb. 2023. 400p. ISBN 9780316280211. $29. Downloadable. THRILLER/ESPIONAGE
After a spate of excellent historicals and an Edgar-nominated mystery trilogy, Kent takes CIA agent Melvina Donleavy to 1990 Soviet Belarus, where she works undercover to help staunch the flow of nuclear weapons from a falling-part Soviet Union to the Middle East. Complications: women are disappearing from the streets of Minsk, and she suspects that a serial killer is lurking. Further complications: she's caught the attention of the Black Wolf, who heads up the KGB. With a 15,000-copy first printing.
Lawson, Mike. Alligator Alley: A Joe DeMarco Thriller. Atlantic Monthly. Feb. 2023. 288p. ISBN 9780802160522. $27. THRILLER
In his next behind-the-scenes job for the Speaker of the House, Joe Demarco is the Everglades, investigating the murder of a young woman working for the Department of Justice's Inspector General's Office. He and savvy former spy Emma quickly narrow the field of suspects to two end-of-career FBI agents and just as quickly realize that the agents weren't acting alone. From Edgar finalist Lawson.
Mallon, Thomas. Up With the Sun. Knopf. Feb. 2023. 352p. ISBN 9781524748197. $30. THRILLER
In the 1950s–60s, actor Dick Kallman starred on Broadway and prime-time television but retired as the roles thinned out; in 1980, he was murdered during a robbery at the Manhattan apartment where he lived with partner Stephen Szladek. Reimagining his life, Lambda and Pen/Faulkner finalist Mallon brings out Kallman's sharp edge and self-destructive tendencies, backdropped by the strains of show business and the era's suppression of gay rights.
North, Alex. The Angel Maker. Celadon: Macmillan. Feb. 2023. 288p. ISBN 9781250757869. $28.99. CD. SUSPENSE
Katie Shaw has always felt guilty about failing to protect little brother Chris from a violent attack when they were growing up in the English countryside. Now a mother, she learns that Chris has gone missing in a case that gets braided together with a professor's murder and the long-ago machinations of a serial killer seemingly able to see the future. Following the New York Times best-selling The Whisper Man and the multi-starred The Shadows; with a 150,000-copy first printing.
O'Connor, Joseph. My Father's House. Europa. (Rome Escape Line, Bk. 1). Feb. 2023. 440p. ISBN 9781609458355. $28. THRILLER/LITERARY/HISTORICAL
In 1943 Rome, diplomats, refugees, and escaped Allied prisoners fled to Vatican City for refuge, and Monsignor Hugh O'Flaherty risked everything to smuggle them out of Italy. Billed as a literary thriller, this first in a trilogy from Irish Book Award winner and Costa Book Award finalist O'Connor tells the story of the real-life O'Flaherty, whom Gregory Peck played in the 1983 film The Scarlet and the Black.
Robotham, Michael. Lying Beside You. Scribner. (Cyrus Haven, Bk. 3). Feb. 2023. 352p. ISBN 9781982166489. $27.99. THRILLER/PSYCHOLOGICAL
In the Edgar Award finalist Good Girl, Bad Girl, forensic psychologist Cyrus Haven helped Evie Cormac win release from a children's home. Now he's profiling the murderer of a man whose daughter has vanished, and only he believes Evie when she says she witnessed the young woman's abduction. Meanwhile, Cyrus's brother is being released from a psychiatric hospital—he murdered the rest of the family after hearing voices—and Cyrus is expected to take him in. More tense suspense from the two-time Ned Kelly Award winner.
Smith, Tom Rob. Cold People. Scribner. Feb. 2023. 320p. ISBN 9781982198404. $28. CD. THRILLER
An evil force has taken over Earth and delivers an ultimatum: human beings have only 30 days to reach Antarctica, the one place they will be allowed to live. The narrative follows the mad scramble southward of a handful of characters intent on securing not only current survival but also the future of humankind. Dystopian thrills from the author of Child 44, which has sold over two million copies worldwide.