From U.S. government secrets to power plays throughout history to pirates as rebels against empire.
Click here for additional new Prepub Alert columns
Connelly, Matthew. The Declassification Engine: What History Reveals About America's Top Secrets. Pantheon. Jan. 2023. 560p. ISBN 9781101871577. $30. Downloadable. HISTORY/DOMESTIC POLITICS
A professor of international and global history at Columbia University, Connelly has analyzed the millions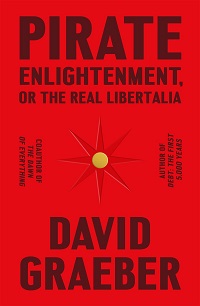 of state documents via cutting-edge data science techniques to discover what the U.S. government does not want us to know and how much power we have given to it. His conclusion: state secrecy is a given in the United States.
Crawford, James. The Edge of the Plain: How Borders Make and Break Our World. Norton. Jan. 2023. 432p. ISBN 9781324037040. $30. HISTORY
From bloody territorial disputes in ancient Greece and the modern-day Middle East, from the Mason-Dixon Line to the many boundaries crossed daily by refugees to the "Great Green Wall" envisioned in Africa to battle desertification, borders really, really matter. Historian and BBC One documentarian Crawford considers how they have shaped history.
Fraser, Flora. Flora Macdonald: "Pretty Young Rebel": Her Life and Story. Knopf. Jan. 2023. 288p. ISBN 9780451494382. $30. HISTORY
After Prince Charles Edward Stuart was roundly defeated at the Battle of Culloden in 1746, his efforts to escape to France were helped along by Flora MacDonald, a Stuart loyalist in her twenties. Some readers will know her from Boswell's account of her conversation with Samuel Johnson in 1773, others from Diane Gabaldon's "Outlander" series; biographer Fraser (The Life of Emma, Lady Hamilton) tells the full story.
Graeber, David. Pirate Enlightenment, or the Real Libertalia. Farrar. Jan. 2023. 208p. ISBN 9780374610197. $27. HISTORY/POLITICAL IDEOLOGIES
Famed activist/thinker Graeber, associated with Occupy Wall Street and the author of the New York Times best-selling The Dawn of Everything and Debt, died in September 2020. This final work is an outgrowth of graduate research he did in Madagascar on the Zana-Malata, descendants of pirates who settled on the island in the 1700s. What results is a study of pirate societies as self-governing alternatives to European empire. With a 200,000-copy first printing.
Jacobs, Sally H. Althea: The Life of Tennis Champion Althea Gibson. St. Martin's. Jan. 2023. 432p. ISBN 9781250246554. $29.99. BIOGRAPHY/SPORTS
A George Polk Award–winning and Pulitzer Prize finalist journalist who authored The Other Barack, about Barack Obama's father, Jacobs limns the life of tennis great Althea Gibson. Gibson broke tennis's color line in 1950 and went on to win five grand-slam titles, became the first Black woman to appear on the cover of Time and Sports Illustrated, and was named the No. 1 woman tennis player in the world. With a 75,000-copy first printing.
Larson, Edward J. American Inheritance: Liberty and Slavery in the Birth of a Nation, 1765–1795. Norton. Jan. 2023. 416p. ISBN 9780393882209. $32.50. HISTORY
The Pulitzer Prize–winning author of Summer for the Gods: The Scopes Trial and America's Continuing Debate Over Science and Religion , Larson probes the awful contradiction at the heart of the American Revolution: it was fought to liberate the Colonies from England by settlers who themselves enslaved others.
Montefiore, Simon Sebag. The World: A Family History. Knopf. Jan. 2023. 1296p. ISBN 9780525659532. $45. Downloadable. CD.
A multi-award-winning historian who frequently focuses on Russia and the Middle East, Montefiore expands his purview to examine the will to power in great dynasties across human history. His subjects range from Mesopotamian cupbearer Sargon, who led an army dethroning his own king, to Ewuare, oba of the Benin Empire in the 1400s, and Hapsburg empress Maria Theresa.
Parker, Reverend Wheeler Jr. & Christopher Benson. A Few Days Full of Trouble: Revelations on the Journey to Justice for My Cousin and Best Friend, Emmett Till. One World: Ballantine. Jan. 2023. 400p. ISBN 9780593134269. $28.
Parker is the last living witness to the abduction of his cousin Emmett Till, whose 1955 lynching in Mississippi lent momentum to the Civil Rights movement. Here, with the help of Benson, a lawyer and former features editor for Ebony, he recalls the event, the impact on his family, and efforts over the decades to secure justice for Till.
Pennock, Caroline Dodds. On Savage Shores: How Indigenous Americans Discovered Europe. Knopf. Jan. 2023. 352p. ISBN 9781524749262. $32.50. Downloadable. HISTORY
A Gladstone Prize–winning expert on Mesoamerica, Pennock draws on literature and poetry to reveal the perceptions of Indigenous Americans—diplomats, explorers, servants, traders, and enslaved people—when they encountered Europe. Often abducted and often marginalized, these observers saw a continent full of surprises, including the disparities between rich and poor.
Popkin, Jim. Code Name Blue Wren: The True Story of America's Most Dangerous Female Spy—And the Sister She Betrayed. Hanover Square: Harlequin. Jan. 2023. 320p. ISBN 9781335449887. $27.99. TRUE CRIME/ESPIONAGE
A high-up at the Defense Intelligence Agency, Ana Montes spent 17 years sharing U.S. intelligence secrets with the Cuban government, who then sold them to countries like Russia, Venezuela, and Iran. She was arrested shortly after 9/11, and among those who felt most keenly betrayed was her sister Lucy, a veteran FBI agent who won awards for helping to unmask Cuban spies. With a 75,000-copy first printing.
Sexton, Jared Yates. The Midnight Kingdom: A History of Power, Paranoia, and the Coming Crisis. Dutton. Jan. 2023. 384p. ISBN 9780593185230. $29. Downloadable. HISTORY
Muckrake podcaster Sexton follows up American Rule by broadening his perspective, starting with ancient Rome to embrace the entire West and what he sees as its foundational concepts, deployed worldwide: political power (leading to imperialism), economic dominance (leading to capitalism), and religious indoctrination (leading to religious extremism).
Tabor, Nick. Africatown: America's Last Slave Ship and the Community It Created. St. Martin's. Jan. 2023. 384p. ISBN 9781250766540. $29.99. HISTORY
In 1860, the Clotilda landed on Alabama's Gulf Coast, illegally bringing the last group of enslaved people from Africa to the United States. After emancipation, they created their own Yoruba-speaking community, called Africatown, as chronicled in Zora Neale Hurston's Barracoon. Freelance journalist Tabor tells Africatown's story to this day, with the community struggling to survive even as discovery of the Clotilda's remains fires up a desire to a create a memorial to the community. With a 40,000-copy first printing.
Wilson, Tracy V. & Holly Frey. Women You Missed in History Class. Flatiron: Macmillan. Jan. 2023. 336p. ISBN 9781250268532. $28.99. HISTORY
Hosts of the Stuff You Missed in History Class podcast, Wilson and Frey aim to highlight women whose contributions have been denied or diminished. Their subjects range from Jeanne Baret, the first woman to circumnavigate the globe (disguised as a man), to an animation pioneer named Charlotte Reinigier whose work antedated Disney. The second book in the Stuff You Should Read imprint, an iHeartBook publishing in partnership with Flatiron Books.
Woo, Ilyon. Master Slave Husband Wife: An Epic Journey from Slavery to Freedom. S. & S. Jan. 2023. 416p. ISBN 9781501191053. $29.99. HISTORY
Recipient of a Whiting Creative Nonfiction Writing Grant, Woo ( The Great Divorce) tells the story of an enslaved couple, Ellen and William Craft, who achieved freedom by traveling openly from Georgia to the North, with the fair-skinned Ellen disguised as a young white male cotton planter accompanied by the enslaved William. Passage of the Fugitive Slave Act forced them to flee again, this time to England.