Thriller writers grabbing attention today.
Click here for additional new Prepub Alert columns
Barber, Lizzy. Out of Her Depth. Mira: Harlequin. Jun. 2022. 384p. ISBN 9780778333302. $28.99; pap. ISBN 9780778386445. $16.95. THRILLER
College student Rachel is thrilled with her summer job at a gorgeous villa in Tuscany, where she meets a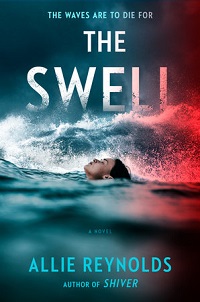 crowd of young sophisticates. Solicitous Diana offers to help Rachel cozy up to Sebastian, gorgeous as the villa itself, but it's soon evident that Diana has her own twisted intentions. Following the Daily Mail crime-writing winner A Girl Named Anna; with a 50,000-copy paperback and 10,000-copy hardcover first printing.
Bradby, Tom. Yesterday's Spy. Atlantic Monthly. Jun. 2022. 368p. ISBN 9780802159045. $27. THRILLER/ESPIONAGE
Retired from British intelligence, the recently widowed Harry Towers rushes to 1953 brink-of-a-coup Tehran to find estranged journalist son Sean when he disappears after exposing government involvement in the opium trade. Harry teams up with Sean's Iranian girlfriend, Shahnaz, but begins wondering whether he himself is the target here. From the CWA Steel Dagger and twice Historical Crime Novel short-listed Bradby.
Byrne, James. The Gatekeeper: A Thriller. Minotaur: St. Martin's. Jun. 2022. 304p. ISBN 9781250805768. $27.99. CD. THRILLER
When mercenaries attack the hotel where Desmond ("Dez") Aloysius Limerick is staying, intent on kidnapping the chief legal counsel of the military contractor Triton Expeditors, he handily blocks their efforts; he's a retired mercenary himself. Now counsel Petra Alexandris, also the daughter of Triton's CEO, needs Dez's help in discovering who's been embezzling millions from the company. A pseudonymous debut; with a 100,000-copy first printing.
Koepp, David. Aurora. Harper. Jun. 2022. 304p. ISBN 9780062916471. $27.99. lrg. prnt. THRILLER
Sure, Aubrey Wheeler has split from her bad-news husband and is trying desperately to corral a rebellious teenage son, but now she's got a bigger problem. A solar storm has knocked out power worldwide, and she's hustling to protect her neighborhood even as her estranged brother, a wealth-ridden Silicon Valley CEO, hunkers down in his fancy desert bunker. With a 200,000-copy first printing; from prolific screenwriter Koepp, also author of Cold Storage.
Lovering, Carola. Can't Look Away. St. Martin's. Jun. 2022. 320p. ISBN 9781250271396. $27.99. CD. SUSPENSE
Jake Danner made a name for his band with the song he wrote about his passionate affair with barista Molly Diamond, but ten years later Molly is living sensibly in the suburbs with her husband and daughter. A friendship with newcomer Sabrina highlights how at odds Molly has been feeling, but Sabrina has her own devious reasons for suddenly appearing in town. And Jack's song is back on the radio. From the author of Too Good To Be True; with a 75,000-copy first printing.
Offut, Chris. Shifty's Boys. Grove. Jun. 2022. 288p. ISBN 9780802159984. $27. LITERARY THRILLER
On-leave army officer Mick Hardin is battling pain from an IED attack, the lure of prescription painkillers, and the trauma of an impending divorce when local heroin dealer Barney Kissick is found dead in the heart of town. When he investigates for Barney's distraught mother, he gets shot at himself. From a Granta Best of Young American Novelists honoree; following the LJ-starred The Killing Hills.
Ray, Cate. Good Husbands. Park Row: Harlequin. Jun. 2022. 352p. ISBN 9780778387015. $28.99; pap. ISBN 9780778333203. $16.99. THRILLER/DOMESTIC
Was it rape? Or a night of drunken but mutual revelry, as three men desperately wish to believe while they bury the past? More than 20 years later, their wives Jessica, Stephanie, and Priyanka—ignorant of the event and strangers to one another—receive a shocking letter compelling them to seek the truth. From British suspense author Cath Weeks, writing pseudonymously with this U.S. debut; with a 100,000-copy paperback and 10,000-copy hardcover first printing.
Reynolds, Allie. The Swell. Putnam. Jun. 2022. 400p. ISBN 9780593187876. $27. THRILLER
Kenna Ward gave up surfing when her boyfriend drowned, but she returns to an isolated beach in Australia when her best friend announces that she is engaged to a true surfing fanatic. Soon, members of the beach's tightly bonded surfer chums start disappearing, and Kenna decides she's got to get in the water and ride the waves to discover what's happening. Reynolds debuted with the high-profile, LJ-starred Shiver.