Stories of triumph and self-acceptance.
Click here for additional new Prepub Alert columns
Leahy, Patrick. The Road Taken: A Memoir. S. & S. Aug. 2022. 320p. ISBN 9781982157357. $30. CD. MEMOIR/POLITICS
Lewis, Jenifer. Walking in My Joy: In These Streets. Amistad: HarperCollins. Aug. 2022. 256p. ISBN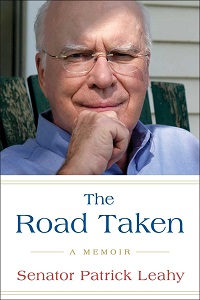 9780063079656. $28.99. lrg. prnt. MEMOIR
Lowry, Beverly. Deer Creek Drive: A Reckoning of Memory and Murder in the Mississippi Delta. Knopf. Aug. 2022. 368p. ISBN 9780525657231. $29. Downloadable. MEMOIR/CRIME
McCurdy, Jennette. I'm Glad My Mom Died. S. & S. Aug. 2022. 320p. ISBN 9781982185824. $27.99. MEMOIR/PERFORMING ARTS
Nietfeld, Emi. Acceptance: A Memoir. Penguin Pr. Aug. 2022. 368p. ISBN 9780593489475. $27 Downloadable. MEMOIR
Tillman, Lynne. Mothercare: On Obligation, Love, Death, and Ambivalence. Catapult. Aug. 2022. 160p. ISBN 9781593767174. $23. MEMOIR
Currently president pro tempore of the U.S. Senate, Leahy gives us a sweeping view of U.S. politics as he tells his story as the country's longest-serving senator in The Road Taken (75,000-copy first printing). A leading light in film and television, also featured in four Broadway shows, Lewis (The Mother of Black Hollywood) recounts personal experiences encapsulating the vagaries of modern life while highlighting what she's learned about Walking in My Joy (125,00-copy first printing). In Deer Creek Drive, AWP Award–winning novelist/memoirist Lowry recalls the particularly vicious 1948 murder of society matron Idella Thompson near where she grew up in the solidly Jim Crow Mississippi Delta, with neighbors protesting the conviction of Thompson's daughter even though her claims about a fleeing Black man proved spurious. Proclaiming I'm Glad My Mom Died, actor/director McCurdy relates what it was like to be a child star (iCarly) wrestling with an eating disorder, addiction, and a controlling and aggressively ambitious mother (75,000-copy first printing). In a memoir rejecting the standard resilience trope, Nietfeld chronicles traversing a childhood encompassing a mother who put her on antipsychotics, icy foster care, Adderall addiction, and homelessness to arrive at Harvard, Big Tech, and Acceptance—crucially, of herself. Award-winning critic/novelist Tillman relates a life taken over by Mothercare after her mother was diagnosed with Normal Pressure Hydrocephalus (after several wrong assumptions), leading to seven surgeries, memory loss, and total dependence on her daughters.