Stories of recovery and belonging.
Click here for additional new Prepub Alert columns
Ahdoot, Dan. Undercooked: How I Let Food Become My Life Navigator and How Maybe That's a Dumb Way To Live. Crown. Mar. 2023. 240p. ISBN 9780593240793. $28. Downloadable. MEMOIR
Braitman, Laurel. What Looks Like Bravery: A Memoir. S. & S. Mar. 2023. 288p. ISBN 9781501158506.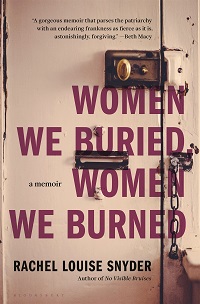 $27.99. CD. MEMOIR
Dowd, Michelle. Forager: Field Notes for Surviving a Family Cult: A Memoir. Algonquin. Mar. 2023. 288p. ISBN 9781643751856. $28. Downloadable. MEMOIR
Freeman, Hadley. Good Girls: A Story and Study of Anorexia. S. & S. Mar. 2023. 288p. ISBN 9781982189839. $27.99. MEMOIR
Mark, Sabrina Orah. Happily: A Personal History, with Fairy Tales. Random. Mar. 2023. 224p. ISBN 9780593242476. $27. MEMOIR
Martin, Clancy. How Not To Kill Yourself: A Portrait of the Suicidal Mind. Pantheon. Mar. 2023. 464p. ISBN 9780593317051. $30. Downloadable. MEMOIR
Miller, Michelle. Belonging: A Daughter's Search for Identity Through Love and Loss. Harper. Mar. 2023. 320p. ISBN 9780063220430. $27.99. CD. MEMOIR
Mouton, Deborah D.E.E.P. Black Chameleon: Memory, Womanhood, and Myth. Holt. Mar. 2023. 320p. ISBN 9781250827852. $27.99. MEMOIR
Ramotwala, Tabitha. The Will To Be: A Life Caught Between Two Worlds. Oprah Bks: Flatiron: Macmillan. Mar. 2023. 304p. ISBN 9781250789396. $28.99. MEMOIR
Robbins, Laura Cathcart. Stash: My Life in Hiding. Atria. Mar. 2023. 288p. ISBN 9781668005330. $27.99. MEMOIR
Snyder, Rachel Louise. Women We Buried, Women We Burned: A Memoir. Bloomsbury. Mar. 2023. 352p. ISBN 9781635579123. $28. MEMOIR
Stand-up comic, actor (e.g., Netflix's Cobra Kai), and host of the No. 1 food podcast in the country, Green Eggs and Dan, Ahdoot uses an essay format in Undercooked to explain how food became a crutch and finally a dangerous obsession for him, starting with his brother's untimely death. Before he died of cancer, Braitman's father rushed to teach her important things like how to fix a carburetor and play good practical jokes; long after his death, she realized the cost of What Looks Like Bravery in suppressing her sorrow at his passing; following the New York Times best-selling Animal Madness. In Forager, journalism professor Dowd recalls her upbringing in the fervently Christian cult Field, founded by her domineering grandfather, where she was often cold, hungry, and abused and learned to put her trust in the natural world. Hospitalized from ages of 14 to 17 with anorexia nervosa, Freeman (House of Glass) recalls in Good Girls her subsequent years as a "functioning anorexic" and interviews doctors about new discoveries and treatments regarding the condition. In Happily, which draws on her Paris Review column of the same name, Mark uses fairytale to show how sociopolitical issues impact her own life, particularly as a Jewish woman raising Black children in the South. Philosophy professor Martin's How Not To Kill Yourself examines the mindset that has driven him to attempt suicide 10 times. Award-winning CBS journalist Miller here limns a sense of not Belonging: abandoned at birth by her mother, a Chicana hospital administrator who hushed up her affair with the married trauma surgeon (and Compton's first Black city councilman) who raised Miller, the author struggled to find her place in white-dominated schools and newsrooms and finally sought out her lost parent (60,000-copy first printing). From Mouton, Houston's first Black poet laureate and once ranked the No. 2 Best Female Performance Poet in the World (Poetry Slam Inc.), Black Chameleon relates an upbringing in a world devoid of the stories needed by Black children—which she argues women must now craft (60,000-copy first printing). A graduate of the Oprah Winfrey Leadership Academy for Girls in South Africa, Mount Holyoke College, and Columbia University, Ramotwala demonstrates The Will To Be in a memoir of early hardship (her mother's first-born daughter died in a firebombing before the author was born) and adjusting to life in the United States (75,000-copy first printing). In Stash, Robbins, host of the podcast The Only One in the Room, relates her recovery from dangerous drug use (e.g., stockpiling pills and scheduling withdrawals around PTA meetings and baby showers) as she struggles with being Black in a white world. Author of the multi-award-winning, multi-award-nominated No Visible Bruises, a study of domestic violence, Snyder follows up with Women We Buried, Women We Burned, her story of escaping the cult her widowed father joined and as a teenager making her way in the world (100,000-copy first printing).