This user-friendly resource, a collaboration between Adam Matthew Digital and Sage Research Methods, is designed to introduce undergraduate students to research methodologies and primary sources. Although aimed primarily at undergraduate students, graduate students new to their field or needing a refresher will also find it useful. Overall, this is a solid choice for institutions supporting undergraduate research in the arts and humanities.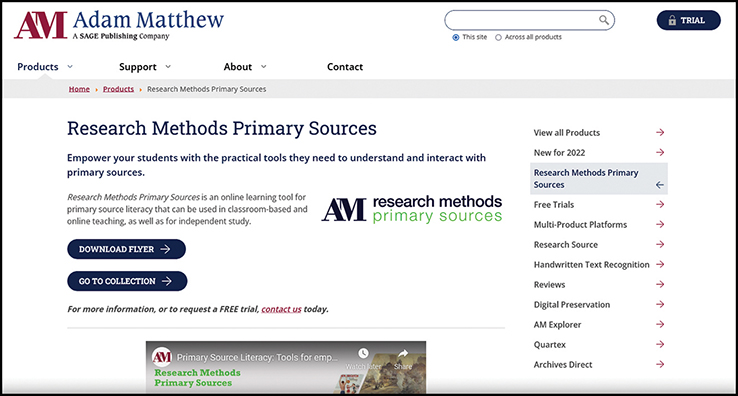 Adam Matthew Digital. Research Methods Primary Sources
CONTENT
A collaboration between Adam Matthew Digital and SAGE Research Methods, this resource is designed for students engaged in the humanities and social sciences. The tool is intended to serve as an introduction to research methodologies and primary sources, such as historical documents and archival materials. The collection includes essays, videos, guides, and case studies. Materials are arranged according to three "core pillars of learning": "learning tools," "case studies," and "practice sources."
Under "learning tools," users will find essays, videos, and how-to guides that show students how to conduct primary source research and engage with resources, as well as expert tips, such as how to develop a strong research question. The "case studies" selection includes more than 100 documents (advertisements, artwork, census data, church records, and more), which are intended to help students learn to analyze primary sources.
Users can put their knowledge into practice by using the "practice sources" section, which connects students to more than 300 historical documents from more than 50 archival collections.
Combined, the three pillars will effectively guide students through the research process, from inquiry to practice.
USABILITY
This is a user-friendly resource with a clean, intuitive interface that will appeal to students. Users can search for resources in the collection, but browsing seems to be the intended method to access documents. Each section is divided into self-explanatory segments; for instance, "learning tools" is arranged into subsections such as "using primary sources, "types of archives," "practical guides to research," and more. Within each subsection, users will find articles, essays, and additional resources for learning and practice.
The "case studies" section is divided into four major categories: case studies arranged by source type, theme, and data set, as well as a complete listing of available studies. Beyond the "learning tools," the most robust section in the resource is the "practice sources" collection. Users can do a simple search or browse the collection, filtering by date, source type, theme, library/archive, and more. They can view results as a list or grid, bookmark items, and download resources.
Each source record contains a full listing of details in the source record, including title, creator/author, date, description, copyright, and source archive, as well as linked case studies and related learning tools.
PRICING
Costs are based on factors influencing potential user group sizes (e.g., Carnegie Classification; full-time enrollment); contact info@amdigital.co.uk.
VERDICT
This is a solid, practical resource for institutions that support undergraduate research in the humanities and social sciences. Graduate students may also benefit from the tools provided, particularly those who might be new to their field or are in need of a refresher. Faculty might find this resource especially useful for developing course materials and identifying studies for supplementary reading lists or course assignments.