Seth is the author of several books, including It's a Good Life, If You Don't Weaken and Clyde Fans, which follows the slow decline of two brothers charged with keeping the electric fan company started by their father afloat over several decades.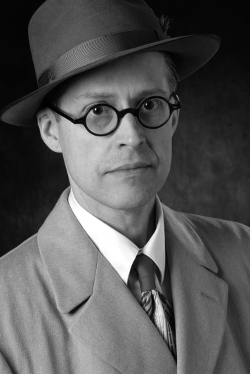 Photo credit: David Briggs Photography
Seth is the author of several books, including It's a Good Life, If You Don't Weaken and Clyde Fans (Drawn & Quarterly; see starred review, LJ 6/19, p. 97), which follows the slow decline of two brothers charged with keeping the electric fan company started by their father afloat over several decades. Seth lives in Ontario.
---
The layout and design of each page of Clyde Fans seem very deliberate. How do you approach crafting individual pages or sequences?
The process of making comics is very different than most people think. One of the hardest things to explain is that the "writing" is often done at the same time as the drawing. What I mean is that so much of what would be description in a novel is actually drawn in a comic. And much of that you make up as you go along. In other words, telling about what a room looks like or what a character is wearing or how they gesture, etc., is all done in the drawing, and those drawings are a form of "writing." They tell you everything you need to know in a very direct way—a very different way—than what the words in the balloons tell you. In a sense, everything you do while drawing is also writing.
Imagine that all the thought about how the pages are set up, how the panels are arranged, the size of the panels, how the characters/objects are placed in the panels—imagine this is the music underneath the lyrics in a song. They both operate separately to make a song, both are super important, but both must work seamlessly together to make the song. And—if you've done a good job nobody notices or thinks about these decisions while they read the story.
What draws you to telling stories about characters whose lives are ruled by an obsession with pop culture ephemera?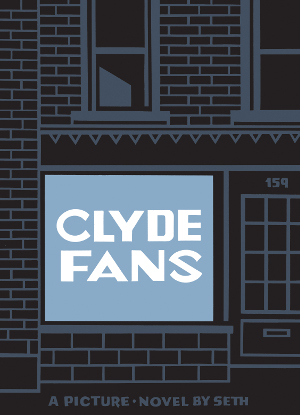 This comes from my own obsessive collecting. I have always been a collector—everything from comics and books to toys and old appliances. In fact, collecting is so essential to my life that it's hard for me to imagine a character without asking myself, "What does he/she collect?" It's also a very easy writing device. Picking something for a character to obsess [over] or focus on allows the creation of an easy window into their inner life because the obsession is such a simple, clear symbol.
Similarly, several of your books deal with characters either nostalgic for, or unable to move on from, the past.
I suppose that kind of reverie is my idea of what a story is. It's funny, you don't know who you are when you start writing, but as the years go by (much like analysis), you discover yourself through repetition. You write what you write because it's what is close at hand. Before you know it you find out what your "themes" are. It just happens. When I began writing I imagined I would write a wide variety of stories—some romance, some memoir, something dramatic, something droll. It didn't work out
that way.
Was it difficult getting into the mind-set of characters so much older than you are, living in a time so different from our own?
It's hard to get away from writing autobiography. Abe and Simon are, of course, versions of myself. I grew up with older parents. Both of my parents grew up during the Depression era and World War II. I was the last child of five, but the other children were grown and out of the nest when I came along.
So, my childhood was spent with old parents and in homes filled with the detritus of the postwar era. They both talked a great deal about their upbringing, and this impressed itself deeply into my consciousness. I am so much a product of those two people and their era. They are both gone now, but I think of them every day and also of the somewhat strange, isolated life I had with them as child. The real challenge for me would be to write a young person. It would've been a challenge even when I was young!
The cover of Clyde Fans refers to it as apicture novel. Do you prefer this term to graphic novel? And if so, can you speak to the distinction between the two?
When I made my first graphic novel,It's a Good Life if You Don't Weaken, I deliberately subtitled it, A Picture Novella. This was a joke, my feeble attempt to make fun of the pretentiousness of the term graphic novel (which I always disliked). I continued to use the joke book by book, but no one ever got the joke. They always figured I was serious. When I lettered ["Picture Novella"] onto the title page of Clyde Fans, Tracy Hurren of Drawn & Quarterly commented that the book was too big to be titled a novella. So, we changed it to novel. I guess by now the joke is long over. I suppose I am using the term seriously now. What does it mean?—it means graphic novel. Or perhaps I should correct that—it doesn't mean much.
The market for comic books, as well as the readership, has changed quite a bit over the 20 years it took to complete this book. Do you imagine the reaction or reception to Clyde Fans would have been different had it been released ten or 15 years ago?
I think a lot of folks don't remember how different the comics world was 20 years ago. Back then, when I started writing Clyde Fans, I imagined the audience to be somewhat like myself: underground/alternative comics fans in their mid-20s to mid-30s. Those "fans" kept the comic books alive. They purchased and read all the comics of myself and my peers.
Since then, the graphic novel has broken through into the mainstream of publishing and there are now hundreds of cartoonists making them (or so it seems). Today's readership is more broad. I never know who is reading my work any longer. To be honest, I was always kind of hoping to reach a broader audience. My melancholy stories about old people wandering about in dim rooms were more catered to the average reader than to your typical subculture patron. That said, I deeply love all those old comics fans—they kept me alive.—Tom Batten
---
Tom Batten is a writer and teacher, whose work has appeared in publications such as the Guardian and The New Yorker. He lives in Virginia
---
This interview originally ran in Library Journal's June 2019 issue.