Titles targeting YA readers flourish in the graphic novel form and can also have strong adult appeal, with a huge variety of works across multiple genres available. Kazu Kibuishi's Amulet. Vol. 1: The Stonekeeper (Graphix: Scholastic) launches the popular ongoing fantasy series tracing the adventures of siblings who discover a doorway to a fantasy kingdom filled with monsters, talking animals, and gigantic robots following the death of their father. Fantasy fans will also enjoy Noelle Stevenson's Nimona (HarperTeen), a romp that subverts expected tropes by starring the rambunctious sidekick to a maniacal villain, Lord Blackheart.
Brian K. Vaughan and others' Runaways: The Complete Collection. Vol. 1 (Marvel) opens with a diverse group of teenagers discovering that their parents are supervillains bent on world domination and serves as the basis for the popular series currently streaming on Hulu. In Shazam! The Monster Society of Evil (DC), Jeff Smith, best known as the creator of Bone, delivers a charming superhero story populated with monsters and mad scientists that young readers will find thrilling and adults will recognize as an homage to classic superhero tales of the past.
Tony Medina and others' I Am Alfonso Jones (Tu: Lee & Low), the first graphic novel inspired by the Black Lives Matter movement, is a poignant meditation on the importance of seeking justice and social change and follows the titular high schooler through the afterlife after he is killed by an off-duty police officer. The personal and political also collide in Marjane Satrapi's acclaimed memoir of growing up during the Islamic Revolution, The Complete Persepolis (Pantheon).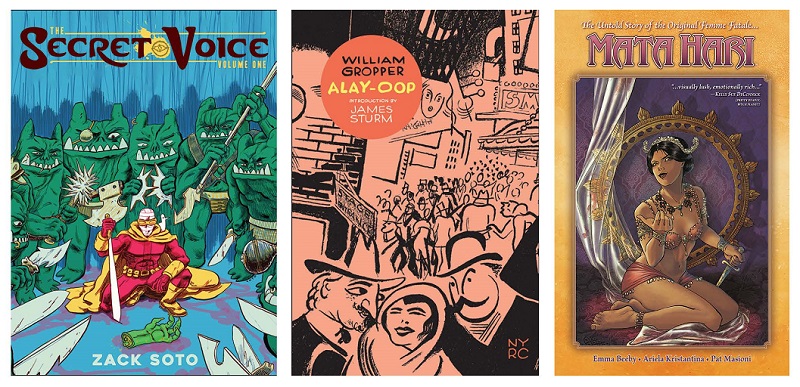 Beeby, Emma (text) & Ariela Kristantina & others (illus.). Mata Hari: The Untold Story of the Original Femme Fatale. Berger: Dark Horse. Mar. 2019. 128p. ISBN 9781506705613. pap. $19.99; ebk. ISBN 9781506705903. Rated: Teen+. historical fiction
For more than a century, her name has conjured images of exotic locales, early 20th-century European decadence, and high-stakes espionage and treachery, while the details behind her rise to infamy and tragic end have remained relatively unknown. Historical record shows that Margaretha Geertruida "Margreet" MacLeod, née Zelle (1876–1917), aka Mata Hari, was born to an affluent Dutch family and went on to become a wife, mother, lover, courtesan, and global superstar before being convicted of spying for Germany during World War I and executed by French authorities at just 41 years old. But her life was much richer and vastly more complex than broad strokes could possibly convey, so it's a good thing we have this carefully researched, beautifully written new biography. Author Beeby ( Sword of Sorrow) uses her subject's incarceration and trial as a frame for a nonlinear exploration of her life, often skillfully flashing across decades from one panel to the next. Accomplished illustration and clever page design by artists Kristantina (The Logan Legacy) and Masioni (Unknown Soldier) keep the narrative flowing, resulting in a brilliant portrait of a woman driven by her hunger for independence and doomed by a contradictory nature that also made her a legend.
VERDICT A terrific and nuanced biography that proves its subject worthy of reevaluation and announces its author as a talent to watch. [See publisher spotlight, LJ 6/19, p. 42.]
Bendis, Brian Michael (text) & Ivan Reis & others (illus.). Superman. Vol. 1: The Unity Saga; Phantom Earth. DC. Mar. 2019. 168p. ISBN 9781401288198. $24.99; ebk. ISBN 9781401298579. Rated: Teen+. superhero
After a long, industry-redefining tenure at Marvel Comics, writer Bendis ( The Man of Steel) turns his attention to DC's Superman. Struggling to balance his responsibility to the people of Earth with his worry for the safety of his wife, Lois Lane, and their son, Jonathan, as the two embark upon a journey across the universe, Superman is taken by surprise when Earth is suddenly transported into the mysterious and incredibly dangerous Phantom Zone. With the rest of the Justice League indisposed, Superman must fight alone to defend the planet against an army of supervillains and return it to its proper place in the solar system. Bendis combines his skill for characterization with a truly momentous tale, perfectly suited to illustrator Reis (Geoff Johns's Green Lantern: Book One). Collecting single issues 1–6 of an ongoing series.
VERDICT Bendis's much-touted takeover of the Superman franchise is the rare superhero comic book event that actually lives up to the hype, and this volume serves as a great jumping-on point.
Casey, Joe (text) & Benjamin Marra (illus.). Jesusfreak. Man of Action: Image. Mar. 2019. 64p. ISBN 9781534311749. $17.99; ebk. ISBN 9781534314214. Teen+. historical fiction
In 26 CE, a young Nazarean carpenter named Jesus is plagued by strange visions and a sense that there must be more to life than toiling under a brutal Roman regime. An encounter with the traveling preacher John the Baptist sends Jesus on a journey of self-actualization that results in his rebirth as a Kung Fu expert with spectacular powers and a keen devotion to freeing his people in mind, body, and soul. Author Casey ( New Lieutenants of Metal) has long specialized in using classic comic book genre tropes to explore consciousness and the nature of reality, and here he finds an able partner in Marra ( Night Business) who has likewise made a name for himself by masterfully subverting the look and style of comics from the 1960s and 1970s.
VERDICT In their introduction, the creators insist that "This is not a religious story," and indeed their interests seem to lie more in exploring self-realization and the visual style of pop art comics produced in the mid-1970s. As a result, this volume is both far less sacrilegious than it sounds and nowhere near as subversive as fans of the creators' previous work might expect or desire.
DeForge, Michael. Leaving Richard's Valley. Drawn & Quarterly. Apr. 2019. 480p. ISBN 9781770463431. $32.95. Rated: Teen+. LITERARY
Deep inside a Toronto public park lives a group of humans and animals completely dedicated to the teachings of their leader, a mysterious man named Richard who promises that his adherents will stay free of lethal toxins as long as they follow his rules. When a raccoon named Lyle gets sick and his friends—a dog, a spider, and a squirrel—defy Richard by looking outside their community for help, the creatures find themselves exiled. As their search for a new home brings them into contact with city dwellers whose lives they previously could never have imagined, the animals themselves begin to change and long for more out of life. DeForge ( Brat) delivers an idiosyncratic sense of humor and keen insight into the ways that communities cohere, adapt to change, and sometimes crumble. ­
VERDICT Prolific and versatile, DeForge excels at combining wit and pathos, and this collection, originally serialized online, serves as a great entry point for readers interested in his body of work and is quite possibly the best he's released to date.
Ennis, Garth (text) & Darick Robertson (illus.). The Boys Omnibus. Vol. 1. Dynamite. Apr. 2019. 344p. ISBN 9781524108595. pap. $29.99; ebk. ISBN 9781524108618. Rated: Mature. superhero/action adventure
Wee Hughie is a sweet, moralistic Scotsman, desperately in love with his girlfriend. After she is killed during a battle between a careless superhero and his nemesis, Wee Hughie is recruited to work alongside the Boys, a CIA-backed squad tasked with keeping the world's superpowered population under control. Soon Wee Hughie discovers that many of the greatest heroes are secretly vicious and depraved, driven to extreme behavior by their celebrity status and often protected by corporate interests and political operatives who wield even more power than men and women capable of bending steel with their bare hands. Author Ennis (Sara) and illustrator Robertson ( Transmetropolitan: Book One) revel in graphic sex and violence. And while their often juvenile sense of humor may keep some readers at bay, those willing to stick with the series will discover that the more extreme elements of the story juxtapose fascinatingly with a deeply moralistic, human, and even romantic point of view.
VERDICT This omnibus volume collects issues 1–15 of the continuing story line that inspired the highly anticipated upcoming Amazon Prime streaming series and should see high interest from readers.
Gropper, William. Alay-Oop. NYRC. Jun. 2019. 224p. ISBN 9781681373003. $24.95. Rated: Mature. literary
Gropper (1897–1977) is renowned for his work as a newspaper cartoonist and muralist and his political activism in the early part of the 20th century. This long-overdue reissue of a book originally published in 1930 reveals that he was also one of the first graphic novelists (Chinese White ; Twelve Etchings). The story, presented in individual, wordless, full-page black-and-white illustrations, concerns a love triangle among a talented circus acrobat, her partner, and a flamboyant singer who promises a life of luxury in exchange for the performer's hand in marriage. That Gropper manages to bestow characters moving through a relatively simple plot with such rich inner lives is even more impressive considering the story is purely visual, relying solely on his wonderfully expressive brushline to evoke the feelings of the lovers' journey from the glitz and glamor of the circus tent to a rundown tenement apartment.
VERDICT Gropper's name is probably better known to historians and illustration buffs than to mainstream graphic novel readers at the moment, but this gorgeously drawn, touching story is sure to linger with anyone who reads it.
LeHeup, Jody (text) & Nathan Fox (illus.). The Weatherman. Vol. 1. Image. Mar. 2019. 200p. ISBN 9781534308732. pap. $17.99; ebk. ISBN 9781534314030. Rated: Mature. SF
Nathan Bright is a fun-loving, beloved local weatherman living on a fully terraformed planet Mars in the year 2770, until he's accused of having played a role in a terrorist attack that killed almost the entire population of Earth seven years earlier. Suddenly recast as the most despised man who has ever lived, Nathan is caught between a gang of criminals with a scheme to monetize the public's thirst for vengeance and a government agent convinced that his memories hold the key to preventing future attacks. Who do you turn to when every human in existence hates your guts? LeHeup (Shirtless Bear-Fighter) and Fox ( Dogs of War) explore this question in a thrillingly fast-paced, action-packed expert blend of high-concept sf and political thriller.
­VERDICT Nearly every page of this volume, which collects single issues 1–6 of an ongoing series, adds to Fox's reputation as one of the most talented and dynamic illustrators working in graphic novels today. Not to be missed.
Rosa, Don. The Complete Life and Times of Scrooge McDuck. Vol. 1. Fantagraphics. Apr. 2019. 248p. ISBN 9781683961741. $29.99. Rated: Teens+. anthologies
In 1877, a duckling named Scrooge with dreams of reclaiming his ancestral land and restoring honor to the name McDuck begins working as a shoeshine. The single dime he earns on his first day on the job becomes the foundation upon which he will eventually build a vast fortune, as his ambitions eventually propel him across the globe. He spends time piloting a riverboat on the Mississippi and battling cattle thieves out West, gains and loses control of a copper mine in a single afternoon, searches for gold in South Africa, and eventually travels to the Yukon, Australia, and elsewhere throughout the first half of the 20th century, encountering ghosts, bandits, and various world leaders along the way.
VERDICT The phenomenally wealthy, unabashedly miserly, and thoroughly adventurous Uncle Scrooge is probably better known in the States as the star of a late 1980s cartoon series. Yet these comics from Rosa (Walt Disney's Uncle Scrooge & Donald Duck, Vol 5:The Richest Duck in The World), originally serialized in Denmark's Anders And & Co. (1992–94) and brought together here in a single volume for the first time, have sold millions of copies internationally. The stunning craft, sense of fun, and stirring action gracing every page of this Eisner Award–winning collection makes it easy to see why.
Seth. Clyde Fans: A Picture Novel. Drawn & Quarterly. Apr. 2019. 488p. ISBN 9781770463578. $54.95. Rated: Teen+. LITerary
Finally complete and available in one gorgeous volume after two decades of work, the latest from Seth (It's a Good Life, If You Don't Weaken) presents an intimate epic spanning four decades in the lives of brothers Abe and Simon Matchcard, the owners of an electric fan company in Toronto. Opening in 1997, with an elderly Abe delivering a long, captivating monolog about his successes as a salesman and ultimate failure as a businessman after the advent of air conditioning leads to a decline in demand for electric fans, the story flashes back to 1957 to focus on Simon. A much more sensitive and poetic soul than Abe, Simon endures one humiliation after another during an ill-fated attempt to prove himself a capable salesman before experiencing an epiphany that sets the course for the rest of both brothers' lives. Seth's deceptively simple illustrations, reminiscent of classic New Yorker cartoonists, conjure a rich sense of melancholy and nostalgia as he explores aging, memory, regret, and the endless march of time.
VERDICT It's only June, but Seth's long-anticipated masterpiece is already a strong contender for one of 2019's best graphic novels. [See author Q&A on p. 99.]
Soto, Zack. The Secret Voice. Vol. 1. Floating World. Apr. 2019. 160p. ISBN 9781942801870. $24.95. Rated: Teen+. fantasy
This richly imagined fantasy epic follows the mysterious Doctor Galapagos, emissary of a group of scholars, sorcerers, and warriors known as the Red College. Attempting to persuade the various kingdoms that make up the land of Fortea to join a coalition seeking to resist the relentless march of the sinister, technologically advanced Smog Empire, Galapagos's mission is complicated by more than just the savagery and suspicions of those whose help he seeks. His enemies will stop at nothing to see him dead, and even worse, a horrible curse threatens to debilitate his body and corrupt his soul. Can our hero save his world, himself, and the woman he loves before it's too late? This hardcover collects a combination of both previously released (but heavily revised) and new material, including an appendix further exploring this realm. VERDICT Soto ( Power Button) blends tropes of epic fantasy with elements of horror, manga, and underground art comics, kicking off what promises to be an excitingly
original adventure.
Wroten, Kelsey. Cannonball. Uncivilized. Apr. 2019. 272p. ISBN 9781941250334. $24.95. Rated: Teen+. fic/LGBTQ
DEBUT Author/illustrator Wroten's first graphic novel focuses on recent college graduate Caroline Bertram, a queer, alcoholic, aspiring fiction writer prone to swinging wildly between delusions of grandeur and crippling anxiety. Opening as Caroline moves into her first apartment postcollege, the plot largely revolves around our protagonist's growing fascination with a female professional wrestler named Cannonball and an attempt at writing a YA novel that will prove her genius to her friends and family. But it's Caroline's misadventures—various flings, bad parties, awkward social encounters—that fascinate, as Wroten develops an incisive character study of a young woman who can't quite bring herself to accept that a sense of self-worth doesn't necessarily follow financial, creative, or romantic success. Is Caroline as talented as she insists she is? Will she sell out or somehow remain artistically pure? Is it even possible to avoid selling out? Is a consuming interest in such questions a sign of extreme immaturity?
VERDICT ­Wroten's knack for character development and legitimately witty banter, combined with her expressive cartooning and exquisite use of pastel color, result in a highly engaging story about an occasionally abrasive but ultimately ­sympathetic character.
Wulf, Andrea (text) & Lillian Melcher (illus.). The Adventures of Alexander von Humboldt. Pantheon. Apr. 2019. 272p. ISBN 9781524747374. $29.95. Rated: Teen+. BIOG
Inheriting a small fortune following his mother's death and receiving special permission from the King of Spain, Prussian polymath, adventurer, and naturalist ­Alexander Von Humboldt (1769–1859) spent 1799–1804 exploring South America and Mexico. With botanist Aimé Boland at his side, von Humboldt investigated volcanoes, climbed Ecuador's Mt. Chimborazo (believed at the time to be the tallest mountain in the world), forged rivers, experimented with electric eels, waded through swamps, interacted with indigenous cultures, and made numerous important scientific discoveries that would later influence Thomas Jefferson, Charles Darwin, and Simón Bolivar. He is also reportedly the first person to predict that human behavior might result in global climate change. Artist Melcher uses a dazzling combination of illustration and collage technique spread across oversized pages that swirls with text, diagrams, and sketches in order to mimic the look of an explorer's notebook.
VERDICT Drawing on von ­Humboldt's publications, diaries, and letters, Wulf ( The ­Invention of Nature) brings her subject to life, cleverly allowing him to narrate his story in an affable if possibly anachronistic tone that makes the occasionally complicated scientific theory easily digestible. [See Prepub Alert, 10/29/18.]

Additional Graphic Novels
Milani, Alice. Marie Curie: A Life of Discovery. Graphic Universe. Aug. 2019. 208p. notes. bibliog. tr. from Italian by Kerstin Schwandt. ISBN 9781541528178. $33.32; pap.
ISBN 9781541572867. $14.99. Rated: Teen+. BIOG
Italian creator Milani (cocontributor, Post Pink) offers her first English-language translation with this biography of French Polish physicist Marie Curie (1867–1934), tracing the Nobel Prize winner's life using several themes: her scientific exploration, the sexism she faced, and her Polish identity. Central to the narrative is Curie's partnership with husband and colleague Pierre Curie, as is the scandal some years after his death, when Curie became involved with a married colleague. Yet ­Milani most successfully conveys the professional achievements and impassioned life of an extraordinary mind while also making clear the challenges Curie overcame as a female scientist and foreigner working in France. The author's striking watercolor and pastel art employs color expressively and varying styles to enhance this affecting portrait. Milani's parents, a physicist and a mathematician, served as consultants for this work and provide an afterword about Curie's legacy. A helpful time line and bibliography round out the book. ­
VERDICT Will appeal to curious high schoolers and adults interested in history and science, though some themes will challenge younger readers. [Previewed in Ingrid Bohnenkamp's Graphic Novels Preview, "Mass Appeal," LJ 6/19, p. 39.] —Bill Hardesty, Georgia State Univ. Libs., Atlanta
---
Tom Batten is a writer and teacher whose work has appeared in the Guardian and The New Yorker. He lives in Virginia
---
These reviews were originally published in Library Journal's May 2019 issue