Poet Ross Gay on joy, critic Darryl Pinckney on 1970s New York, and the essential Dick Gregory.
Click here for additional new Prepub Alert columns
Gay, Ross. Inciting Joy. Algonquin. Oct. 2022. 256p. ISBN 9781643753041. $27. LITERATURE
Gay is not only a National Book Critics Circle Award–winning poet (Catalogue of Unabashed Gratitude) but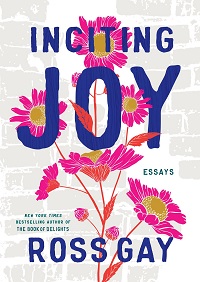 an essayist whose The Book of Delights was a New York Times best seller exploring the world's simple joys. Here he focuses on the joy we find in caring for others. A big author tour.
Gregory, Dick. The Essential Dick Gregory. Amistad: HarperCollins. Oct. 2022. 320p. ISBN 9780062879202. $27.99. CD.
As part of Amistad's Literary Revival Program, which reintroduces backlist Black classics to a new generation, this book nimbly draws from 16 books, 15 albums and audio compilations, and more than 1,200 hours of archival video to present the core thinking of one of Comedy Central's "100 Greatest Standups" and an ardent human rights and environmental activist. With a 40,000-copy first printing.
Pinckney, Darryl. Come Back in September: A Literary Education on West Sixty-Seventh Street, Manhattan. Farrar. Oct. 2022. 448p. ISBN 9780374126650. $30.
In the early 1970s, Pinckney arrived at Columbia University and signed up for a writing class across the street at Barnard with Elizabeth Hardwick, who took him under her wing and introduced him to fellow New York Review of Books cofounder Barbara Epstein. And that introduced him to the grand world of literature, art, and music in New York at the time, as he explains in this memoir. With a 25,000-copy first printing.