Memoir and analysis lead us deeper into the arts.
Click here for additional new Prepub Alert columns
Douglas-Fairhurst, Robert. The Turning Point: 1851—A Year That Changed Charles Dickens and the World. Knopf. Mar. 2022. 368p. ISBN 9780525655947. $28.95. Downloadable. LITERATURE
Ferrara, Silvia. The Greatest Invention: A History of the World in Nine Mysterious Scripts. Farrar. Mar.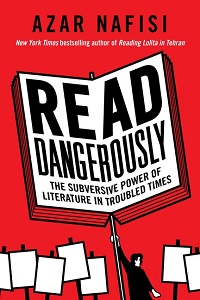 2022. 304p. tr. from Italian by Todd Portnowitz. ISBN 9780374601621. $29. LANGUAGE
Fierstein, Harvey. I Was Better Last Night: A Memoir. Knopf. Mar. 2022. 400p. ISBN 9780593320525. $30. Downloadable. MEMOIR/PERFORMING ARTS
Galloway, Stephen. Madly: Vivien Leigh, Laurence Olivier, and the Romance of the Century. Grand Central. Mar. 2022. 432p. ISBN 9781538731970. $30. Downloadable. BIOGRAPHY/PERFORMING ARTS
Miller, Lucasta. Keats: A Brief Life in Nine Poems and One Epitaph. Knopf. Mar. 2022. 368p. ISBN 9780525655831. $30. Downloadable. LITERATURE
Nafisi, Azar. Read Dangerously: The Subversive Power of Literature in Troubled Times. Dey Street: Morrow. Mar. 2022. 240p. ISBN 9780062947369. $26.99. LITERATURE
Polley, Sarah. Run Towards the Danger: Confrontations with a Body of Memory. Penguin Pr. Mar. 2022. 272p. ISBN 9780593300350. $27. Downloadable. MEMOIR/PERFORMING ARTS
Schur, Michael. How To Be Perfect: The Correct Answer to Every Moral Question. S. & S. Mar. 2020. 304p. ISBN 9781982159313. $28. CD. HUMOR
Spector, Ronnie with Vince Waldron. Be My Baby: A Memoir. Holt. Mar. 2022. 368p. ISBN 9781250837196. $27.99. CD. MEMOIR/MUSIC
A Duff Cooper Prize winner for Becoming Dickens, Oxford English professor Douglas-Fairhurst argues that for Dickens the emotionally tumultuous year of 1851 was The Turning Point that singularly shaped his oeuvre. A professor of Aegean civilization at the University of Bologna, Ferrera moves from Mesopotamia and Crete to China, Central America, Easter Island, and beyond to chronicleThe Greatest Invention—writing. In I Was Better Last Night, Fierstein talks about being a cultural icon, gay rights activist, and four-time Tony Award–winning actor and playwright. Emmy Award–winning writer Galloway, who created the Reporter's famed Oscar Roundtables, revisits Madly in love Laurence Olivier and Vivien Leigh, among the first global celebrities (75,000-copy first printing). In Keats, British literary critic Miller uses verse and epitaph, e.g., "Endymion," "Bright Star," to explore the life of the English Romantic and present him less as dreamer than subversive. In a book structured as a series of letters to her book-loving father, Nafisi urges us to Read Dangerously, addressing literature as both solace and subversive power that can challenge repressive politics; originally scheduled for August 2021 (75,000-copy first printing). Oscar-nominated screenwriter, director, and actor Polley offers six essays capturing moments of her life, from stage fright to risky childbirth to healing herself after traumatic injury by retraining her mind to Run Towards the Danger, i.e., the very things that triggered her recurrent symptoms. The creator of The Good Place and cocreator of Parks and Recreation, Schur offers How To Be Perfect as a laugh-out-loud guide to living not the good life but the better life (200,000-copy first printing). Lead singer of the Ronettes—remember Be My Baby ?—Rock and Roll Hall of Famer Spector recounts professional collaboration with and marriage to Phil Spector, then fighting to reclaim her musical legacy and her life (75,000-copy first printing).