Barbra Streisand and Mary J. Blige, Willa Cather and Anthony Hecht, Elvis and the Colonel, and more.
Click here for additional new Prepub Alert columns
Biskind, Peter. Pandora's Box: The Greed, Lust, and Lies That Upended Television. Morrow. Nov. 2023. 416p. ISBN 9780062991669. $32.50. CD. PERFORMING ARTS
Blige, Mary J. I Want To Be Where the Song Is: A Memoir. Little, Brown. Nov. 2023. 320p. ISBN 9780316568357.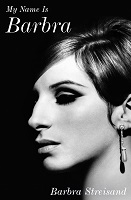 $30. CD/downloadable. MUSIC
Elkin, Lauren. Art Monsters: Unruly Bodies in Feminist Art. Farrar. Nov. 2023. 368p. ISBN 9780374105952. $35. FINE ARTS
Lopate, Phillip. A Year and a Day. New York Review Books. Nov. 2023. 216p. ISBN 9781681377780. pap. $17.95. LITERATURE/ESSAYS
McDonald, Greg & Marshall Terrill. Elvis and the Colonel: An Insider's Look at the Most Legendary Partnership in Show Business. St. Martin's. Nov. 2023. 384p. ISBN 9781250287496. $32. MUSIC
Machado, Carmen Maria & J. Robert Lennon, eds. Critical Hits: Writers Playing Video Games. Graywolf. Nov. 2023. 224p. ISBN 9781644452615. pap. $18. LITERATURE/ESSAYS
Streisand, Barbra. My Name Is Barbra. Viking. Nov. 2023. 1,024p. ISBN 9780525429524. $45. MEMOIR/PERFORMING ARTS
Sycamore, Mattilda Bernstein. Touching the Art. Soft Skull: Catapult. Nov. 2023. 304p. ISBN 9781593767358. $27. MEMOIR/FINE ARTS
Taylor, Benjamin. Chasing Bright Medusas: A Life of Willa Cather. Viking. Nov. 2023. 192p. ISBN 9780593298824. $28.
Yezzi, David. Late Romance: Anthony Hecht—A Poet's Life. St. Martin's. Nov. 2023. 480p. ISBN 9781250016584. $40. LITERATURE/BIOGRAPHY
Former editorial bigwig at American Film and Premiere magazines, cultural critic Biskind opens Pandora's Box to reveal why, when, and how television superseded film as the main form of entertainment for U.S. audiences. Assessing her 34-year career, nine-time Grammy Award–winning singer and songwriter Blige explains I Want To Be Where the Song Is. A good companion to Claire Dederer's trending Monsters, PEN essay finalist Elkin's Art Monsters considers feminist art not just as defiance of patriarchy but as an aesthetic with goals of its own (30,000-copy first printing). In 2016, essayist extraordinaire Lopate decided he would write a blog a week about whatever topic emerged on the spot, with the 47 essays in A Year and a Day the result. Having worked for years with Colonel Tom Parker, entertainment producer McDonald offers a revisionist view of Elvis and the Colonel (50,000-copy first printing). With Critical Hits, National Book Award finalist Machado and Discovery Award winner Lennon collect essays examining the cultural impact of video games. At 1,024 pages, Streisand's My Name Is Barbra is a memoir as big as its author. In Touching the Art, the Lambda Literary Award–winning Sycamore considers artistic impulse and family trauma as she recounts encouragement from an abstract-artist grandmother who turned icy cold and rejecting when Sycamore's work turned queer. Author of the multi-best-booked Proust, Taylor takes to Chasing Bright Medusas as he revisits the life and work of Willa Cather, arguing that her work should be sought out more vigorously today. With Late Romance, poet/playwright Yezzi offers a thoroughgoing account of the late Pulitzer Prize–winning formalist Hecht on the occasion of his 100th birthday (40,000-copy first printing).