A deep dive into the arts during tough times.
Click here for additional new Prepub Alert columns
Hurston, Zora Neale. You Don't Know Us Negroes and Other Essays. Amistad: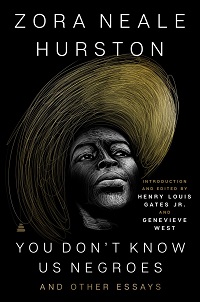 HarperCollins. Jan. 2022. 412p. ISBN 9780063043855. $29.99. lrg. prnt. LITERARY COLLECTIONS
Nayeri, Farah. Takedown: Art and Power in the Digital Age. Astra House. Jan. 2022. 304p. ISBN 9781662600555. $28. ART/THEORY
Perl, Jed. Authority and Freedom: A Defense of the Arts. Knopf. Jan. 2022. 176p. ISBN 9780593320051. $20. Downloadable. ART & POLITICS
Reich, Steve. Conversations. Hanover Square: Harlequin. Jan. 2022. 304p. ISBN 9781335425720. $27.99. MUSIC/MEMOIR
Thanhauser, Sofi. Worn: A People's History of Clothing. Pantheon. Jan. 2022. 400p. ISBN 9781524748395. $30. HISTORY/CLOTHES
Edited by Henry Louis Gates Jr., You Don't Know Us Negroes and Other Essays is the first comprehensive collection of essays, criticism, and articles by Harlem Renaissance great Hurston, coming at a time when she is in the news again with books like the New York Times best-selling Barracoon (100,000-copy first printing). From Nayeri, an arts and culture writer for the New York Times , Takedown argues that while censorship once happened top-down (think kings and popes), it is now sometimes done bottom-up by activists challenging artists, critics, and museums. Author of the two-volume biography of Alexander Calder, critic Perl argues in Authority and Freedom that art's value lies in its independence from any ideology; "art's relevance has everything to do with what many regard as its irrelevance." Pulitzer Prize–winning musician Reich (love Drumming and Double Sextet!) holds Conversations about his life and music. Focusing on linen, cotton, silk, synthetics, and wool, Pratt Institute professor Thanhauser's Worn tells us everything we would want to know about clothes, what they are made of, and how they have shaped—and been shaped by—human history.