From Salar Abdoh to Gabriel Bump to Alice McDermott.
Click here for additional new Prepub Alert columns
Abdoh, Salar. A Nearby Country Called Love. Viking. Nov. 2023.256p. ISBN 9780593653906. $28. LITERARY
After protests blaze forth when a woman defiantly sets herself on fire in Tehran, Issa throws in his lot with the city's marginalized residents while facing conflict in his own family; his brother is a leading queer artist in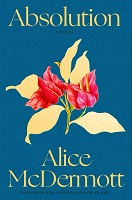 Tehran's underground, while his traditionalist martial-arts father obsesses over honor and masculinity. Soon Issa discovers that his new comrades are as intolerant as their adversaries. From the author of the LJ -starred, PW best-booked Out of Mesopotamia.
Alderman, Naomi. The Future. S. & S. Nov. 2023. 416p. ISBN 9781668025680. $28.99. CD. LITERARY
Having fled her father's cult in remote Oregon, Martha Einkorn now works for a power-hungry social media mogul whose companies design things like private weather and covert weaponry. Meanwhile, Lai Zhen, an internet survivalist in Singapore, finds instructions for escaping an assassin mysteriously popping up on her phone. Both women will soon be involved in saving the world. Following the multi-best-book, Bailey's-winning The Power.
Blakley-Cartwright, Sarah. Alice Sadie Celine. S. & S. Nov. 2023. 272p. ISBN 9781668021590. $26.99. CD. LITERARY
Down-to-earth Sadie is otherwise engaged on the opening night of freewheeling best friend Alice's play, a Bay Area basement production of The Winter's Tale, so she asks her mother to attend in her place. Celine, a celebrated professor of women's and gender studies at Berkeley, immediately falls for her daughter's best friend, who's blossomed into an engaging young woman. Blakley-Cartwright's first adult novel, following the No. 1 New York Times best-selling Red Riding Hood; she is also publishing director of the Chicago Review of Books and associate editor of A Public Space.
Bump, Gabriel. The New Naturals. Algonquin: Workman: Hachette. Nov. 2023. 272p. ISBN 9781616208806. $27. Downloadable. LITERARY
After losing their child, a Black Boston woman and her husband relocate to an abandoned restaurant in western Massachusetts, seeking to create a separate Black utopia where they can feel safe. They are joined by others, including two homeless men and a restless journalist, but soon their paradise is as troubled as the world they've tried to escape. From the author of the Ernest J. Gaines and Black Caucus ALA–winning Everywhere You Don't Belong.
Clinch, Jon. The General and Julia. Atria. Nov. 2023. 272p. ISBN 9781668009789. $26.99. LITERARY
Clinch reimagines Ulysses S. Grant at the end of his life, battling cancer as he struggles to finish his memoirs so that he can redeem a tarnished reputation and give his family some means of support after his death. Along the way, the narrative clarifies the evolution of Grant's attitudes toward race and Reconstruction as he battles the rising Ku Klux Klan. As evidenced by the multi-best-booked Finn, Clinch has a way with the past.
Davis, Lydia. Our Strangers: Stories. Bookshop. Oct. 2023. 276p. ISBN 9798987717103. $26. SHORT STORIES
In her seventh collection of fiction (she's also published two essay collections and the novel The End of the Story), MacArthur fellow Davis features intersecting moments, misconstrued conversations, and identity confusion, from a letter thought to be a rare butterfly and toddlers seeing Ping-Pong balls as eggs. By the author's request, the book is available only at indie bookstores, libraries, and Bookshop.org.
Evison, Jonathan. Again and Again. Dutton. Nov. 2023. 336p. ISBN 9780593184158. $28. LITERARY
Cranky nursing-home resident Geno believes that his dedicated nursing assistant, Angel, just doesn't understand him, and no surprise. Geno insists that he's lived many lives, dating back 1,000 years to Seville, Spain, and he's still searching for the true love he's met only once. From 2008's award-winning All About Lulu to 2021's Legends of the North Cascades, Evison's novels earn dedicated fans.
McDermott, Alice. Absolution. Farrar. Nov. 2023. 336p. ISBN 9780374610487. $28. CD/downloadable. LITERARY
In 1963 Saigon, Tricia, the fresh-faced young wife of an oil engineer working with U.S. Navy Intelligence, is shepherded by commanding corporate spouse Charlene, who relentlessly leads other U.S wives on missions of mercy throughout the city. Decades later, Charlene's daughter contacts a now-widowed Tricia to revisit memories of Saigon and Charlene's sometimes damaging do-goodism. From the beloved, National Book Award–winning McDermott.