Award winners and exciting books in translation.
Click here for additional new Prepub Alert columns
Anie, Sussie. To Fill a Yellow House. Mariner: HarperCollins. Nov. 2022. 304p. ISBN 9780063087385. $27.99. CD. LITERARY
When his family moves to a different part of London, Kwasi feels lost until he befriends Rupert, the white,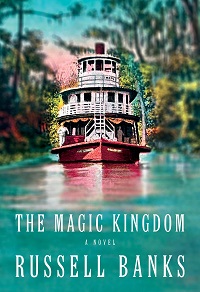 middle-aged, widowed proprietor of a charity shop that's seen better times. Together they face the roiling changes in their community and lives. British Ghanian writer Anie makes her debut; with a 50,000-copy first printing.
Banks, Russell. The Magic Kingdom. Knopf. Nov. 2022. 352p. ISBN 9780593535158. $30. Downloadable. LITERARY
In 1971, property speculator Harley Mann records his life story, starting with his father's unexpected death, which drove his family down to Florida to join a Shaker community. The community saved the struggling family, but Harley's love for a consumptive patient there had consequences that forced him to reassess the conservative Shaker worldview. From two-time Pulitzer Prize finalist Banks.
Berry, Wendell. How It Went: Thirteen More Stories of the Port William Membership. Counterpoint. Nov. 2022. 256p. ISBN 9781640095816. $26. LITERARY
Multi-award-bedecked novelist/poet/essayist Berry returns with a collection set in the fictional Kentucky town that's home to his autobiographical character Andy Catlett, who relates 13 stories with settings ranging from 1945 to 2001. A celebration of lives well spent and of family and friends, living and deceased.
Chen, Kevin. Ghost Town. Europa Editions. Oct. 2022. 384p. tr. from Chinese by Darryl Sterk. ISBN 9781609457983. $27. LITERARY
The only son a Taiwanese family with seven daughters had longed for, Chen Tien-Hong flees to Berlin in search of acceptance as a gay man but returns 10 years later after his release from prison for killing his boyfriend. His family is scattered and shattered, and readers learn of their fate and what really lay behind the murder. Winner of the Taiwan Literature Award.
Cho Nam-Joo. Saha. Liveright: Norton. Nov. 2022. 224p. tr. from Korean by Jamie Chang. ISBN 9781324090885. $22. LITERARY
Cho follows up her international phenomenon, Kim Jiyoung, Born 1982, with the story of a tumbledown housing complex—once a fishing village—on the border of Town. Town is prosperous for those with the right skillsets, which doesn't include the residents of squalid Saha Estates. But they're ready to rise.
Keegan, Claire. Foster. Grove. Nov. 2022. 96p. ISBN 9780802160140. $20. LITERARY
Winner of the Davy Byrnes Memorial Prize and considered a classic in Ireland, Keegan's novella features a young girl who finds fleeting happiness when she's sent to live with foster parents in rural Ireland. It appeared here in an earlier version in The New Yorker and is expected to garner attention following the success of Keegan's multi-best-booked Small Things Like These.
Shevelev, Mikhail. Not Russian. Europa Editions. Oct. 2022. 160p. tr. from Russian by Brian James Baer & Ellen Vayner. ISBN 9781609458119. pap. $17. LITERARY
Watching the news with his wife one night in 2015, journalist Pavel Vladimirovich learns that terrorists have taken hostages at a church near Moscow and that their leader is an old friend, Vadim Petrovich. Pavel is asked to negotiate with Vadim but instead finds himself working through personal details, from their first enigmatic meeting to Vadim's wartime experiences in Chechnya and Ukraine, which leads directly to the terrorists' shocking demand. The Isaac Babel Prize–winning Shevelev is a novelist and freelance journalist covering Russia for Radio Liberty.
Usami, Rin. Idol, Burning. HarperVia. Nov. 2022. 128p. tr. from Japanese by Asa Yoneda. ISBN 9780063213289. $24.99. CD. LITERARY
In this Akutagawa Prize–winning novel, which has fired up the Japanese literary community, socially maladroit high school junior Akari is over-the-top obsessed with Masaki Ueno, a member of the popular J-Pop group Maza Maza. When a fan claims that Masaki assaulted her, Akari cannot step back and rescue herself from her illusions. With a 40,000-copy first printing.
Wilson, Kevin. Now Is Not the Time To Panic. Ecco. Nov. 2022. 256p. ISBN 9780062913500. $27.99. lrg. prnt. CD. LITERARY
Teenage loners Frankie Budge, an aspiring writer, and Zeke, a gifted artist who's just moved in with his grandmother in Coalfield, TN, create an anonymous poster whose unsettling legend—The edge is a shantytown filled with gold seekers. We are fugitives, and the law is skinny with hunger for us—has the town in an uproar. Two decades later, Frankie is a celebrated author worried that her life is about to be blown apart by a journalist revisiting the Coalfield Panic of 1996. With a 200,000-copy first printing.
Click here for additional new Prepub Alert columns