Click here for additional new Prepub Alert columns
Ackerman, Elliot. Halcyon. Knopf. May 2023. 256p. ISBN 9780593321621. $28. Downloadable. LITERARY
In an alternative 2004 Virginia, with Al Gore as president, Ackerman's recently divorced narrator is living at the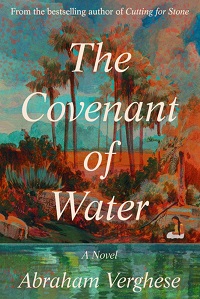 estate of World War II hero Robert Ableson. Ableson is supposedly dead, but there's evidence that he's not—and that scientists funded by the government have discovered a cure for death. From National Book Award winner Ackerman, following his coauthored 2034; with a 40,000-copy first printing.
Cline, Emma. The Guest. Random. May 2023. 304p. ISBN 9780812998627. $28. lrg. prnt. CD. LITERARY
Alex has behaved badly at a dinner party on Long Island's East End, and the older man she's been staying with dismisses her with a train ticket back to New York. Instead, she hangs about town, shifting around and managing slyly to insinuate herself into places where initially she isn't welcome. From the author of the multi-prize-finalist, New York Times best-selling The Girls.
Dalembert, Louis-Philippe. Milwaukee Blues. Schaffner. 260p. tr. from French by Marjolijn de Jager. ISBN 9781639640096. pap. $16.95. LITERARY
Haitian poet/novelist Dalembert addresses the killing of unarmed young Black men by the U.S. police, creating a composite portrait in young Emmett, murdered in Milwaukee, WI. The narrative moves from the Pakistani shopkeeper who dialed 911; to accounts from Emmett's former girlfriend, friends, teachers, and college football coach; to the march and memorial service following his death. Dalembert's The Mediterranean Wall was the French Voices Grand Prize Winner for best translation, with de Jager translating.
Davis, Jenny Fran. Dykette. Holt. May 2023. 320p. ISBN 9781250843135. $26.99. LITERARY/LGBTQ+
Partners Sasha and Jesse are thrilled to escape Brooklyn for the holidays, having received an invitation to the country home of two older, distinguished lesbians, news host Jules Todd and her psychotherapist partner, Miranda. They're joined by Jesse's best friend, Lou, and Lou's latest lover, Darcy, whose queer confidence Sasha envies. It will make for roller-coaster week. Davis wrote the YA novel Everything Must Go; with an 80,000-copy first printing.
Deb, Siddhartha. The Light at the End of the World. Soho. May 2023. 458p. ISBN 9781641294669. $27. LITERARY Author of the International Dublin long-listed An Outline of the Republic, Deb compresses two centuries of India's history and future possibilities into four main sections—the futuristic, pollution-beset "City of Brume," Bhopal-haunted "Claustropolis: 1984," Partition-set "Paranoir: 1947," and "The Line of Faith: 1859," with British soldiers seeking fugitives during the Sepoy Rebellion.
Hammid, Isabella. Enter Ghost. Grove. Apr. 2023. 336. ISBN 9780802162380. $27. LITERARY
Following up her multi-award-winning debut, The Parisian, Hammid takes readers to Palestine with actress Sonia Nasir, returning home for the first time in many years. She's there to visit her sister but soon find herself roped into a West Bank production of Hamlet, learning Gertrude's lines in classical Arabic and coming to understand the obstacles this production faces.
Kawabata, Yasunari. The Rainbow. Vintage. May 2023. 192p. tr. from Japanese by Haydn Trowell. ISBN 9780593314920. $16. LITERARY
Born of different mothers, half-sisters Momoko and Asako negotiate hard times in post–World War II Japan. Momoko seeks escape in troubling romances after the death of her kamikaze boyfriend, while Asako seeks to locate a third sibling. Nobel Prize winner Kawabata's 1955 novel is translated into English for the first time.
Keane, Mary Beth. The Half Moon. Scribner. May 2023. 304p. ISBN 9781982172602. $28. lrg. prnt. CD. LITERARY
Longtime bartender Malcolm Gephardt rushes to buy the Half Moon bar when his boss retires, but he soon realizes that his plans for an update might be met with customer resistance. Meanwhile, his marriage gets shaky as his lawyer wife, Jess, realizes that she may not be able to have a child. Events converge as a blizzard hits, a bar patron vanishes, and Malcolm learns something shocking about Jess. From Keane, a National Book Foundation 5 Under 35 honoree, author of the New York Times best-selling Ask Again, Yes.
Kuang, R.F. Yellowface. Morrow. May 2023. 336p. ISBN 9780063250833. $28.99. LITERARY
The careers of June Hayward and Athena Liu have paralleled—both Yalies, they published debuts in the same year. But while Athena gains critical acclaim for her cross-genre work, June's sales lag. When Athena dies in a terrible accident, June steals her highly anticipated new novel celebrating the Chinese laborers who contributed to the British and French war efforts during World War I. Now she's basking in glory, but news of her theft is about to break. From the author of the multi-award-nominated "Poppy War" trilogy; with a 150,000-copy first printing.
Lin-Greenberg, Karin. You Are Here. Counterpoint. May 2023. 304p. ISBN 9781640095434. $27. LITERARY
Chinese American author Lin-Greenberg uses the closing of a small-town mall in upstate New York as the locus of multiple stories. While the lone hair stylist at Sunshine Clips watches instructional YouTube videos on the sly, her son's high school friend, a magician's assistant and cashier at the mall, counters unwanted attention from an oddball boy. She share that secret only with the mall's loner bookstore manager. From a short-fiction champ: Faulty Predictions won the Flannery O'Connor Award for Short Fiction, and Vanished won the Prairie Schooner Raz-Shumaker Book Prize.
Mc Ivor, Breanne. The God of Good Looks. Morrow. May 2023. 384p. ISBN 9780063278813. $27.99. LITERARY
Fired from her job when her affair with a married government official offends Trinidad's conservative society, Bianca Bridge takes a job with makeup artist Obadiah Cortland, a blazing new star in the island's beauty community who hides his up-from-nothing background. She joins forces with Obadiah to assert herself when her former lover keeps causing her problems. From multiple award finalist Mc Ivor (e.g., the Commonwealth Short Story Prize), author of the collection Where There Are Monsters; with a 75,000-copy first printing.
Porter, Max. Shy. Graywolf. May 2023. 136p. ISBN 9781644452295. $25. LITERARY
A teenager wanders into the night, having sneaked out of a home for "disturbed young men" called Last Chance, and tries to shut down the voices echoing in his head: parents, teachers, those he's hurt, those who tried to help. "You mustn't do that to yourself Shy," he mutters while contemplating both his past and his possibilities. Expect the same vibrantly condensed language of Porter's Dylan Thomas award-winning, multi-award-nominated Grief Is the Thing with Feathers.
Schiff, Agur. Professor Schiff's Guilt. New Vessel. May 2023. 336p. tr. from Hebrew by Jessica Cohen. ISBN 9781954404168. pap. $17.95. LITERARY
An Israeli professor journeys to an imaginary West African nation to track a slave-trading ancestor but runs afoul of laws there prohibiting anyone from profiting off the proceeds of enslavement. Examining racism, colonialism, and the Holocaust, award-winning Israeli author Schiff asks whether the professor's quest is legitimate or merely a trendy ploy that's enslavement in another guise. With David Grossman, translator Cohen won the 2017 Man Booker International Prize for Translation.
Urrea, Luis Alberto. Good Night, Irene. Little, Brown. May 2023. 336p. ISBN 9780316265850. $29. LITERARY
In 1943, Irene Woodward pushes aside her abusive fiancé in New York to enlist with the Red Cross, befriending Midwesterner Dorothy Dunford as they head toward Europe on a journey that takes them from the Battle of the Bulge to the liberation of Buchenwald. Urrea, a National Book Critics Circle fiction finalist for The House of Broken Angels and Pulitzer Prize finalist for the nonfiction The Devil's Highway, was inspired to celebrated women's contributions to World War II by his mother's own Red Cross service.
Verghese, Abraham. The Covenant of Water. Grove. May 2023. 736p. ISBN 9780802162175. $32. LITERARY
Following 2009's Cutting for Stone, which sold over 1.5 million copies in the United States alone, practicing physician Verghese's new work unfolds within the Christian community of Kerala, on southern India's Malabar Coast. At its heart is a family that suffers successive tragedies, with at least one person in each generation drowning to death. Despite its venerable traditions—the community supposedly dates from the time of the apostles—family matriarch Big Ammachi (i.e., "Big Mother") knows change is coming.
White, Edmund. The Humble Lover. Bloomsbury. May 2023. 272p. ISBN 9781639730889. $27.99. LITERARY
When high-society octogenarian Aldwych West falls for gorgeous New York City Ballet soloist August Dupond, the young man is soon living in the imperious Aldwych's apartment in a sort of sponsor/lover/friendship blend. Then August starts bringing home lovers of his own, and a woman in Aldwych's circle takes an interest in his career. From a National Book Foundation honoree for Distinguished Contribution to American Letters.
Wray, John. Gone to the Wolves. Farrar. May 2023. 400p. ISBN 9780374603335. $28. LITERARY
Outsiders in 1980s Florida for their devotion to heavy metal, Kip, Kira, and Leslie travel to Los Angeles, seeking a place where they might belong. They don't find it, and Kip and Leslie soon veer away from Kira as she veers toward heavy metal's depths. Then Kira disappears on a birthday trip to Europe, and when her friends finally discover what happened, they must travel worldwide to find her. From Granta Best of Young American Novelists Wray (Godsend); with a 50,000-copy first printing.