From Allende to Rachman to Slimani.
Click here for additional new Prepub Alert columns
Allende, Isabel. The Wind Knows My Name. Ballantine. Jun. 2023. 272p. tr. from Spanish by Francis Riddle. ISBN 9780593598108. $28. CD. LITERARY
Appelfeld, Aharon. Poland, a Green Land. Schocken: Pantheon. Jun. 2023. 240p. tr. from Hebrew by Stuart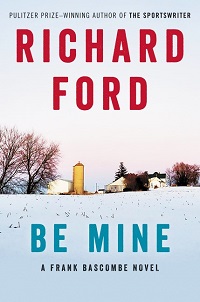 Schoffman. ISBN 9780805243611. $27. Downloadable. LITERARY
Ford, Richard. Be Mine: A Frank Bascombe Novel. Ecco. Jun. 2023. 352p. ISBN 9780061692086. $30. lrg. prnt. CD. LITERARY
Medie, Peace Adzo. Nightbloom. Algonquin. Jun. 2023. 352p. ISBN 9781643752846. $28. Downloadable. LITERARY
Moore, Lorrie. I Am Homeless If This Is Not My Home. Knopf. Jun. 2023. 208p. ISBN 9780307594143. $27. lrg. prnt. LITERARY
Rachman, Tom. The Imposters. Little, Brown. Jun. 2023. 352p. ISBN 9780316552851. $29. Downloadable. LITERARY
Schulman, Helen. Lucky Dogs. Knopf. Jun. 2023. 336p. ISBN 9780593536230. $29. LITERARY
Slimani, Leila. Watch Us Dance. Viking. Jun. 2023. 288p. tr. from French by Sam Taylor. ISBN 9780593493304. $27. LITERARY
In The Wind Knows My Name, the celebrated Allende blends two bitter tales of separation: in 1938 Vienna, Samuel Adler is placed on a Kindertransport train by his mother so that he can escape the Nazis, while in 2019 Arizona, Anita Díaz is pulled from her mother at the U.S. border after they have fled El Salvador for safety. In the latest from multi-award-winning Israeli author Appelfeld, Tel Aviv shopkeeper Yaakov Fine decides to travel to Poland, A Green Land, to visit his parents' ancestral village and is delighted by all he sees until he tries to purchase the tombstones from the Jewish cemetery desecrated during the Holocaust. With Be Mine, Pulitzer Prize winner Ford offers his final Frank Bascombe novel, with Frank in his twilight years facing the heart-shredding task of tending a son diagnosed with ALS (100,000-copy first printing). Following the Reese's Book Club Pick His Only Wife, Medie's Nightbloom features Selasi and Akorfa, cousins and best female friends in Ghana until Selasi becomes angry and withdrawn for reasons that take decades to emerge. In I Am Homeless If This Is Not My Home, her first novel in over a decade, PEN/Malamud and Rea Award winner Moore plumbs love and mortality in a tale interweaving vanished journals, a visit to a dying brother, and the questionable deaths of a therapy clown and an assassin. A novel-in-stories like Rachman's 500,000-copy best-selling debut, The Imperfectionists, The Impostors sets end-of-rope novelist Dora Frenhofer the task of completing her final book in pandemic lockdown, as she comes to understand her own life by contemplating her missing brother, estranged daughter, lost lover, and one enduring friend (40,000-copy first printing). In the New York Times best-selling Schulman's Lucky Dogs , two women (one a U.S. television star seeking anonymity) forge a friendship while waiting on an ice cream line in Paris, but despite a shared history of having experienced male violence, one will betray the other. From Slimani, author of the New York Times best-booked The Perfect Nanny, Watch Us Dance portrays biracial siblings in late 1960s Morocco (their father is Moroccan, their mother French) who deal differently with the era's uncertainties; tough-minded Aicha wants to study medicine in France, while her rebellious younger brother Selim would rather hang out with the hippies converging on his country.
Click here for additional new Prepub Alert columns