Top literary fiction, at home and abroad.
Click here for additional new Prepub Alert columns
Ganeshananthan, V.V. Brotherless Night. Random. Jan. 2023. 368p. ISBN 9780812997156. $28. LITERARY
In 1980s civil war–shattered Sri Lanka, 16-year-old Sashi works as a medic at a field hospital for the Tamil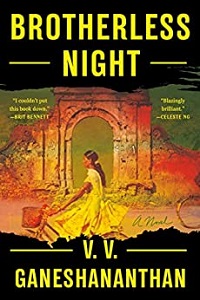 Tigers, who are fighting for a separate homeland. When the Tigers murder one of her teachers and Indian peacekeepers bring further atrocity, Sashi joins a dangerous underground project to document human rights violations in her country. From the author of Love Marriage, which was longlisted for the Women's Prize.
Harding, Paul. This Other Eden. Norton. Jan. 2023. 240p. ISBN 9781324036296. $28. LITERARY
In 1792, formerly enslaved Black man Benjamin Honey and his Irish wife, Patience, discovered Malaga Island off the coast of Maine and created a racially integrated community that endured for a century. Then white folks arrived with the goal of "cleansing" the island, threatening to send off residents in boats (but for one light-skinned boy) unless they submitted to white domination. The Pulitzer Prize–winning Harding reimagines Malaga Island and its terrible fate.
Hemon, Aleksandar. The World and All That It Holds. MCD: Farrar. Jan. 2023. 352p. ISBN 9780374287702. $27. CD. LITERARY
In 1914 Sarajevo, gentle-souled Rafael Pinto pounds herbs in his pharmacy until war explodes with Archduke Franz Ferdinand's assassination and he finds himself in the trenches, attracted to and protected by man-of-action Osman. The two desert the trenches, countering spies and Bolsheviks along the way, and in travels far and wide (even to Shanghai) Rafael is sustained by his love for Osman. From National Book Award/National Book Critics Circle finalist Hemon.
Laestadius, Ann-Helén. Stolen. S. & S. Jan. 2023. 400p. tr. from Swedish by Rachel Willson-Broyles. ISBN 9781668005071. pap. $17.99. LITERARY
During a Swedish winter above the Arctic Circle, a nine-year-old Sámi named Elsa witnesses the killing of her reindeer calf in utter violation of Sámi cultural values and is forced to keep quiet until years later, finally confronting the killer even as threats against the Sámi rise. Of Sámi and Tornedalian descent, Laestadius offers a first adult novel after winning the prestigious August Prize for Best Young Adult and Children's Novel.
Markley, Stephen. The Deluge. S. & S. Jan. 2023. 896p. ISBN 9781982123093. $32.50. LITERARY
In a near-future United States, fraught with extreme politics and extreme weather, scientist Tony Pietrus receives a death threat, which ties him to the interlocked fates of an advertising strategist, an eco-terrorist, a neurodivergent mathematician, a religion-besotted former actor, and a determined young activist. Their actions could determine the fate of the nation—and humanity itself. Echoing the structure and sensibility of the author's big-hit debut, Ohio.
Steavenson, Wendell. Margot. Norton. Jan. 2023. 288p. ISBN 9781324020844. $28.95. LITERARY
After three books of reporting (e.g., Circling the Square) and the well-received novel Paris Metro, Steavenson tells the story of Margot Thornsen, raised simply to marry by her wealthy family (think Park Avenue and Oyster Bay). A terrible fire destroys the family's financial base and frees Margot to follow her wishes by attending Radcliffe—just as the Sixties swing into place.
Torday, Daniel. The 12th Commandment. St. Martin's. Jan. 2023. 304p. ISBN 9781250191816. $27.99. LITERARY
Situated in rural Ohio, a community whose members belong to the Dönme sect—descendants of Jews within the Ottoman Empire who converted to Islam—is upended when the son of their self-proclaimed prophet is murdered. Journalist Zeke Leger, whose college girlfriend prosecuted the murder case, is intrigued enough to take another look. In light of conflict within the community and suspicion from without, he decides the murder has not yet been solved. From two-time National Jewish Book Award winner Torday.