Exciting debuts, including the inaugural title from Roxane Gay's new imprint at Grove Atlantic.
Click here for additional new Prepub Alert columns
Ani Kayode Somtochukwu. And Then He Sang a Lullaby. Roxane Gay: Grove Atlantic. Jun. 2023. 304p. ISBN 9780802160751. $27. LITERARY
Track star August left Enugu City, Nigeria, for one of the country's universities far from his domineering sisters and thoughts of the mother he never knew, and he's doing pretty well, making friends and enjoying his studies. But he feels relentlessly pulled toward the openly gay Segun, who works at a local cybercafe and won't get involved unless August can commit wholeheartedly. Then Nigeria's notorious antigay laws are passed. The inaugural title in Roxane Gay's new imprint.
Basham, Brendan Shay. Swim Home to the Vanished. Harper. Jun. 2023. 304p. ISBN 9780063241084. $30. LITERARY
Devastated by his younger brother's drowning, Damien leaves home in his rusty truck and keeps driving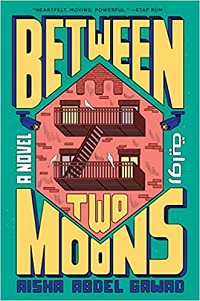 until he finds an isolated fishing village where he feels he can escape the past. Unfortunately, the village is ruled by a family of brujas (witches), and his arrival is clouded by a young woman's recent death. Woven into the narrative is the haunting recall of the Long Walk, the deportation of the Diné from their lands. Diné author Basham is a Pushcart and PEN/Robert J. Dau prize winner; with a 50,000-copy first printing.
Gawad, Aisha Abdel. Between Two Moons. Doubleday. Jun. 2023. 336p. ISBN 9780385548618. $28.LITERARY
Twin sisters Amira and Lina, who live in a Muslim neighborhood in Bay Ridge, Brooklyn, are graduating from high school. But their excitement is dimmed by their troublesome older brother's return from prison, a police raid on a local business that sets off protests, and a sudden act of violence that pulls everyone apart. A story of family, community, and Islamophobia; from Pushcart Prize winner Gawad.
Go, Nathan. Forgiving Imelda Marcos. Farrar. Jun. 2023. 240p. ISBN 9780374606947. $26. LITERARY
Holed up in a Manila nursing home with a serious heart condition, Lito Macaraeg writes to his estranged journalist son in the United States, offering him a scoop about a secret meeting between Imelda Marcos and Corazon Aquino on the night Corazon's husband was reputedly killed by Filipino dictator Ferdinand Marcos. How does Lito know about the meeting? He was Corazon's chauffeur. From a PEN America Emerging Voices Fellow; with a 35,000-copy first printing.
Lin, Katherine. You Can't Stay Here Forever. Harper. Jun. 2023. 304p. ISBN 9780063241435. $30. LITERARY
After her dashing young husband is killed in a car wreck, Ellie Huang learns that he was having an affair with one of her colleagues and impetuously cashes in his life insurance to fund a sojourn at the fabled Hotel du Cap-Eden-Roc in Antibes, France, with best friend Mable Chou. There, they share long, leisurely dinners with a couple they meet—until secrets boil over. Probing not just love and loss but interracial relationships and issues surrounding Asian American assimilation.
Willis, Deborah. Girlfriend on Mars. Norton. Jun. 2023. 336p. ISBN 9780393285918. $28. LITERARY
Amber Kivinen is competing on a reality TV show with a difference: she wants to win one of two seats on the first human mission to Mars, sponsored by billionaire Geoff Task. That means leaving behind Adam, her puzzled boyfriend of 14 years. This debut novel from acclaimed Canadian short story writer Willis is based on a short story that has been optioned for film.
Click here for additional new Prepub Alert columns