Click here for additional new Prepub Alert columns
Alharthi, Jokha. Bitter Orange Tree. Catapult. May 2022. 224p. tr. from Arabic by Marilyn Booth. ISBN 9781646220038. $26. LITERARY
Winner of the Man Booker International Prize for Celestial Bodies, Alharthi introduces readers to Zuhour,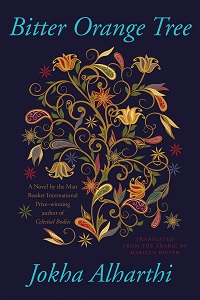 an Omani student at a British university, who's caught uneasily between past and present, Omani and British culture as she struggles to fit in. She especially misses the woman she always thought of as a grandmother, who passed away before Zuhour left home. Publicity pitches from women's magazines to literati lists suggest the breadth of the writing.
Ali, Monica. Love Marriage. Scribner. May 2022. 432p. ISBN 9781982181475. $27. LITERARY
This latest from Bangladeshi-born, UK-raised Ali, a Granta Best of Young British Novelists, features 26-year-old medical student Yasmin Ghorami, who's engaged to posh Joe Sangster. To Yasmin's relief, Joe's elegant mother quickly embraces her own not-as-polished mom, but family complications—and Joe's less-than-devoted ways—quickly threaten the romance. With a 125,000-copy first printing.
Barrett, Colin. Homesickness. Grove. May 2022. 224p. ISBN 9780802159649. $27. LITERARY
Barrett's 2013 debut collection, Young Skins, won him Rooney, Frank O'Connor, Guardian First Book, and National Book Foundation 5 Under 35 honors, and finally he's back with a second collection that's reputedly as glowingly tough as his first. The scenarios he dreams up range from a quiet pub night disrupted by a fugitive with a sword to a funeral party where several ghosts don't want to, um, give up the ghost.
Batuman, Elif. Either/Or. Penguin Pr. May 2022. 368p. ISBN 9780525557593. $28. LITERARY
In this sequel to Batuman's Pulitzer Prize finalist The Idiot, Selin, the daughter of Turkish immigrants, is now a Harvard sophomore trying to sort out her loop-de-loop summer in Hungary and her feelings for the slippery Hungarian mathematics student Ivan even as Ivan's former girlfriend wants to chat. It's as if Selin were in the midst of a thrilling novel but one unfortunately starring an off-kilter woman who's been dumped. Can she fix that with the help of her literary syllabus and her friends?
Diaz, Hernan. Trust. Riverhead. May 2022. 416p. ISBN 9780593420317. $28. lrg. prnt. Downloadable. LITERARY
A Pulitzer and Pen/Faulkner finalist for In the Distance, Diaz uses a multilayered narrative to investigate money and power, truth and perception, and early 20th-century U.S. history. In 1920s New York, Wall Street tycoon Benjamin Rask and his wife, Helen, of offbeat aristocratic origins, are the crème of society's crème. They're also the protagonists of the novel Bonds, published in 1938 and on everyone's reading list. But the novel doesn't reveal the whole truth about the characters, who here engage with other accounts to share the big picture. I've heard raves.
Espach, Alison. Notes on Your Sudden Disappearance. Holt. May 2022. 352p. ISBN 9781250823144. $26.99. LITERARY
After debuting with Adults, a New York Times Editor's Choice Pick, Espach has us soaking up the sun one fervent summer, with eighth grader Sally Holt and her older sister, Kathy, eagerly eyeing oh-so-cool senior Billy Barnes as he works the concession stand at the pool. By summer's end, Billy and Kathy are a couple, but then tragedy descends, and Sally must face the consequences in a narrative that unfolds over 15 years. With a 150,000-copy first printing.
Glass, Julia. Vigil Harbor. Pantheon. May 2022. 416p. ISBN 9781101870389. $29. lrg. prnt. LITERARY
In coastal Vigil Harbor, where the National Book Award–winning Glass acts as escort, yacht clubbers are divorcing in droves, high-profile architect Austin Kepner wants to build homes strong enough to withstand the increasingly violent storms resulting from climate change, and Austin's stepson returns home from the big city after having managed to avoid another terrorist attack. Then two strangers—a charming traveler and a mysterious widow—drop in to disrupt life further.
Harper, Rachel M. The Other Mother. Counterpoint. May 2022. 448p. ISBN 9781640095045. $28. LITERARY
In this latest from the author of the Ernest J. Gaines short-listed This Side of Providence, musical prodigy Jenry Castillo is on scholarship at Brown University, where he searches for information about his long-dead ballet dancer father. Then Jenry learns from his grandfather, famed Black history professor Winston Patterson, that Jenry's mother and Winston's daughter, Juliet, were lovers. Now Jenry is searching for his "other mother" as well.
Lee, Marie Myung-Ok. Evening Hero. S. & S. May 2022. 432p. ISBN 9781476735078. $27. LITERARY
Noted particularly for her YA fiction (e.g., Finding My Voice), Lee is cofounder of the Asian American Writers' Workshop and that rare U.S. journalist granted a visa to visit North Korea. Here she introduces Dr. Yungman Kwak, who left Korea for Minnesota after the Korean War and has since worked as an obstetrician at Horse Breath's General Hospital. He's living the life he always wanted, but it's built on a lie that a letter arriving from someone left behind is about to expose. With a 35,000-copy first printing
Momplaisir, Francesca. The Garden of Broken Things. Knopf. May 2022. 320p. ISBN 9780593321065. $28. Downloadable. LITERARY
Following the multi-best-booked My Mother's House, Momplaisir revisits Haiti with single-mother Genevieve, who travels from New York to Port-au-Prince with teenage son Miles. Genevieve wants to introduce Miles to his heritage and escape her own failed marriage, and she's happy to be among family again. Then tragedy strikes—the horrific 2010 earthquake. (For another look at the earthquake, see also Myriam J. A. Chancy's excellent What Storm What Thunder.)
Shipstead, Maggie. You Have a Friend in 10A: Stories. Knopf. May 2022. 272p. ISBN 9780525656999. $27. LITERARY
Author most recently of the Booker Prize–shortlisted Great Circle, Shipstead ranges worldwide in her first story collection, from a Pacific atoll to an Olympic village to star-spangled Paris. The scenarios include a Montana rancher, caught up in a love-hate triangle with his nephew and the young woman tending the horses, and an embittered novelist revisiting the failed romance that inspired his first novel, about to be published. As 10A was my first New York apartment, I am especially intrigued by the title story.
Smith, Ali. Companion Piece. Pantheon. May 2022. 272p. ISBN 9780593316375. $26.95. LITERARY
The twice Man Booker Prize–shortlisted and Baileys, Goldsmiths, and Costa–honored Smith triumphed with her distinctive "Seasonal Quartet," which has been unfolding since 2016. Now that it's done, this "companion piece" continues her investigation of #MeToo, Brexit, the global refugee crisis, the ongoing pandemic, and more.
Tagame, Gengoroh. Our Colors. Pantheon. May 2022. 528p. tr. from Japanese by Anne Ishii. ISBN 9781524748562. $32.50. LITERARY
The Eisner Award–winning Japanese author of dozens of graphic novels and short stories translated into multiple languages, Tagame tells the story of an artist dreamer named Sora Itoda struggling to negotiate high school as a young gay man, who keeps up the pretense that friend Nao is his girlfriend until he meets openly gay Mr. Amamiya, a middle-aged coffee shop owner who becomes Sora's mentor. But Mr. Amamiya has his own painful past to confront.
Townsend, Jacinda. Mother Country. Graywolf. May 2022. 320p. ISBN 9781644450871. pap. $17. LITERARY
In this second novel from Townsend, winner of Janet Heidinger Kafka and James Fenimore Cooper honors for Saint Monkey, a Black American woman named Shannon visits Morocco with her boyfriend to escape painful realities that include learning she cannot have a child. There she encounters a toddler whom she quickly adopts (with the help of a bribe) and brings home to Louisville, KY. But the little girl already has a mother, an undocumented Mauritanian who was trafficked to Morocco as a teenager. What was Shannon thinking, and will the pain wrought by this situation ever be resolved?