From youth to adults, newcomers to lifelong locals, library literacy programs that work flex to achieve what matters to each patron

About one fifth of American adults are functionally illiterate. In "How Serious is America's Literacy Problem?" we defined the scope of the crisis and why it matters—because it leads to worse outcomes in everything from health to finances to employment. In "Mapping the American Literacy Ecosystem," we outlined the many other governmental, charitable, and even for-profit entities addressing the issue, so that public libraries can find possible partners and funders and avoid duplicating effort. In this installment, we spoke to four U.S. public library systems to learn how they are addressing literacy issues through innovative programs, and what other libraries can replicate, adapt, and build on.
PRACTICAL LIFE LITERACY
For new immigrants learning English as a Second Language (ESL), what they need to learn is inextricably tied to what they need to make a new life for themselves in America. Lindsay Southworth is program manager of the Edible Alphabet program at the Free Library of Philadelphia (FLP), which is designed to combine literacy education with food and cooking.
"The Edible Alphabet started in 2015 at FLP out of the Culinary Literacy Center," says Southworth. "It was the first kitchen classroom in a library in the United States. We wanted to promote literacy through learning about food and cooking."
Edible Alphabet is contextual and project-based learning, she adds. There are six- and eight-week programs, meeting either once or twice a week. Everyone cooks a recipe while working on their food vocabulary, equipment vocabulary, verbs, conversational exercises, and writing, all embedded into the cooking classroom. "The project of cooking gets people out of their head, away from emphasis on which verb, which preposition to use," she said. "It's comfortable and relaxed. People are more likely to learn when relaxed."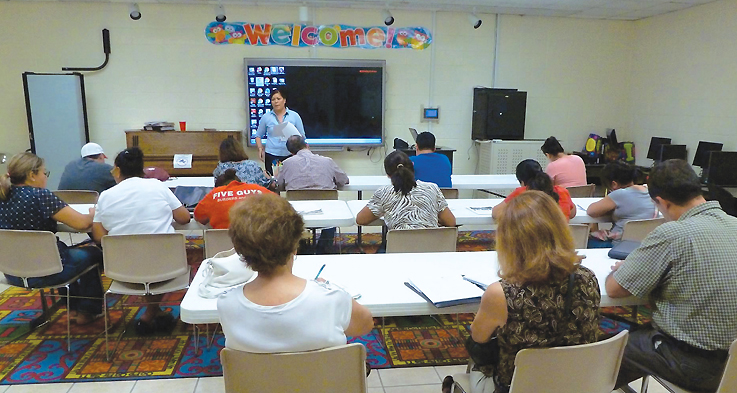 PRACTICAL PROFICIENCY

Libraries turn everyday needs into teaching opportunities. A citizenship class at the El Paso Public Library, TX (l.), helps patrons mastering English with the basics they'll need.
Photo courtesy of El Paso PL
"What we've seen, both from data and hearing from participants, is that this approach fulfills a huge need in the Philadelphia community [to advance] oral language and spontaneous communication," Southworth says. Community members "want to be able to communicate at work, talk to neighbors, build social networks." Those social networks are a critical part of the program. "For many participants, social isolation is a problem, especially for new immigrants. Making and sharing food is part of virtually every culture in the world. They're lonely and scared, miss their family and friends from their home country. But here they can take a class, meet people, and stop feeling isolated. They feel part of the city instead." Because (in non-pandemic times) there are many entry level jobs in the food service industry, the program also provides many participants with vocational vocabulary that can be put to use immediately, improving job hunts and salaries and cementing the learning gains through practice.
Of course, COVID-19 changed the way the library can deliver learning as well as how restaurants deliver food. Southworth's Edible Alphabet program pivoted to developing an online, abridged month-long series. The system had previously conducted online field trips to refugee-serving agencies, which worked well. "We'll use Zoom and announce the recipe ahead of time so people have time to get the ingredients," she says. "We're working to arrange free grocery pickup at the library for students who need help. Everyone will cook in their homes. We learned from the field trips that cooking together while apart can still have some of that community building and sharing."
EVERYDAY SKILLS EVERY DAY
Martha Toscano, adult education and literacy coordinator for the El Paso Public Library System in Texas, also points to the need for ESL services. "We're part of a huge metroplex on the Mexican border," she says. "There's lots of migration. Lack of English is a challenge."
Having a large population struggling with English has led to a customized ESL program that's different from those traditionally found in schools or as part of community education. "Ours is more about making a living in the United States, more life skills–oriented," she says. "Not so much about conjugating verbs, but being able to talk to their child's teacher or to the doctor, go to the grocery store, fill out a form. So often terms that are common to English speakers aren't to the immigrants. They'll have a form with a line for DOB [date of birth], and they don't know what that means."
She also notes that El Paso offers the same programming across its entire library system, and makes participation easy. "We have standardized schedules at all 12 facilities. That way, no one has to try and remember what time each class is offered at each," she says. "The same is true with our story times."
Computer and technology classes are offered as well, designed for beginners who need to learn what a mouse is, what Windows is, how to use a keyboard and a browser—things they need to look for a job. El Paso Public Libraries have also expanded offerings to include citizenship classes and preparation, as well as participating in Career Online High School for adult learners who want to get a diploma. "It affects not just one person's life, but the whole family. Our oldest graduate was in their 80s. We had another student who had left high school 50 years ago, completed the program, and is now in college. It's never too late," enthuses Toscano. She says enrollment in Career Online High School is increasing during COVID. But city funding is decreasing, also because of COVID, so she's looking for new ways to keep the program going.
SCALING UP
Natalie Cole is assistant bureau chief for California State Libraries, which provides state funds to promote adult and family literacy in libraries throughout the state. She emphasizes that English Language Learners are far from the only adults who need help with learning to read and write more proficiently; her program is "not an ESL program, although California's public libraries also provide ESL services," she says. "This provides help for people who need to improve their literacy." Learners are matched largely with one-on-one volunteer tutors (although in some areas, in very small groups). "There are 105 library jurisdictions, and more than 900 branch libraries," Cole says. "There are a lot of outlets where the tutors work. We support more than 15,000 adult learners and their families."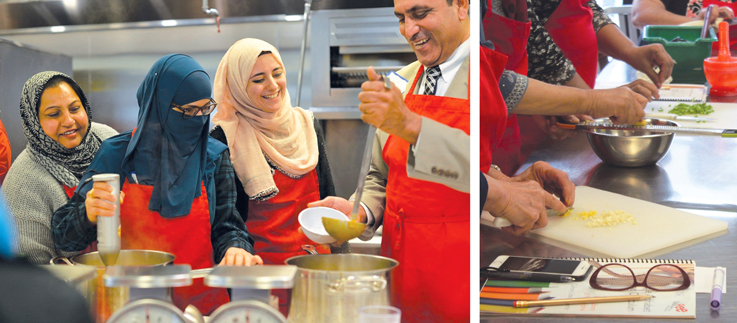 ALPHABET SOUP

Participants in the Free Library of Philadelphia's Edible Alphabet program gain literacy skills as they work together in the library's kitchen, sharing carrot ginger soup (c.) and learning how to prepare chana masala (r.).
Photos courtesy of Free Library of Philadelphia
The program is customized and learner-based. Each participant is interviewed by staff to identify what they want to learn and what goals they have before being matched with the right tutor. "The important part is the goal the learners set," Cole says. "What do they want to achieve? Maybe they want to read a book themselves, or to their child or grandchild; get a better job; get more involved in their community; fill out a form or application; use the library better. We have about 35 types of goals. Then the tutor structures the learning around those goals." The library trains all its volunteers ahead of time.
Currently, the organization is developing family literacy opportunities with additional state funding. Adults enrolled in the tutoring set family-related goals for their children or other family members. For example, they might aim to develop the skills to select books to read to children.
During the coronavirus, Cole says her system is using Zoom as well as the phone to keep participants connected to their programs, which offers yet another teachable moment. "Some people are not technologically savvy, and staff is helping them learn different skills," she says. "Everyone's pivoting."
STARTING EARLY
Sometimes community needs changes over time, or from what was first identified. Kendra Davey, literacy initiatives program manager at the Pima County Public Library in Tucson, AZ, notes that the library's long-running ReadStrong program initially focused on grades four and older, as the community already had a lot of programs for younger participants. "The plan was to work with older kids to help them increase their reading proficiency," she says. "But over time, we began to get more and more younger kids."
Davey notes that ReadStrong takes an aspirational approach. "Our program works with reading best practices and a real focus on keeping kids feeling positive about reading," she says. "Kids who are behind often begin to dislike reading. We work with self-talk around reading, and on just liking reading. We carefully pick books that will interest them, not what we think they should be interested in. This is huge for parents too, helping them focus on the child's interests. So much focus is on the mechanics of reading, but we look at the thought process and self-identity around reading: 'I enjoy this, I'm good at it.'"
The library system also has the Ready Set School Program for four- and five-year-olds, preparing them for kindergarten. "Not just alphabet and reading, but executive functioning skills, life skills, things like problem solving and critical thinking—why they think what they think," Davey says. "The program's activities are for children, but the messaging is for adults." Literacy programs are offered for adults as well, including both GED and Career Online High School programs.
MEASURING SUCCESS
Toscano notes, "As for outcomes and successes, we don't test, except for oral tests. We don't keep student records, as we're not a formal educational agency. We gauge success in terms of enrollment and interest, word of mouth referrals, and the people who come back to show us their approved citizenship papers."
The Edible Alphabet does an oral assessment at the end of each course, looking for improvement in language fluidity, vocabulary, and proficiency. But there's another form of literacy staff members want to develop and measure: "We also do a library survey: Do you know what a library card is, do you have one, do you use it?" says Southworth. "Our number two goal is to help them connect their English language skills with what's available in libraries. They may come from places where libraries look entirely different from what we have here, and they're not aware of the resources. So we include education about libraries, the resources available, and how to use them. Our eight-week program includes employment vocabulary, and we go to the library's business department to work on resumes and conduct practice interviews. They might not realize a library can help them with those things. We want them to come out of the class thinking, 'This is my library, it's free, my whole family can use it, it has many ways of supporting us.'"
She adds that the library has received a considerable amount of positive feedback about the program, and many participants have signed up multiple times to keep advancing their language skills. As for concrete results, she says, "We've found that the six-week program increases English-speaking skills about 20 percent, and it increases library knowledge and use by 110 percent."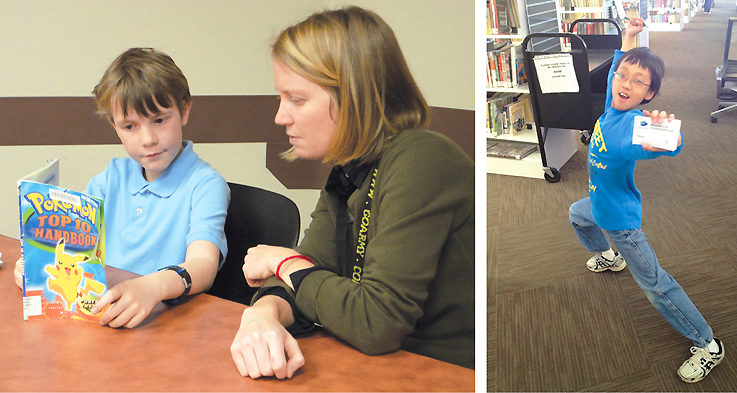 EARLY SUCCESSES

At Pima County Public Library, AZ, Darius's love of Pokémon is an incentive to work on his reading with a library helper (l.), and Jamie exuberantly celebrates finishing a reading scavenger hunt (r.).
Photos courtesy of Pima County Public Library
In California, Cole says the libraries use outcome-based assessments. "We log each learner's goals, we log their progress, we log when the goal is met. Obviously some goals will take more time than others. Some learners will complete a goal, then set a new, more difficult goal, while others graduate out of the program. We look every year at how many set goals, what that goal was, and how many were achieved. In 2019, 82 percent of learners achieved their goals. It's a testament to the one-on-one relationship they have with their tutors."
Pima Libraries uses pre- and post-surveys with parents of the participants. "We're looking for a change in the parent's knowledge and their engagement with their child, their at-home conversations," says Davey. "It's an eight-week program, and we can see a difference in the kids themselves by the end. It's interesting to see them start to 'get it.'"
But she adds that, by necessity, some of the measurement has to be anecdotal. "It's hard to measure success in a library. We can't get the children's scores from the schools. Parents report when their kids are reading more." One method of evaluation is the lack of attrition from participants. "In our ReadStrong program, kids tend to stay for quite a while," she says. "The program is done with one instructor for one to two children. It created an issue, in that the program creates really positive relationships. The kids want to keep coming even when they've improved. How do we say, you've graduated? It's a great problem to have!"
Davey also points out that this speaks to the importance of positive adult relationships in a child's development as a learner. "We get focused on the mechanics, but it's really so wrapped up in the support of the adult. Positive adult interaction helps them articulate their improvement: 'Do you remember when you started, the book you read then, and now you're reading this book! You worked really hard, you tried new things, you're reading harder books.'"
FUNDING LITERACY PROGRAMMING
Funding for literacy programs largely comes through library funds, grants, and donations. "All of our programs beside the high school have been funded through library funds and grants," says Toscano. "Initially we worked with local school districts and community colleges, but have moved everything into the library."
Southworth notes that the Edible Alphabet is funded through grants and donations, both corporate and individual. "The Free Library has a 501c3 foundation, and our program lives under that foundation."
Cole adds that in addition to funds from the State of California and local library funding, another important aspect of her organization's funding is the value of volunteer time. In 2019, California State Library calculated an $18.7 million dollar value in volunteer hours.
GETTING STARTED
"Don't reinvent the wheel," says Davey. "Do research on what's out there. We got a lot of help from the Chandler Public Library, and they got help from Phoenix. They were so generous with their time and the work they'd already done. We're not teachers, but they worked with kindergarten teachers to develop their program, so we benefited from that."
Flexibility is another key factor. "Allow your program to change if it needs to," Davey adds. "Our original intent with ReadStrong was a really great idea, but it turned out not to be the right fit for the community. Be willing to change, and don't feel like a failure or like you have to keep pushing what's not working. Look at the needs of the community."
She also recommends that staff, volunteers, and parents learn to embrace a broader of view of what literacy is. "We want kids to love reading," she says. "But we need to remember reading takes many forms. Come from the kid's interest, get them tools to accomplish [that]. They'll read a lot around their interest. They don't think of it as reading. And not all reading has to be a book. Reading a Pokémon card is reading, if they're into Pokémon and want to learn what's on the cards."
Cole advocates for community partnerships. "We have 900 community partnerships," she says. "Partnerships are key to all successes. Learn what other agencies are doing, how can you collaboratively and cooperatively work together without duplicating services."
She reiterates raising awareness of the needs and roles for volunteers. "Reach out for tutors, then train them effectively."
Toscano notes that it's valuable to understand the community's workforce to see where people's passions lie. "Is someone interested in the technology part? We work with them to have them become a tech teacher. Is someone interested in ESL, but is intimidated by teaching? We work with them to develop those skills." Giving staff and volunteers ability to work in areas they [care about] can lead to more success. "These programs are about having the corazon, the heart."
---
Amy Rea is a freelance journalist living in Minnesota.