State library representatives share their experiences
DELAWARE
"The state provides the Wi-Fi access points and manages the entire system centrally. So I don't have to ask the libraries for Wi-Fi data. The state library IT folks provide this to me monthly, and these are the statistics I report to IMLS."
—ROBERT WETHERALL | State Data Coordinator, Delaware Division of Libraries
---
KENTUCKY
"All of our libraries have had Wi-Fi available for at least the last four years. However, Kentucky is no longer at 100% Wi-Fi session reporting. Last year (FY17), we had two N/A responses and one with a '0' and annotation, We plan to add software that will count all wireless sessions.
"Some of the data is problematic. For example, a municipal building with Wi-Fi numbers from multiple agencies.
"One of our small counties has outrageously high totals, second largest in the state. I was certain they were fabricated. Checking with our regional consultant, I discovered they were correct. The library is located by the only stop light in the city. Anyone with a cell phone, laptop, or tablet stopping at the light is logged into the network automatically. Nothing in the [PLS] one-sentence definition addresses user authentication."
—JAY BANK | State Data Coordinator, Kentucky Department of Libraries and Archives
---
NEBRASKA
"Most of our libraries lack the technological capability to accurately collect this data. The large majority of them collect the data via 'observation estimates.' They take a sample during an 'average week,' and if they observe five people using their Wi-Fi during that week, they multiply by however many weeks they are open to report an annual figure. We have not completed any training or other consulting services on Wi-Fi visits other than a few posts on our website about free tools that might be available to more accurately collect these representative samples. I have a couple of libraries who used Whoisonmywifi when there was a free version. I have a couple that use the app Fing to collect a more accurate count during the sample time period."
—SAM SHAW | Planning and Data Services Coordinator, Nebraska Library Commission
---
NEW YORK
"The Board of Regents of the University of the State of New York oversees libraries and requires each library to submit an annual report for the previous year in order to receive their appropriation of State aid. Each public library system works closely with each individual library to ensure a 100% response rate to all survey questions. During the 2016 Public Library Survey data collection time period, staff at the New York State Library provided clarification
and guidance to public library system staff on this question."
—JANE MINOTTI | Library Development Specialist I, State Data Coordinator, New York State Library Division of Library Development
---
WEST VIRGINIA
"Our Network Services department provides wi-fi service for our libraries and collects the data for me so that I may report to the Public Libraries Survey. We do have several libraries that do not utilize our service and provide me with the data themselves."
—SUSAN P. BAILEY | State Data Coordinator, West Virginia Library Commission
---
GETTING TO 100% IN GEORGIA
Responses from some states examined their challenges to full and accurate reporting. The comment from Georgia was the most candid and detailed and probably reflects conditions in several other states. WHITNEY PAYNE, director of Research and Statistics for the Georgia Public Library Service, explains what her investigations revealed:
"While every library system in Georgia does offer Wi-Fi and almost 90% are reporting sessions, about 10% are not reporting sessions. In Georgia, Annual Report questions are answered at the outlet level and then totaled for each system. In 2016, library systems that were unable to report Wi-Fi sessions did correctly enter -1 for each outlet to indicate that they were unable to provide a count even though they offered Wi-Fi, but when the outlets rolled up to the system level, this was entered as a 0 for the system. So sadly we did not have 100% reporting of Wi-Fi sessions.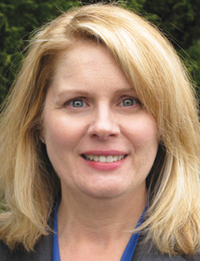 When I asked library directors, the responses that I received were that their wireless vendors provide their session counts. They all said that this was easy. Examples:
'The numbers are in real time and aren't hard to gather, as Meraki has a great reporting tool.'
'Since the report is built into our product, it is not difficult to pull these reports.'
One library director said that his library was able to convince their wireless vendor to build in a custom reporting tool. We also have a great IT department here at GPLS, and IT staff work with the library systems. A library director said that her system defers to our tech guidance.
I did speak to a few of the directors who do not currently submit Wi-Fi session numbers and here is one response:
'I asked our IT manager, and he said that we don't have the system to identify the number of hits to the Wi-Fi system, but that we can buy something called Unifi Access Point, which will give the manager the ability to identify the number of sessions. We plan on putting that in our IT Plan for the [LibTech Fund] grant this year.'
This response refers to the fact that for the current fiscal year, the Georgia legislature has provided specific technology funds for public libraries.
I will certainly be in conversation with our IT staff about how to assist the library systems with collection of their Wi-Fi stats, and I will ensure that, for libraries unable to provide the stats, '-1' is entered rather than a '0.' Statewide broadband network upgrades have been a focus for GPLS IT, and we feel confident that we will be able to support our remaining libraries in getting the technology in place in order to reflect Wi-FI usage.
My goal is for library staff to understand why we gather the stats and how they can use them so that we have as much buy-in and engagement with the statistics process as possible, throughout the libraries, from those actually gathering the statistics to those coordinating the report and those using the results."
To Access STAR Libraries 2018 Home page - click here