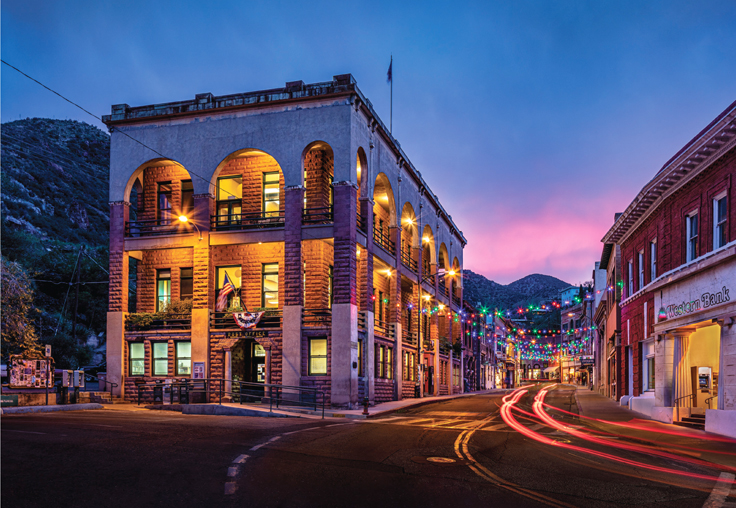 Photo ©2019 Steven Meckler Photography
The Copper Queen Library in Bisbee, AZ, is the oldest in the state. It's older than the state itself, having been founded in 1882 and open continuously ever since. But it isn't resting on its laurels. Once focused on mining, today's Bisbee is a study in contradictions. A small, rural town of 5,575 near the Mexican border, it has "a big city heart," featuring a downtown that draws visitors and a thriving arts scene, Library Manager Jason Macoviak tells LJ. It's a low-income community—more than a quarter of residents are below poverty level and more than 80 percent of students qualify for free or reduced lunch—yet it's also full of educated, professional retirees, many of whom moved to Bisbee from elsewhere. Taking strategic advantage of this mix to deliver innovative library service where it's most needed helped Copper Queen win Library Journal's 2019 Best Small Library in America, sponsored by Baker & Taylor.
ROOMS WITH VIEWS

Top: the main library's second floor balcony allows for quiet reading with a view of the surrounding town and hills, as well as the seed library demonstration garden. Bottom: Library Manager Jason Macoviak in the downtown location. Photos ©2019 Steven Meckler Photography
BRANCHING OUT
"We are so used to thinking outside the box and doing things on shoestrings," says Macoviak. One of the library's most ambitious projects—one that exemplifies its staff's can-do attitude and ability to combine and capitalize on assets and potential in unusual forms—is the San Jose Annex.
Although city-funded, the library is also part of the Cochise County Library District. When the economic downturn forced the county to make retrenchments, the bookmobile—which primarily served the large unincorporated areas in a county the size of Rhode Island—was cut completely. That left the San Jose neighborhood of Bisbee high and dry. The low-income area is the furthest in Bisbee from the main Copper Queen building, and has limited transportation options. In the same boat was neighboring Naco, AZ, a town so close to the border that students from a sister city of the same name cross through customs each day to attend elementary school.
To solve this issue, the library partnered with the Bisbee School District. The district donated a large classroom space in a formerly abandoned school that was reopened to house administrative offices, as well as all utilities, including high-speed Internet and Wi-Fi.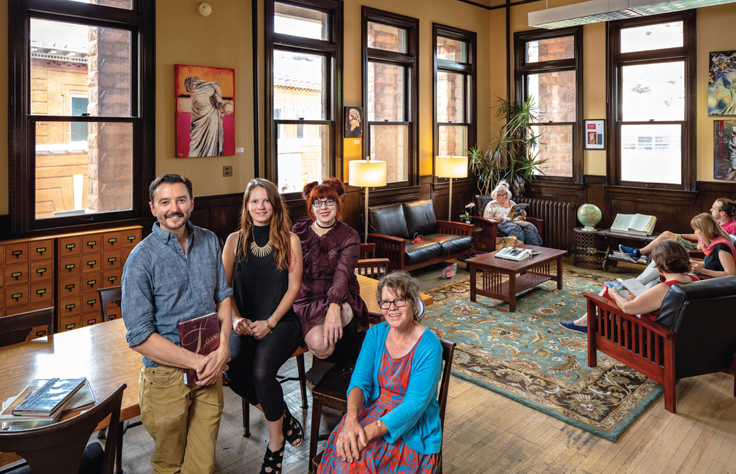 ALL HANDS ON DECK

Macoviak (l.) with Samantha Goerlich, early literacy outreach coordinator; Alison Williams, program coordinator; and Kathy Parke, library assistant and unofficial seed librarian in the main library's reading area. Photo ©2019 Steven Meckler Photography
To get the Annex started, Macoviak and Library Program Coordinator Alison Williams secured two grants: a $40,000 Community Investment Program Grant from local mining company Freeport-McMoRan and a $25,000 Library Service and Technology Act (LSTA) Grant from the Arizona State Library. It also leveraged substantial in-kind donations. Step Up Bisbee/Naco, a local nonprofit that does home repairs for low-income residents, helped design the space, working with the Bisbee High School construction class to build and install custom shelving and furniture.
The Annex opened on December 3, 2018, after nearly two years of intensive work. It holds an approximately 3,700-item collection, focused on youth but offering materials for all ages, as well as access to computers and the Internet, programs tailored to the surrounding community, and "a welcoming public space in a neighborhood that has never had one before," as the library's nomination states.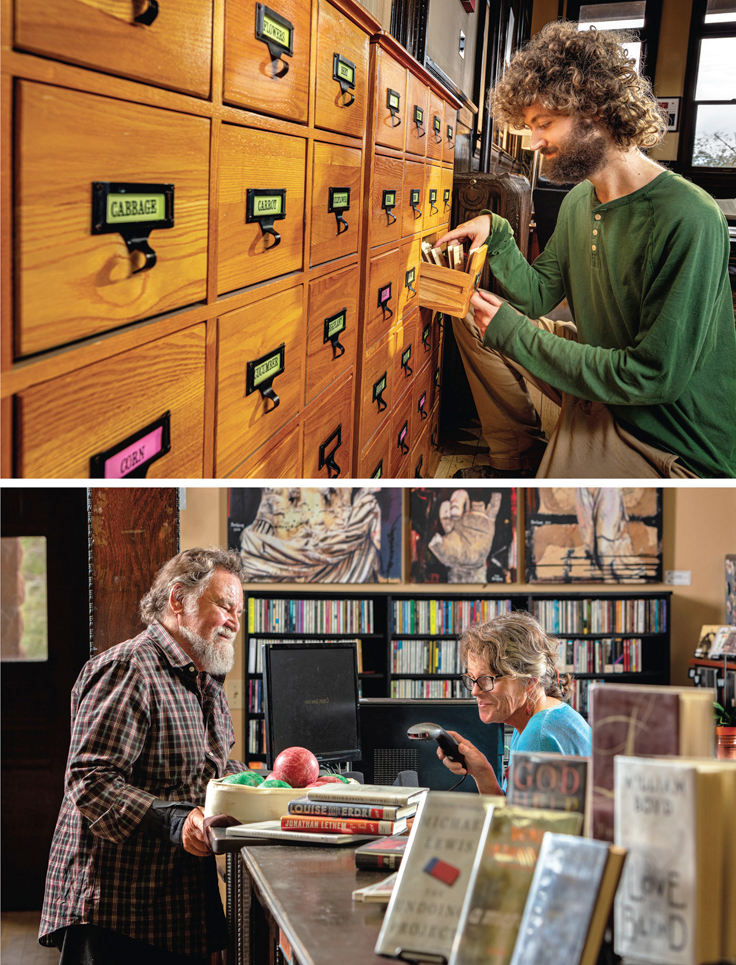 BEYOND BOOKS

Top: the seed library project has circulated more than 1,000 packets and counting of desert plant seeds since its inception in March 2018. Bottom: a patron checks out bocce balls to use in the local parks, part of Copper Queen's growing Library of Things. Photos ©2019 Steven Meckler Photography
The Annex's primary focus is addressing K–12 literacy rates through school readiness, offering early literacy and STEAM programs and resources for ages birth through five, and encouraging parent engagement. To run it, the library hired Heather Weichert, a grant-funded, half-time early literacy coordinator who designed and implemented a new curriculum of early literacy programs, among them STEAM Ahead!; Fun With Math & Science; Little Book Club; Open Play, in which an expert on health and hygiene answers questions from parents while the kids do creative play and movement; and story times, with an emphasis on guest readers from the community. She was recently succeeded by Samantha Goerlich, who provides outreach to local schools and daycares, creates parent engagement opportunities, and enlists the help of volunteers.
DEEP COMMUNITY ENGAGEMENT
That last is a crucial role, because community support has been essential to continuing operations. The Annex has no paid staff except the coordinator, who is often off-site conducting outreach. Some 30 dedicated volunteers keep the place running 28 hours a week, processing materials, facilitating early literacy and tutoring programs, educating patrons in computer use and other technologies, and advocating on behalf of the library for literacy for all ages. Macoviak says the library rigorously vets these volunteers, including doing background checks, trains them "as if they were employees," and has seen remarkably little attrition, because, he says, local retirees "aren't ready to stop educating, teaching, helping their fellow community members."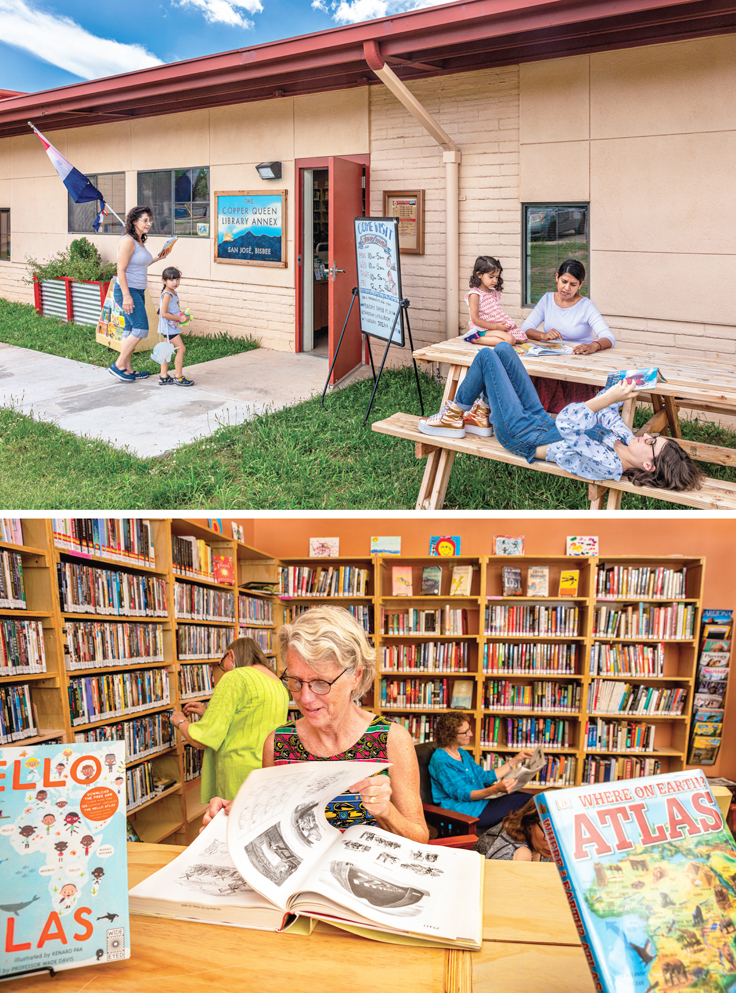 SOMETHING FOR EVERYONE

Top: the recently opened Annex location, whose early literacy focus includes many children's programs and a bilingual collection. Bottom: The Annex Reading Room offers a little bit of everything for adults and children alike. Photos ©2019 Steven Meckler Photography
However, Suzanne D. Harvey, director of library services for the nearby Huachuca City Public Library, gives the library team the credit. "The large number of volunteers alone speaks volumes. Jason [Macoviak] and Alison [Williams] are able to motivate and retain volunteers because of their ability to articulate the importance of the work they do and because they have created an environment that fosters community engagement and pride."
Local organizations—including the Bisbee Bloomers, Bisbee Rotary, the Bisbee Foundation, the University of Arizona Cooperative Extension, the Naco Wellness Initiative, Parents as Teachers, and the Cochise County Health Department—provide weekly or monthly programs. And the Annex has attracted two new neighbors that double as embedded partners: in May of this year, the Bisbee Science Lab and the Cochise County 4-H opened Maker spaces in two adjacent classrooms in time for summer collaborations, including Tinker Tuesdays and Science Fridays.
The library has even more ambitious plans to extend the Annex beyond the building. The city has signed a Memorandum of Understanding with the school district to create a park in part of the empty lot surrounding the Annex. In the rest, the library plans to partner with the Bisbee Bloomers and Water Wise to establish a sustainable, rainwater-fed Edible Community Garden, and, with the new Bisbee Science Center and the county 4-H, to create a STEAM Literacy Park, including a space story walk.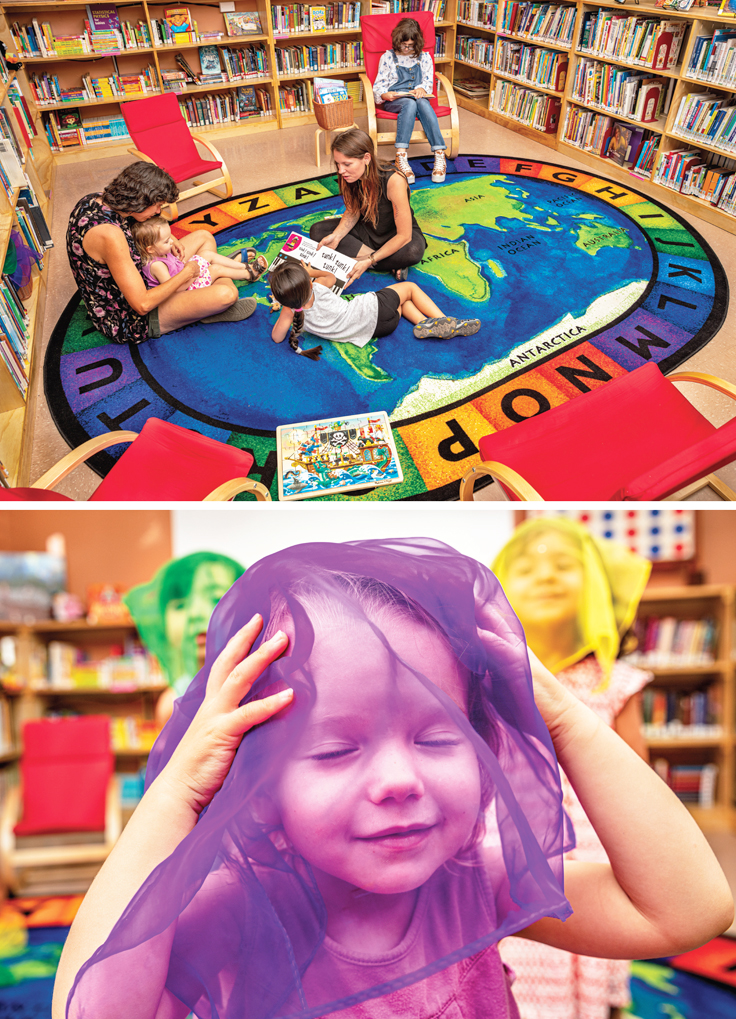 A WORLD OF LEARNING

In the Annex Children's Area, the collection reflects the community and its close proximity to Mexico (four miles), and includes Spanish-English bilingual children's books to encourage language learning for both sides of the border, as well as culture exploration. Photos ©2019 Steven Meckler Photography
KEEPING IT FRESH
The Annex is not the only thing that's new at Copper Queen. The library checks out some 45 Wi-Fi hotspots (one of only nine libraries in the state to do so) funded by an LSTA grant. Says Macoviak, "It is going extremely well; they are constantly checked out, and we have a hold list of 20 people" who the library cycles through as the hotspots return after their three-week checkout period.
The hotspots are just part of Copper Queen's Library of Things: the library also checks out pickleball and bocce ball sets and is looking to other libraries to see what unconventional items to add, "to keep libraries current and exciting."
One very successful unconventional checkout has been seeds: Library Assistant/unofficial seed librarian Kathy Parke, herself a master gardener, created a seed library adapted to the desert climate and a monthly garden club "to foster sustainability in our food-insecure community." Macoviak says the library has checked out over 1,000 packs of seeds in two years. The library also has a small demonstration garden in planters for use in programming—and patrons are welcome to pick the food thus grown.
Programs have been a focus at the main library, open 39 hours per week, as well as at the Annex. The library's success at serving its target audience shows: program attendance has risen by 114 percent over the past three years, and continues to rise. In addition to the early literacy curriculum, popular new offerings include the Pritchard Gallery, showcasing local artists, and the kid-run haunted library for Halloween. For the haunted library's first incarnation in 2018, the library worked with the middle school builders club to create a murder mystery on the second floor, a play on Poe's "The Raven" downstairs, a séance, and fortune telling. About 350 people attended, and the library plans to make it an annual event. "It gave the kids ownership of the library," says Macoviak. "We try to instill in our juvenile patrons that this is their space. Handing over the reins to them really sold them on it."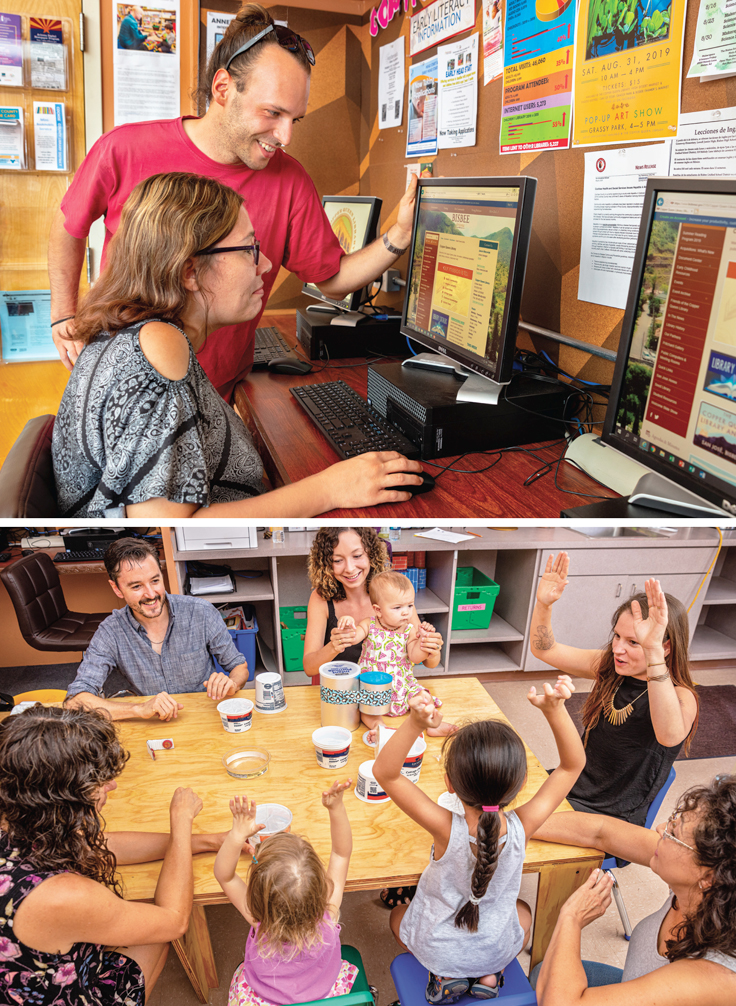 ANNEX ACTION

Top: Volunteer Eugenio Longhi helping a patron, Jennifer Johnson on the Annex public computers. Volunteers keep the Annex running 27 hours a week. Bottom: the STEAM (Science, Technology, Engineering, Art & Math) Club, led by Early Literacy Outreach Coordinator Samantha Goerlich, meets every Thursday morning at the Annex and is designed to give parents and caregivers tips for supporting their children's math and science development at home. In this program, participants build homemade drums and learn about sound, rhythm and touch. Photos ©2019 Steven Meckler Photography
He credits Williams, who, he says, "has also been at the forefront of pushing the library out of the building and into the community, and bringing the community together inside the library as well."
Even the library's fundraisers are a destination: "Our fundraising events bring people in from all over the place, because they're so fun and people love to experience Bisbee," enthuses Macoviak. The active Friends board runs an annual chocolate tasting and an altered book show and auction, which taps into the town's artistic bent. Between the two, they raise enough funds to support 100 percent of the library's programming.
Macoviak encourages other libraries to take risks. "A lot of our success just comes in trying random things and seeing if they work," he says, then building on what resonates with the community. It's working. Program attendance has more than doubled, checkouts have increased by 33 percent overall, and juvenile checkouts have risen by 95 percent.
STRONG LOCAL SUPPORT
While the budget, at $151,519 including four staff members (two of them part time), is tight, Macoviak is clear that the library would not be nearly so effective without the backing of the town government. "We have a very supportive community mayor and city council," he says. When grant funding for Goerlich's position expired, the city agreed to pick up the tab to keep her on board. The same thing occurred when the library needed to pay for ongoing service contracts for Wi-Fi hotspots purchased through grant funding.
Copper Queen also has the support of the Cochise County Library District. Besides offering a deeper bench of materials and program help, the district recently switched to a single card system, eliminating a barrier to use.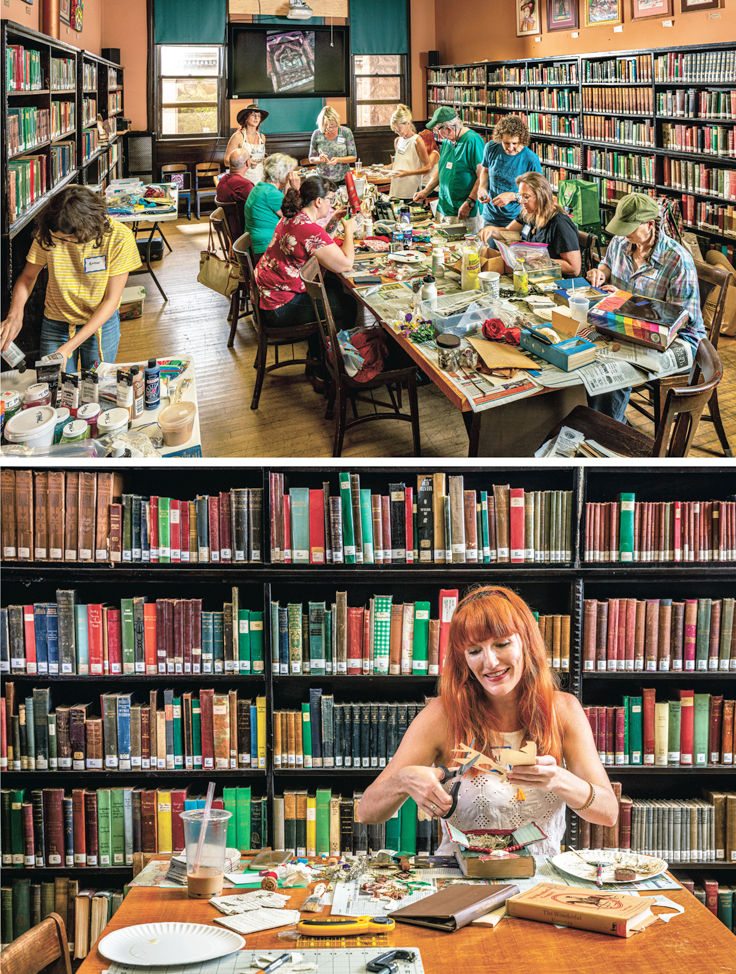 ARTFUL ALTERATIONS

In the main library's meeting room, patrons make altered book art in preparation for a library fundraising silent auction, instructed by local artist Tamara Page. Photos ©2019 Steven Meckler Photography
To reduce another barrier, the library again partnered with the school district. Library card registration forms are supplied to the school office, and students can take them home to be filled out by parents. The school office verifies the address, so the library can send out the card without the student having to prove residency. Over the last three years, some 200 students have gotten a library card that way.
Macoviak also sees himself as the beneficiary of generations of past support, from those who built the third (and current) building in 1907 to those who made sure it became accessible in the 1990s, adding an elevator. "That's why I love this community," he says. "People fought hard for free and open access for everyone, and we're still reaping the benefits." He sees himself and his staff as caretakers, "keeping the integrity of this historic building but making it current at the same time," through up-to-date collections and state-of-the-art technology.
That winning combination—continuity of mission married to creativity of implementation—shines through in the Copper Queen Library's success. "This ability to motivate and engage an entire community is one of the things that I find so extraordinary," Harvey says. "It takes a truly special library and truly special staff to create such passion and buy-in."
---
About the Best Small Library in America Award
LJ's annual award, relaunched with the support of sustaining sponsor ­Baker & Taylor (B&T), was originally created in 2005 to encourage and showcase the exemplary work of libraries serving populations under 25,000. The winning library will receive a cash prize of $5,000 from B&T; its representatives will be recognized at the Association for Rural & Small Libraries (ARSL) conference in Burlington, VT, thanks to support from ARSL. Two honorable mention institutions will each receive $1,000 prizes.
LJ THANKS THE JUDGES:
Fred D. Harvey Director of Sales, Book Leasing & Inside Sales, Follett/Baker & Taylor
---
Lisa Lewis Library Services Manager, Show Low Public Library, AZ; President, Assocation for Rural & Small Libraries
---
Melanie U. Morgan Director of Libraries, Neuse Regional Library System, Kinston, NC; past Library Director of Madison County Public Libraries, NC, LJ's 2018 Best Small Library in America
---
Skye Patrick Library Director, LA County Library, CA, Gale/LJ 2019 Library of the Year
---
Monique le Conge Ziesenhenne Library Director, Palo Alto, CA; Past-President, Public Library Association
---
The panel also includes LJ editors Matt Enis, Rebecca T. Miller, Lisa Peet, and Meredith Schwartz.
---