Absorbing works from major award winners.
Click here for additional new Prepub Alert columns
Aoyama, Michiko. What You Are Looking For Is in the Library. Hanover Square: Harlequin. Sept. 2023. 320p. ISBN 9781335005625. $21.99. CD. LITERARY
Tokyo librarian Sayuri Komachi always asks what patrons are looking for, but because she is as good at reading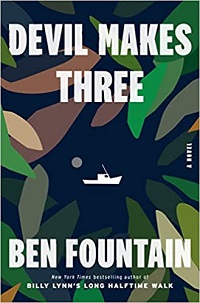 people as she is at reading books, she always gives them a book they really need. Here we meet some of her patrons and see how her recommendations have changed their lives. A Japanese best seller.
Arias, John Manuel. Where There Was Fire. Flatiron: Macmillan. Sept. 2023. 288p. ISBN 9781250817389. $28.99. LITERARY
Arias's debut opens with a blaze at an American Fruit Company's banana plantation in 1968 Costa Rica that has long-term consequences for Teresa Cepeda Valverde's family. Nearly three decades later, Teresa is dealing with an estranged daughter who wants to know about the fire, even as must face her husband's ongoing absence and the imprecations of her mother's furious ghost. With a 75,000-copy first printing.
Awad, Mona. Rouge. Marysue Rucci: Scribner. Sept. 2023. 384p. ISBN 9781982169695. $28. LITERARY
When she meets a mysterious woman in red at her mother's funeral, dress shop clerk Belle is lured to La Maison de Méduse, a swanky, unnervingly cultlike spa to which her mother was devoted. There, she learns why both she and her mother have always been obsessed with mirrors . From the author of the Goodreads Choice finalist All's Well and the multi-best-booked Bunny.
Fountain, Ben. Devil Makes Three. Flatiron: Macmillan. Sept. 2023. 544p. ISBN 9781250776518. $30.99. CD. LITERARY
With the harsh military dictatorship and international embargo that followed the wrenching 1991 deposition of Haitian president Jean-Bertrand Aristide, U.S. expat Matt Amaker finds his scuba business failing. He and classy best friend Alix Variel begin excavating shipwrecks, but then Alix's sister uncovers an arms-trafficking ring masked as a U.S. government humanitarian aid office. From the National Book Critics Circle–winning finalist Fountain (Billy Lynn's Long Halftime Walk).
Hill, Nathan. Wellness. Knopf. Sept. 2023. 624p. ISBN 9780593536117. $30. LITERARY
Jack and Elizabeth fall deliciously in love as 1990s art-ambitious college students in Chicago, and 20 years on they're a long-married couple juggling the realities of jobs, parenting, and unrealized dreams. They soon realize that to find each other again they must sort out their lives, even if they must each go on different journeys. Following the New York Times best-selling, multi-best-booked The Nix.
Kim, Angie. Happiness Falls. Hogarth: Crown. Sept. 2023. 336p. ISBN 9780593448205. $28. lrg. prnt. LITERARY
A father and his younger son are slow to return from a stroll around the park, but other members of their biracial Korean American family aren't panicked until the son stumbles in alone, bloodied but unable to explain what happened; he can't speak owing to a rare genetic condition. A hunt ensues, though the police are not immediately contacted. Kim debuted with the Edgar Award–winning Miracle Creek, but note that this book is BISACed as literary.
Michaels. Sean. Do You Remember Being Born? Astra House. Sept. 2023. 296p. ISBN 9781662602320. $27. LITERARY
Long-renowned poet Marian Ffarmer, who has always been intentionally isolated—from love, friendship, and even her son—is transformed when a giant tech corporation persuades her to come to California and compose verse with its poetry bot Charlotte. Now here's a relationship that matters, but is she betraying her art? From the Scotiabank Giller Prize–winning Canadian author Michaels.
Patchett, Ann. Tom Lake. Harper. Aug. 2023. 320p. ISBN 9780063327528. $30. CD. LITERARY
Gathering with her family at their Michigan orchard in spring 2020, Lara is pestered by her daughters to tell them about her long-ago romance with renowned actor Peter Duke, with whom she acted in a theater company called Tom Lake. The story leads the young women to reconsider their own lives and how they think about their mother. Following the Pulitzer Prize finalist The Dutch House.
Palahniuk, Chuck. Not Forever, but For Now. S. & S. 256p. ISBN 9781668021415. $26.99. LITERARY
Wealthy brothers Otto and Cecil grow up in the Welsh countryside, copycatting their grandfather, playing with their pony, and killing the staff. This is, after all, a family of professional assassins, and with their father having vanished in the Ghost Forest and their mother having vanished into an opioid haze, their grandfather is prepping the youngsters to take over. Not surprisingly, Palahniuk offers a horror satire, though it's BISACed literary—aiming for a broad audience.
Patel, Sheena. I'm a Fan. Graywolf. Jan. 2023. 216p. ISBN 9781644452455. pap. $17. LITERARY
With this story of a young woman minutely examining her toxic and badly imbalanced relationship with an older woman, British author Patel rips into issues of class, social media, and male power. Named a Best Debut of 2022 by the Observer.
Rum, Etaf. Evil Eye. Harper. Sept. 2023. 352p. ISBN 9780062987907. $30. lrg. prnt. LITERARY
After challenging a colleague's racist comments, Yara is the one put on probation, and her Palestinian mother blames a family curse. Yara thinks that's nonsense, but she does begin reexamining her strict upbringing in a Brooklyn-based immigrant family. If she's managed to step outside their boundaries, why isn't she feeling fulfilled? Following Rum's highly acclaimed debut, A Woman Is No Man.
Vance, Anise. Hush Harbor. Hanover Square: Harlequin. Sept. 2023. 304p. ISBN 9781335449528. $30. CD. LITERARY
After police shoot an unarmed Black teenager in Bliss City, NJ, a resistance group takes over an abandoned housing project and names it Hush Harbor, a term once used to describe a safe place where enslaved people could meet to pray. The group is led by Jeremiah Prince and his sister Nova, but they have different ideas on how to proceed, and a new mayor with white supremacist leanings is making things harder. Debuter Vance comes from the African and Iranian diasporas.
Vasyakina, Oksana. Wound. Catapult. Sept. 2023. 240p. tr. from Russian by Elina Alter. ISBN 9781646221448. $27. LITERARY
In this autobiographical debut novel, a young lesbian poet travels from Moscow to her Siberian hometown to lay her mother's ashes to rest. Along the way, she recalls her childhood and contemplates her sexual and artistic identities even as she wrestles with her grief. Winner of Russia's NOS (New Literature) Award in 2021.
Zhang, C Pam. Land of Milk and Honey. Riverhead. Sept. 2023. 240p. ISBN 9780593538241. $27. LITERARY
A talented chef flees the world's smog-ridden, comestibles-starved desolation to serve amazing dishes at a mountaintop retreat for the elite. Her new job reawakens her senses and her love of food and life, but is it ethical? From National Book Foundation 5 Under 35 honoree Zhang, author of the multi-award-winning, multi-award-nominated How Much of These Hills Is Gold.
Click here for additional new Prepub Alert columns