A new history of Indigenous North America, Jim Crow's legal executioners, revisiting Benghazi, and more.
Click here for additional new Prepub Alert columns
Burnham, Margaret A. By Hands Now Known: Jim Crow's Legal Executioners. Norton. Sept. 2022. 352p. ISBN 9780393867855. $30. HISTORY
Director of Northeastern University's Civil Rights and Restorative Justice Project, Burnham draws on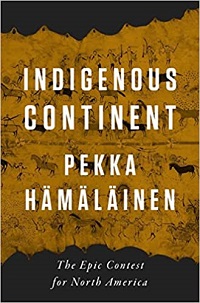 more than 1,000 cases of racial violence in the United States from 1920 to 1960 to reveal the legal structures that allowed them, focusing on the South as she shows the quick step from slavery to Jim Crow injustice and the continuing legacy today. In her new view, issues of state vs. federal jurisdiction and the undue power of local sheriffs emerge as key legal underpinnings to such violence.
Chorin, Ethan. Benghazi!: A New History of the Fiasco That Pushed America and Its World to the Brink. Hachette. Sept. 2022. 352p. ISBN 9780306829727. $30. HISTORY
Chorin is well placed to provide an unvarnished account of the 2012 attack on the U.S. diplomatic mission in Benghazi that killed Ambassador Christopher Stevens and three others. From 2004 to 2006, he was among the diplomats posted to Libya to establish a U.S. mission there upon rapprochement with Colonel Gaddafi, then witnessed the Benghazi attack and its aftermath after becoming codirector of an NGO helping to improve eastern Libya's medical infrastructure. The aim here is to remove the attack from politicized conversation and provide a serious examination of the U.S. presence in the Middle East.
Hämäläinen, Pekka. Indigenous Continent: The Epic Contest for North America. Liveright: Norton. Sept. 2022. 576p. ISBN 9781631496998. $40. HISTORY
Rhodes Professor of American History at Oxford, Hämäläinen concentrates on North America through the 19th century, specializing in Indigenous, colonial, imperial, environmental, and borderlands history; his works include the Bancroft Prize–winning The Comanche Empire. Here he offers a large-scale revisionist look at the Indigenous peoples of North America, tracking their dominance on the continent through the end of the 1800s.
Horowitz, Sarah. The Red Widow: The Scandal That Shook Paris and the Woman Behind It All. Sourcebooks Landmark. Sept. 2022. 352p. ISBN 9781728226323. $26.99. BIOGRAPHY
Professor of history at Washington & Lee University, where she heads up the Women's, Gender and Sexuality Studies program, Horowitz tells the story of Marguerite Steinheil, born into a middle-class French family in 1869. Stuck without options in marriage to a no-count artist many years her senior, Steinheil hungered for glamour and power, seeking to reach the highest rungs of French society by taking important men as lovers. Needless to say, notoriety followed; she was even accused of killing her husband and mother. Horowitz tracks the so-called Red Widow's rise and fall.
McGreevy, John T. Catholicism: A Global History from the French Revolution to Pope Francis. Norton. Sept. 2022. 512p. ISBN 9781324003885. $35. HISTORY/RELIGION
Francis A. McAnaney Professor of History at Notre Dame University, McGreevy investigates the tension between progress and tradition that has animated the Catholic Church worldwide for over 200 years. He starts with antimonarchist French clerics celebrating the Revolution, only to have the murder of priests and destruction of churches create a fierce conservative backlash; shows the power the Church gleaned from missionaries; and ends by highlighting African Catholics fighting for independence, Latin Americans creating a theology of liberation, and Polish and South Korean Catholics countering repression—all defying cautious tradition.
Sattin, Anthony. Nomads: The Wanderers Who Shaped Our World. Norton. Sept. 2022. 352p. ISBN 9781324035459. $28.95. HISTORY
A distinguished journalist focusing on the Middle East and Africa, Sattin discovered and edited Harriet Tytler's memoir of the 1857 Indian Mutiny and Florence Nightingale's correspondence home from her journey up the Nile in 1849-50. Here he follows up his LJ-starred Young Lawrence with an expanded purview, considering the tension between nomadic and settled societies from biblical times while highlighting the great Arabic, Mongol, and Mughal nomadic empires.
Stashower, Daniel. American Demon: Eliot Ness and the Hunt for America's Jack the Ripper. Minotaur: St. Martin's. Sept. 2022. 352p. ISBN 9781250041166. $29.99. HISTORY/TRUE CRIME
Having brought down Al Capone, Eliot Ness faced a new challenge when he was appointed director of public safety in Cleveland: stopping the Mad Butcher of Kingsbury Run, who left behind more than a dozen cleanly severed and blood-drained torsos over the course of four years in the mid-1930s. The New York Times best-selling Stashower (The Hour of Peril), a winner of the Edgar, Agatha, and Anthony awards, reveals what happened. With a 75,000-copy first printing.