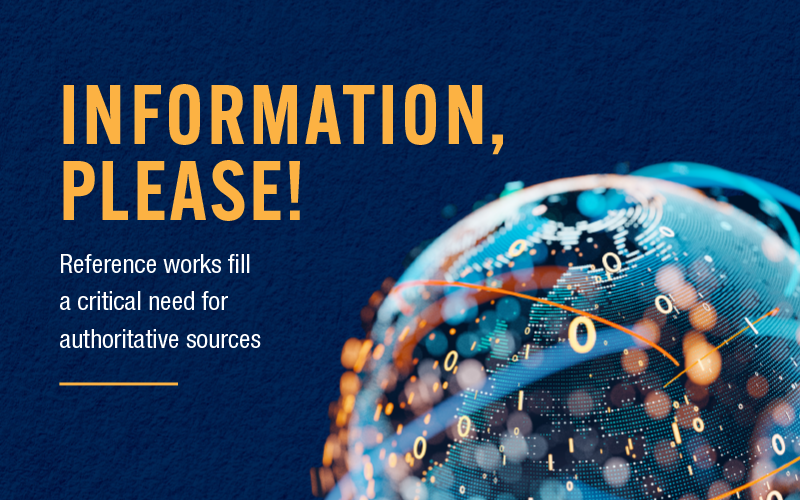 With an ever-increasing volume of misinformation circulating online, students and adults alike need help navigating the information landscape and finding accurate data sources. Reference books and databases are critical in filling this need.
"Students and library patrons today are exposed to so much noise," says Leslie Mackenzie, publisher of Grey House Publishing. "There is a real need for current, well-vetted information."
A survey from the Pew Research Center reveals how dependent many people are on social media for their news and information. Roughly a third (31 percent) of U.S. adults say they regularly get their news from Facebook, while a quarter of them turn to YouTube for information.
This reliance on social media contributes to the spread of misinformation online. According to a new poll by the Pearson Institute and the Associated Press-NORC Center for Public Affairs Research, a significant majority of Americans agree. In fact, in a rare instance of partisan agreement, 79 percent of Republicans and 73 percent of Democrats said social media companies have a great deal or quite a bit of responsibility for misinformation. Yet only two in 10 Americans believe they're part of the problem.
Reference books and databases play an essential role in providing credible, authoritative information for students, researchers, and the general public. Here are some of the latest high-quality reference materials aimed at school, public, and academic libraries.

Schlager Group
Schlager Group is an educational publisher that delivers primary-source materials to high school, academic, and public libraries. Its expertly curated collections, available in print and ebook formats, cover U.S., world, and African American history.
The company offers two main series: "Milestone Documents in American History," whose titles pair primary-source documents with in-depth analysis aimed at students, and "Schlager Anthologies for Students," which include shorter documents and excerpts to make primary sources more accessible.
"We give the ebook versions to libraries at no additional cost when they purchase the print versions," says Founder and CEO Neil Schlager. "Librarians love this feature."
New for fall 2022 is Milestone Visual Documents in American History edited by Craig Kaplowitz, November 2022, ISBN 9781935306726, which provides analysis of important images, paintings, cartoons, flyers, and photographs from the nation's past. The primary sources in this three-volume, 750-page set include Thomas Nast political cartoons, paintings of slave plantations, and photos from the Vietnam War, the Oklahoma City bombing, and other seminal moments.
"We think it's going to be a fun and interesting way of approaching American history," Schlager says.
The next title in the "Schlager Anthologies" series is The Schlager Anthology of Hispanic America edited by Aaron E. Sánchez, February 2023, ISBN 9781935306849. This two-volume, 700-page series covers Hispanic American history from the 1100s to the present day through more than 150 key sources.
The collection begins with documents from the pre-contact period, such as Hopi and Acoma Pueblo origin stories, before moving on to the Spanish Contact era, 19th-century U.S. expansion, and 20th-century civil rights documents. It ends with sources related to Latinos in 21st-century politics. The text of all primary sources is abridged to make it brief and accessible, even for struggling readers.
The Schlager Anthology of Hispanic America follows on the heels of The Schlager Anthology of Black America edited by Dan Royles, August 2021, ISBN 9781935306580, which covers Black history from the 1500s to the present using 250 primary sources.
Coming out in spring 2023 is Milestone Documents of the Supreme Court edited by Paul Finkelman, April 2023, ISBN 9781935306863. This three-volume, 1,200-page collection covers 80 critical Supreme Court decisions from the early days of the republic to the present—including the highly controversial ruling in Dobbs v. Jackson Women's Health Organization, in which the court held that the Constitution of the United States does not confer a right to abortion.

National Geographic
National Geographic Books publishes more than 175 new books each year for adults and children on a wide range of nonfiction subjects related to travel, exploration, nature, and conservation. Its extensive list of reference books includes atlases and field guides.
"We are the preeminent atlas publisher in the United States," says Senior Editor Susan Hitchcock. "We have a staff of full-time cartographers, and we update our atlases frequently."
National Geographic's flagship atlas is the National Geographic Atlas of the World, 11th Edition, October 2019, ISBN 9781426220586. A large-format atlas that comes in a slip case, this work provides authoritative maps of every country, ocean, and region of the world, as well as thematic maps and accompanying graphics showing important population, environmental, and economic patterns. "It's considered by librarians and cartographers to be the first and last word in atlases," Hitchcock says.
From this comprehensive work, National Geographic has developed a line of specialized atlases. For instance, the National Geographic Visual Atlas of the World, 2nd Edition, September 2017, ISBN 9781426218385, unites the company's incomparable photography with its cartographic knowledge to showcase natural and cultural treasures through 200 maps, 350 full-color photos, and state-of-the-art satellite imagery. The National Geographic Family Reference Atlas of the World, 5th Edition, October 2020, ISBN 9781426221446, is a reader-friendly atlas suitable for children and adults. Newly updated this fall, the National Geographic Concise Atlas of the World, 5th Edition, September 2022, ISBN 9781426222511, is a paperback version that substitutes country-by-country maps for regional ones.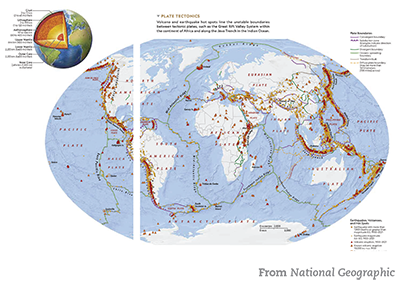 Aside from producing traditional reference atlases, National Geographic has branched out into publishing what the company calls "thematic atlases" that are more text heavy. "These books are distinctive hybrids that combine maps, photos, facts, and text in a single, attractive package," Hitchcock says.
Examples include the National Geographic Space Atlas, 2nd Edition by James Trefil, October 2018, ISBN 9781426219696, which takes readers on a guided tour of the universe, complete with an introduction from astronaut Buzz Aldrin; National Geographic Atlas of the National Parks by Jon Waterman, November 2019, ISBN 9781426220579, which combines authoritative park maps with graphics and photos to tell the stories of America's 61 national parks; and—new this fall—National Geographic Stargazer's Atlas, October 2022, ISBN 9781426222207, a guide to discovering the wonders of the night sky.
Waterman, a former national park ranger, is also working on a National Geographic Atlas of Wild America that will be published in October 2023 (ISBN 9781426222351).
National Geographic is also known for its field guides, and one of the most popular is its definitive guide for birdwatchers, the National Geographic Field Guide to the Birds of North America, 7th Edition by Jonathan Alderfer and Jon L. Dunn, September 2017, ISBN 9781426218354. With more than 2.75 million copies in print, this birding guide is the most comprehensive on the market and is perfect for beginners and experts alike. It features 1,023 species and is organized to reflect the new American Ornithological Society taxonomy established in 2016. The eighth edition is scheduled for publication in September 2025.

Grey House Publishing
Grey House Publishing issued its first reference title, the Directory of Mail Order Catalogs, in 1980. In the four decades since, Grey House has become known for its authoritative and instructive reference content designed for public, academic, and high school libraries in areas such as history, consumer health, statistics, demographics, and business information.
"Our guiding mission is to publish information that is helpful to people," says Publisher Leslie Mackenzie.
Grey House publishes single- and multi-volume reference works across multiple imprints. All titles published by the company's Grey House and Salem Press imprints come with free, simultaneous online access for an unlimited number of users when libraries purchase the print edition.
"That has been a well-liked model among librarians," says Vice President of Marketing Jessica Moody. "We want to make it as easy as possible for readers to connect with the content."
Wellness has been a high-priority issue since the pandemic began, and coincidentally Grey House introduced a "Health & Wellness" series back in 2020. These single-volume guidebooks are designed to give readers in-depth information about a particular health topic and connect them with supporting resources.
The series launched with the Dementia Handbook & Resource Guide, which was named a Library Journal Best Reference Book upon its release. New and forthcoming titles in the series include Autism Spectrum Handbook & Resource Guide (October 2022, ISBN 9781637001585), Addiction Handbook & Resource Guide (February 2023, ISBN 9781637005231), and Depression Handbook & Resource Guide (October 2023, ISBN 9781637005644).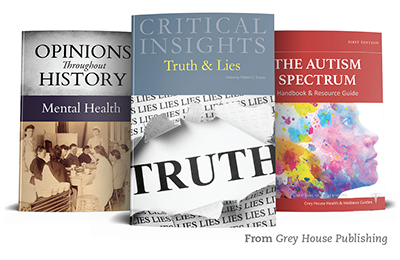 Given the hyper-partisan nature of U.S. politics today, it's easy to forget that Americans have always been divided over issues such as privacy and security, immigration, and civil rights. A Grey House series called "Opinions Throughout History," edited by Micah L. Issitt, traces how opinions on controversial topics have changed over time.
Using detailed analysis of primary sources such as political cartoons and op-ed articles, these single-volume works provide readers with a thoughtful analysis of how public opinion is formed and evolves. Recent and forthcoming titles in the series include Free Speech & Censorship (March 2022, ISBN 9781637001196), Workers' Rights & Wages (April 2022, ISBN 9781637001387), Church & State (October 2022, ISBN 9781637001639), Conspiracy Theories (January 2023, ISBN 9781637005170), and Mental Health (April 2023, ISBN 9781637005408).
"It's a fascinating series," Mackenzie says. "Although we live in a very divisive time right now, as these books reveal, we've been through divisive times before—and we'll get through this one as well."
One of the most popular series from Grey House imprint Salem Press is "Critical Insights," which distills the best classic and modern literary criticism of the world's most studied literature. Each volume presents readers with criticism and analysis of an author, work, or literary theme. "Students come away with an enriched sense of the many ways these works and authors can be appreciated," Mackenzie says.
New and forthcoming titles in the series include Critical Insights: The Adventures of Tom Sawyer edited by Kent R. Rasmussen (June 2022, ISBN 9781637003435); Critical Insights: Edgar Allan Poe edited by Robert C. Evans (August 2022, ISBN 9781637003473); Critical Insights: Virginia Woolf edited by James F. & Laura Nicosia (October 2022, ISBN 9781637003510); Critical Insights: A Raisin in the Sun edited by Peter J. Bailey (January 2023, ISBN 9781637004289); and Critical Insights: C.S. Lewis edited by Robert C. Evans (March 2023, ISBN 9781637004340).

LocalHop
Founded in 2015, LocalHop is an event-management platform that keeps communities better informed by providing custom websites, event marketing, web calendars, and room and event registration capabilities to libraries and other organizations.
"We're connecting library patrons and creating a sense of community," says Marketing Manager Rachel Sussbauer.
LocalHop's Post and Promote service is an easy-to-use web and mobile platform that helps libraries share and promote events such as author readings, book discussions, story hours, summer camps, and classes to people looking for fun things to do in their community.
Librarians can use the service to promote events through their social media channels, collect registrations or sell tickets, and track and report attendance and other relevant information. The platform is responsive across all devices, allowing patrons to know about upcoming events from wherever they are.
LocalHop's Community Calendar is a widget that allows users to pull various community events into a single, comprehensive calendar updated automatically as new events are added. Librarians can use the service to make their library the go-to destination for insight into what's happening in their community.
LocalHop's Room Reservation service allows libraries to rent out spaces for community events and process payments through a simple dashboard. The service is completely customizable for each library.
"Libraries serve as the hubs of their community. They not only house and disseminate knowledge but also bring people together," says Director of Content Creation Hanna Shemke. "Our software allows them to do that more effectively."
LibraryHop also recently launched a Communication Portal that helps librarians send targeted messages and promotions to segments of their user base. The service enables librarians to create customizable lists of patrons who should receive certain messages, then send tailored notifications to those customers.
"It's so important for libraries to be able to customize their communications with patrons," Sussbauer says. "Being able to notify the right people quickly and have a record of who has opened and responded to various messages allows libraries to interact with patrons more effectively and build lasting relationships with them."
Caro Area District Library in Michigan wanted to partner with the city of Caro and the local Chamber of Commerce to create a shared community calendar. "LocalHop allows us to do this while being able to feature just our own events on a calendar in a different location," a librarian for the district observes. "Residents have [access to] all the area events in their pockets [through] the app. LocalHop fit our needs exactly."

American Psychological Association
As the largest professional organization representing psychologists in the United States, with more than 133,000 members, the American Psychological Association (APA) has a robust publishing program that includes some 90 journals and periodicals, as well as about 90 scholarly and trade books per year through multiple book imprints.
"Libraries are instrumental in the distribution of these resources," says APA Style Director Emily Ayubi.
APA is also a leader in establishing guidelines for writing scholarly papers and documenting sources. The APA Style originated in 1929 as a set of standards for submitting manuscripts to APA publications. Over time, it has evolved to become a leading source of guidance for students and researchers alike as they produce academic papers and substantiate their findings across all disciplines.
The first stand-alone edition of the APA Style reference guide was issued in 1952. The latest version, Publication Manual of the American Psychological Association, 7th Edition, October 2019, is available in a spiral-bound version with color tabs for easy reference (ISBN 9781433832178), as well as hardcover (ISBN 9781433832154), paperback (ISBN 9781433832161), and ebook (ISBN 9781433832185) formats.
For the first time, the seventh edition of the APA Style manual includes full-length chapters covering topics such as reporting standards for journal articles, designed to increase the transparency of reporting research results, as well as the use of inclusive and bias-free language in academic writing. For example, APA now unequivocally endorses the use of "they" as a singular pronoun, because it is inclusive of all people.
"At the heart of everything we do is community engagement," Ayubi says. "We have worked with public-interest and advocacy groups, including librarians, to ensure that our guidelines are as inclusive as possible."
An abridged version of the APA Style manual distills the guidance from the unabridged version for students and new writers. This Concise Guide to APA Style, 7th Edition, December 2019, is available in spiral-bound (ISBN 9781433832734) and ebook (ISBN 9781433832765) formats only.
In addition to these reference publications, APA offers numerous digital resources to help students and scholars become familiar with APA Style guidelines.
For instance, Mastering APA Style Student Workbook, 7th Edition, is an interactive online workbook designed for students to practice APA Style elements. It was first published in September 2021, followed by an enhanced version in September 2022. This digital workbook includes more than 1,000 formative practice questions and 685 summative graded quiz questions mapped to topics covered in the Publication Manual and Concise Guide to APA Style.
The Mastering APA Style Student Workbook is available as a stand-alone product (ISBN 9781433842115), or libraries can bundle it with the ebook version of the Publication Manual (ISBN 9781433842122) or the Concise Guide to APA Style (ISBN 9781433842139). The bundled options offer seamless integration between the workbook and ebook, including links to pertinent sections and topics in the ebooks, to support guided practice.
"We're trying to make learning APA Style more comfortable for students by giving them scaffolded learning opportunities," Ayubi says.
A subscription-based platform called Academic Writer includes interactive lessons and knowledge checks on APA Style guidelines, as well as tools for collaborative writing and citation management. APA also offers guidance on academic writing and citations in a blog on its website. Ayubi describes these resources as "an entire ecosystem" for learning and practicing scholarly writing.

Accessible Archives
Founded in 1990, Accessible Archives offers several digital collections of primary-source materials culled from North American newspapers and periodicals from the 18th, 19th, and early 20th centuries. Aimed at public, academic, and K-12 libraries, these collections focus on African American life and experiences, abolition, women's suffrage, and the history of American protest, among other themes.
"Our digital collections illuminate many aspects of American life," says Product Development and Strategy Consultant Robert Lester. "These materials give students and scholars rich insight into how people thought and what was popular at various times in American history."
Colonial American Newspapers, 1728–1800, includes content from publications such as the South Carolina Gazette, Virginia Gazette, and Pennsylvania Gazette. The latter was one of the most prominent newspapers in the American colonies and is considered the New York Times of its era. Users of this collection can get a glimpse into Colonial American life while also reading the full text of important writings such as Letters from a Farmer, Thomas Payne's Common Sense, and The Federalist Papers.
African American Newspapers, 1827–1919, contains original source material written by African Americans, for African Americans. The collection includes content from the Frederick Douglass Paper, published by Douglass himself, as well as the Freedman's Record, a Boston-based newspaper that examines the issues faced by freed slaves and the efforts to provide opportunities for freedmen entering American society.
American Military Camp Newspapers, 1916–1921, features content from the publications that kept soldiers informed about the home front, progress of their training, and the conduct of the war abroad. This collection offers unique insights into the experiences of American soldiers during World War I, from mobilization through the occupation of Germany. It includes articles about what it was like to leave home by both recruits and draftees, the initial excitement of training, the drudgery of camp life, news about the enemy, and more.
Anatomy of Protest in America, 1701–1928, contains newspaper articles, editorials, and book excerpts tracing nearly 225 years of American protest, from the Boston Tea Party and Turner's Rebellion to the New York City Draft Riots and the anti-Communist demonstrations of the early 1920s.
Frank Leslie's Weekly, 1855–1922, includes the contents of America's first illustrated newspaper, which was the model for Harper's Weekly and other popular periodicals. "I compare it to a cross between The New Yorker and The National Enquirer," Lester says. "It sought to capture the interest of educated and noneducated readers alike. On a typical page, you might find an academic article next to an article about Champy, the legendary Lake Champlain monster."
Other collections focus on abolition, the U.S. Civil War, Reconstruction, the women's suffrage movement, invention and technology in America, and quarantine and disease control, among other topics. "We're constantly adding new material," Lester says. "We try to provide a new collection at least once a year."
Libraries have two options for acquiring this content: They can opt for a yearly subscription model, which provides unlimited online access to all collections, or they can purchase permanent access to individual collections.
"We keep the costs reasonable, because we understand that libraries are constantly facing budgetary pressures," Lester says. Accessible Archives also provides free usage statistics to help libraries justify their expenditure, as well as free customized MARC records for its services.

William S. Hein & Co.
William S. Hein & Co. has been serving the library community for more than 100 years as a legal publisher, periodical subscription agent, and the world's largest distributor of legal periodicals. While the company still publishes print-based books and journals, its core focus is now HeinOnline, a digital reference platform that includes more than 200 million pages of content across more than 100 databases.
Every document within HeinOnline is an exact facsimile of its print counterpart as scanned from periodicals, government documents, case law, and other resources. "These fully searchable, image-based PDFs cover a wide range of disciplines," says Managing Director of Sales and Marketing Ben Boron, "from law and criminal justice to political science and gender studies."
Six of the company's online databases are available via the EBSCOhost platform. They feature material such as the constitutions from every country and works from some of the greatest minds in legal history, as well as comprehensive coverage of the Federal Register and the Congressional Record.
For instance, Legal Classics offers nearly 20,000 works from legal scholars dating back centuries, including rare documents found in only a handful of libraries around the world. Noteworthy content includes An Essay on Crimes and Punishment from Italian philosopher Cesare Beccaria (with additional content attributed to Voltaire), which became the foundation of classical criminology, and Charles Austin Beard's Economic Interpretation of the Constitution of the United States.
The Federal Register is the official journal of record for all acts of the U.S. government—including proposed and final rulemaking within federal agencies, as well as executive orders and other presidential documents (updated daily).
The Code of Federal Regulations features the codification of the rules and regulations published in the Federal Register. HeinOnline's version of this resource is fully searchable with unique locator tools that provide easy access to all titles, chapters, parts, sections, and paragraphs. HeinOnline's coverage is also comprehensive, containing all CFR volumes dating back to the publication's inception.
U.S. Congressional Documents features the complete Congressional Record bound-volume set (1873 to present), as well as its three predecessor titles: Annals of Congress (1789–1824), Register of Debates (1824–1837), and the Congressional Globe (1833–1873). In addition to containing the most complete account of congressional matters to date, this database includes other documents from the legislative branch, such as records fromcongressional hearings.
World Constitutions Illustrated: Contemporary & Historical Documents & Resources contains the current constitution of every country in the world, as well as earlier versions—allowing users to research the constitutional and political development of every nation.
Slavery in America and the World: History, Culture & Law is a comprehensive collection of materials relating to the history of slavery in the United States and the English-speaking world, curated by slavery expert Paul Finkelman. This database contains hundreds of pamphlets and books written about slavery, whether defending it, attacking it, or simply analyzing it, as well as every English-language legal commentary on slavery published before 1920.
Slavery in America and the World is offered to libraries at no cost as an act of corporate citizenship "so that people can research this important topic free of charge," Boron says. Other databases that HeinOnline offers at no cost are Gun Regulation and Legislation in America, Civil Rights and Social Justice, LGBTQ+ Rights, and the Open Society Justice Initiative.

Hispanic American Periodicals Index
The Hispanic American Periodicals Index (HAPI) provides complete bibliographic citations to the contents of scholarly journals about Latin America, the Caribbean, and Latinx people published around the world since the late 1960s. Its coverage includes everything from political, economic, and social issues to the arts and humanities.
HAPI currently indexes more than 400 journals and includes the contents of more than 700 journals published since 1967. The database is a nonprofit project of the Latin American Institute at the University of California, Los Angeles (UCLA) and is available to public and academic libraries through an annual subscription. Institutions in Latin America and the Caribbean receive subscriptions at no cost.
HAPI's database is invaluable to students and researchers looking for information about Latin American culture, politics, scholarship, and a host of other topics, says Director Orchid Mazurkiewicz. "We're a one-stop shop for content about Latin America and the Caribbean," she notes.
One thing that makes the project unique is that it includes a wide variety of journals from the region it focuses on, in addition to journals from the United States and elsewhere abroad. Many of the journals are printed in Spanish or Portuguese. Examples of the publications indexed in the database include the Journal of Latin American Studies (U.S.), Casa de las Americas (Cuba), Plural (Mexico), Cuadernos Hispanoamericanos (Spain), Nueva Sociedad (Argentina), and Vozes (Brazil).
"It's interesting to see the perspective of scholars from the region itself," Mazurkiewicz says. "For instance, there is a lot of useful economic and public health data being produced within the region."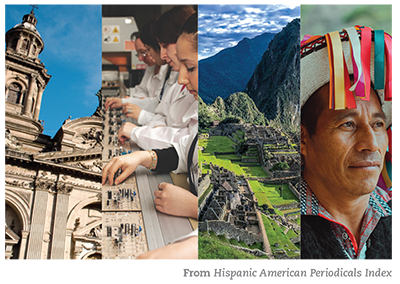 HAPI doesn't include the full text of journal articles within its database. Instead, it relies on subject indexing, or describing the contents of journal articles using keywords to make this content more discoverable. "That's the value we provide," Mazurkiewicz says: "We look closely at the articles to see what the content is about, and we use descriptive abstracts and subject headings so that people can easily find what they're looking for."
She adds, "In a universe with so much information, finding what you're looking for can be challenging. Discoverability is just as much of an issue as accessibility."
Wherever possible, the database entries include links to the full-text source online. In fact, about 80 percent of HAPI's indexed titles include links to the full-text source—and because open-access publishing is such a significant part of Latin American culture, most of these articles are freely available online.
Altogether, HAPI includes more than 335,000 citations, with links to more than 170,000 full-text journal articles.
Because HAPI is only a three-person operation, it has partnered with EBSCO to market and distribute its database to libraries. "We chose to partner with EBSCO because they're known for working with databases that aren't full-text searchable," Mazurkiewicz says. "We wanted to work with a company that respects smaller abstracting and indexing databases and prioritizes them within its search algorithm. Sometimes this content can be lost otherwise."
HAPI is available either independently or within the EBSCOhost platform. A free 30-day trial subscription is also available.

RIPM
For music historians and lovers of music alike, experiencing musical history through contemporary eyes is captivating, and provides a richer, more fully contextualized understanding of this art form.
Primary sources such as articles and reviews published in music periodicals are the essential windows into this history. There were more than 7,000 music journals and periodicals published worldwide between 1760 and 1966; however, many of these sources are rare or hard to find.
Founded in 1980, RIPM (Le Repertoire international de la presse musicale) is a nonprofit organization that aims to digitize these periodicals and make them easily accessible within online databases. Sponsored by the International Musicological Society and the International Association of Music Libraries, Archives, and Documentation Centres, RIPM makes available nearly 2 million pages from more than 600 music periodicals in 20 world languages to date.
Searching these materials gives users access to "a daily chronicle of music history that includes granular information as well as a much bigger-picture view," says Executive Editor Benjamin Knysak.
For instance, users can find a review of the first published version of Beethoven's Symphony No. 9. They can find illustrations of the original staging for Verdi operas, as well as sketches of the composer Igor Stravinsky drawn by Pablo Picasso. They can read firsthand accounts of performances by musicians such as virtuoso violinist Niccolò Pagaini or composer and pianist George Gershwin.
"It's a wonderful way for people to connect with music history," Knysak says. Target users include performers, music historians, musicologists, and music educators.
There are three versions of RIPM's music history collections on EBSCOhost: Retrospective Index to Music Periodicals (1760–1966) is searchable by article title, author, and content annotations; Retrospective Index to Music Periodicals with Full Text is fully keyword searchable throughout the full text of articles; and the Preservation Series: European and North American Music Periodicals is not manually indexed but remains full-text searchable. Together, these resources allow users access to more than 200 years of musical history simply and efficiently.
Like Google Books and HathiTrust, the RIPM Preservation Series does not identify specific types of content, such as reviews, illustrations, or analysis. However, it does offer a simple downloading process for saving and printing. It also allows users to make personal observations in a Notes field, and it supplies bibliographic information on each journal page that is viewed.
By purchasing an annual subscription, academic and public libraries can give their patrons full access to any combination of these databases. Access is available through RIPM's own platform, RIPMPlus, or through the EBSCOhost platform for libraries that are EBSCO customers. (Users who access these collections through EBSCOhost can take advantage of the enhanced search features embedded within that platform, such as citation assistance and mobile-friendly access.) A free, 30-day trial period is available.
In addition to these general music history databases, RIPM also offers a unique collection of American jazz periodicals. "We're the first ones to bring this rich and growing collection to a global audience," Knysak says. The RIPM Jazz Collection is available through the RIPMPlus platform.

Bloomsbury Publishing
Perhaps best known as the publisher of the Harry Potter books, Bloomsbury began as a trade publisher in the 1980s and launched an academic division in 2008. This division publishes a handful of major reference works each year, available in print and/or digital formats.
"Users want information that will help them understand a topic," says Kathryn Earle, managing director of Bloomsbury's digital resources division. "The point of reference materials is to synthesize information and provide an easily accessible entry point into key topics. We see this work as being incredibly important."
This focus on high-quality reference materials is what prompted Bloomsbury to acquire ABC-CLIO in December 2021. "ABC-CLIO has a massive backlist of impressive reference content, and this was a driving factor in our purchase of the company," Earle says.
Bloomsbury's most significant collection of reference works is the Bloomsbury Cultural History series, which provides an authoritative survey of a wide range of subjects throughout history. How each topic was understood and represented during that time period is explored across six historical eras: Antiquity, the Medieval Age, the Renaissance, the Enlightenment, the Age of Empire, and the Modern Age. Thematic coverage is consistent across all time periods, so that users can either gain a broad overview of a topic or follow a specific theme throughout the ages.
About 30 topics have been covered so far, with new ones released every year. Libraries can purchase six-volume printed sets for each topic, with each volume covering a different time period. They can also buy access to a digital database for patrons or bundle the print and digital versions together.
To acquire the digital collection, libraries can either pay an annual subscription fee or buy perpetual access. They must purchase access to the core collection first; after that, they can buy annual updates or purchase individual sets. The core collection covers topics such as The Human Body, Childhood and Family, Sexuality, Women, Food, Dress and Fashion, and Theater. Topics being added this fall include Fairy Tales, Race, Genocide, and Chemistry.
In September 2022, ABC-CLIO launched The Asian American Experience, a research database that brings Asian American history to life through rich, multimedia narratives and primary source materials. This student-friendly source "covers an important area of identity that has been largely ignored at the introductory level," Earle says. It includes more than 1,000 reference articles, 850 photos and illustrations, and 425 primary sources such as documents, speeches, political cartoons, audio, video, quotes, and maps.
The database is available in either a K-12 or an Academic version. The Academic version includes 10 full-text ebooks and roundtable discussions of key themes, while the school version substitutes inquiry-based student activities instead. Libraries can purchase an annual subscription or a perpetual site license. The Asian American Experience is part of ABC-CLIO's American Mosaicseries, which explores the contributions of diverse groups throughout history; other collections focus on African Americans, Latinx Americans, and American Indians.
In spring 2023, Bloomsbury will release a new reference collection called Bloomsbury Art Markets. This academic resource, the first of its kind, will be available digitally first, with print collections to follow. It will include more than 4,000 peer-reviewed articles highlighting key players in the art market and exploring how the business of art has transpired throughout history, using primary sources from galleries and auction houses.
SPONSORED CONTENT