Click here for additional new Prepub Alert columns
Buck, Rinker. Life on the Mississippi: An Epic American Adventure. S. & S. Aug. 2022. 320p. ISBN 9781501106378. $32.50. CD/downloadable. HISTORY
In this follow-up to the New York Times best-selling The Oregon Trail, Buck relates building a wooden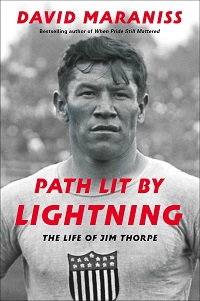 flatboat like those used in the early 1800s and sailing down the Mississippi River to New Orleans, aiming to relive the initial expansion of the United States by white settlers who included farmers, merchants, and hopeful pioneers. History and adventure: lots of danger dodging cargo barges and rescuing a first mate swept overboard. With a 250,000-copy first printing.
English, T.J. Dangerous Rhythms: Jazz and the Underworld. Morrow. Aug. 2022. 448p. ISBN 9780063031418. $29.99. HISTORY/CRIME
Author of the New York Times best-selling Havana Nocturne, journalist/screenwriter English examines the connection between jazz and organized crime in the first half of the 20th century. With its clubs, the mob afforded the likes of Duke Ellington and Billie Holiday performance opportunities, but as English highlights, these clubs replicated the plantation system, with white men holding power over Black musicians. With a 75,000-copy first printing.
Maraniss, David. Path Lit by Lightning: The Life of Jim Thorpe. S. & S. Aug. 2022. 608p. ISBN 9781476748412. $29.99. CD. BIOGRAPHY/SPORTS
Pulitzer Prize–winning journalist Maraniss limns the life of stellar athlete Jim Thorpe, who won gold medals in the decathlon and pentathlon at the 1912 Stockholm Olympics, was an All-American football player at the Carlisle Indian School, made the first class of the Pro Football Hall of Fame, and played major league baseball for John McGraw's New York Giants. A member of the Sac and Fox Nation, he also faced assimilationist cant ("Kill the Indian, Save the Man") and racism (his medals were unfairly rescinded because he had played minor league baseball), and he struggled with alcohol, money problems, and broken marriages. With a 150,000-copy first printing.
Musemeche, Catherine. Lethal Tides: Mary Sears and the Marine Scientists Who Helped Win World War II. Morrow. Aug. 2022. 336p. ISBN 9780062991690. $28.99. HISTORY
During World War II, the U.S. Navy hoped to reach Japan by hopscotching across the Pacific Ocean via its numerous islands but knew little about the Pacific's tides, currents, coral reefs, and ocean-floor topography. That's where marine biologist Mary Sears came in. Sears and her team gathered information and made predictions that facilitated the navy's actions and particularly the all-important amphibious landings. From pediatric surgeon Musemeche; with a 50,000-copy first printing.
Nevala-Lee, Alec. Inventor of the Future: The Visionary Life of Buckminster Fuller. Dey Street: Morrow. Aug. 2022. 640p. ISBN 9780062947222. $32.50. BIOGRAPHY
Author of the Hugo/Locus finalist Astounding, a group biography of John W. Campbell, Isaac Asimov, Robert A. Heinlein, and L. Ron Hubbard that was also best-booked by the Economist, Nevala-Lee here homes in on inventor/futurist Buckminster Fuller. The narrative covers Fuller's career; his sometimes contentious relationships with students, colleagues, and leading cultural figures; his enormous influence; and the cost for him of his single-mindedness. With a 50,000-copy first printing.
Patterson, James & Chris Mooney. Diana, William & Harry. Little, Brown. Aug. 2022. 400p. ISBN 9780759554221. $31. CD/downloadable. BIOGRAPHY
Blockbuster thriller author Patterson and Edgar finalist Mooney join forces to tell a different kind of story: that of Princess Diana and her commitment to raising her sons William and Harry. With a 300,000-copy first printing.
Snyder, Brad. Democratic Justice: Felix Frankfurter, the Supreme Court, and the Making of the Liberal Establishment. Norton. Aug. 2022. 1056p. ISBN 9781324004875. $45. BIOGRAPHY
A professor of constitutional law and 20th-century U.S. legal history at Georgetown University Law Center, Snyder aims to provide a new and in-depth look at Supreme Court justice Felix Frankfurter, the progressive lawyer who became a champion of judicial self-restraint once he was named to the Court. At over 1,000 pages, a hefty biography.
Spector, Ronald H. A Continent Erupts: Decolonization, Civil War, and Massacre in Postwar Asia, 1945–1955. Norton. Aug. 2022. 608p. ISBN 9780393254655. $35. HISTORY
A Samuel Eliot Morison Prize–winning military historian, Spector offers a comprehensive look at the fighting that unfurled from China, Indonesia, and Vietnam to Korea and Malaya after World War II ended. Significantly, almost all the countries of South, East, and Southeast Asia once colonized or conquered by European powers or Japan had achieved independence within a decade, and Spector aims to give readers a clearer understanding of how their stories connect.
Stone, Daniel. Sinkable: Obsession, the Deep Sea, and the Shipwreck of the Titanic. Dutton. Aug. 2022. 336p. ISBN 9780593329375. $28. Downloadable. HISTORY
Another book on the Titanic? It's story is much told, but though former National Geographic staffer Stone explains why and how the ship cracked apart, he turns much of his attention to its afterlife: the search efforts that spanned seven decades (it was found only in 1985), the rust and decomposition that will obliterate it within decades, and what lying two miles deep on the ocean floor really means. He also wants to explain why so many people—himself included—are obsessed the ship.
Young, Lauren. Hitler's Girl: The British Aristocracy and the Third Reich on the Eve of WWII. Harper. Aug. 2022. 240p. ISBN 9780062936738. $29.99. HISTORY
Young draws on recently declassified intelligence files to rattle our nerves by showing just how close Great Britain came to trading in democracy for authoritarianism in the 1930s. She reveals a British aristocracy more deeply steeped in Nazi sympathies than ever acknowledged, with some members actively pursuing a pro-German agenda, and argues that Germany depended on this implicit support to conquer the country. Sober reading as authoritarianism flares today; with a 75,000-copy first printing.