From 1700s Amsterdam to mid-1900s Hollywood.
Click here for additional new Prepub Alert columns
Ackerman, Sara. The Codebreaker's Secret. Mira: Harlequin. Aug. 2022. 368p. ISBN 9780778386889. $28.99; pap. ISBN 9780778386452. $16.99. CD. HISTORICAL
Burton, Jessie. The House of Fortune. Bloomsbury. Aug. 2022. 304p. ISBN 9781635579741. $28.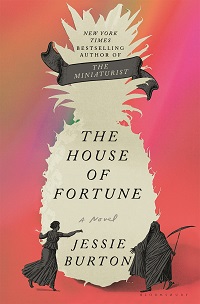 HISTORICAL
Carey, C.J. Widowland. Sourcebooks Landmark. Aug. 2022. 432p. ISBN 9781728248448. pap. $16.99. HISTORICAL
Charyn, Jerome. Big Red: A Novel Starring Rita Hayworth and Orson Welles. Liveright: Norton. Aug. 2022. 256p. ISBN 9781324091332. $28. HISTORICAL
Edwards, Shaunna J. & Alyson Richman. The Thread Collectors. Graydon House: Harlequin. Aug. 2022. 336p. ISBN 9781525804823. $28.99; pap. ISBN 9781525899782. $16.99. HISTORICAL
Sivak, Zoe. Mademoiselle Revolution. Berkley. Aug. 2022. 432p. ISBN 9780593336038. $27. lrg. prnt. Downloadable. HISTORICAL
In 1943 Honolulu, cryptanalysist Isabel Cooper is concerned when the only other female codebreaker at Station Hypo goes missing; perhaps The Codebreaker's Secret is uncovered in 1965 when a rookie reporter and a crusty old-timer discover a skeleton near the ever-so-fancy Mauna Kea Beach Hotel in Ackerman's (75,000-copy paperback and 10,000-copy hardcover first printing). In Burton's The House of Fortune, a companion to the New York Times best-selling The Miniaturist, 18-year-old Thea Brandt hides out in 1700s Amsterdam's playhouses from her family's money quarrels, refusal to discuss her mother's death, and fear of the mysterious, soul-capturing Miniaturist (200,000-copy first printing). In Carey's 1950s Britain, ruled by a triumphant Reich that ranks women from the gorgeous (and advantaged) Gelis to those past childbearing good for domestic drudgery and living in Widowland, a Geli named Rose Ransom gets involved with subversion against the government. Narrated by a small-potatoes lesbian gossip columnist, Charyn's Big Red reimagines the entwined careers of Rita Hayworth and Orson Welles. With The Thread Collectors, debuter Edwards joins the USA TODAY best-selling Richman in a story paralleling New Orleans–based Black woman Stella, who embroiders intricate maps for enslaved men intending to flee and join the Union army, with New York–based white, Jewish, abolitionist Lily, who rolls bandages for Union soldiers and wants to join her husband fighting in Louisiana (125,000-copy paperback and 10,000-copy hardcover). In debuter Sivak's Mademoiselle Revolution, Sylvie de Rosiers, the biracial daughter of a rich white planter and an enslaved Black woman, flees her privileged life in Haiti during the revolution and ends up in Paris amid another revolution, befriending Robespierre and his strong-willed mistress, Cornélie.