From 1700s London to 1930s Wyoming to 1960s Sài Gòn.
Click here for additional new Prepub Alert columns
Beanland, Rachel. The House Is on Fire. S. & S. Apr. 2023. 384p. ISBN 9781982186142. $27.99. CD. HISTORICAL
In 1811, on the day after Christmas, a theater in Richmond, VA, exploded in flames, as told here from the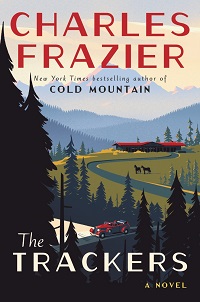 perspectives of four people. There's recently widowed Sally Henry Campbell; Cecily Patterson, sitting in what was called the colored gallery; young stagehand Jack Gibson; and, across town, blacksmith Gilbert Hunt, who had hoped to take his wife to the theater once he bought her freedom. Following the NPR best-booked, National Jewish Book Award–winning Florence Adler Swims Forever.
Frazier, Charles. The Trackers. Ecco. Apr. 2023. 336p. ISBN 9780062948083. $29.99. lrg. prnt. HISTORICAL
Grateful for a New Deal assignment to create a mural for the Dawes, WY, post office, struggling painter Val Welch is staying at the ranch of wealthy art lover and underhanded political aspirant John Long and his wife, Eve. Eve has a slippery past, having led a transient life singing with a western swing band, and when she vanishes with a pricey painting, John sends Val after her. From famed Cold Mountain author Frazier; with a 150,000-copy first printing.
Joseph, Paterson. The Secret Diaries of Charles Ignatius Sancho. Holt. Apr. 2023. 304p. ISBN 9781250880376. $27.99. HISTORICAL
Having survived the Middle Passage on a ship where both his parents died, a young Black man named Charles Ignatius Sancho ends up in 1740s London, studiously avoiding slave catchers while placing his faith in the benevolent duke who taught him to read. With the duke dying, Charles faces an uncertain future, but eventually he will meet the king, compose and play praiseworthy music, become the first Black person to vote in Britain, and lead the fight for abolition. A debut based on real-life events; actor Joseph wrote and starred in a play about Sancho. With a 75,000-copy first printing.
Keith, Ellen. The Dutch Orphan. Park Row: Harlequin. Apr. 2023. 352p ISBN 9780778334309. $28.99; pap. ISBN 9780778311966. $17.99. CD. HISTORICAL
During World Ear II, Dutch singer Johanna Vos helps Jewish musicians by setting up an underground network that facilitates performances in safe settings; she also surreptitiously takes in a Jewish orphan who had been set for deportation. Meanwhile, she's drawing apart from her sister, Liesbeth, whose husband supports the Nazis. A No. 1 best-selling debut in Canada; with a 150,000-copy paperback and a 10,0000-copy hardcover first printing.
Kelly, Martha Hall. The Golden Doves. Ballantine. Apr. 2023. 528p. ISBN 9780593354889. $28.99. lrg. prnt. CD. HISTORICAL
U.S.-born Josie Anderson and Parisian Arlette LaRue earn the nickname Golden Doves while stealing Nazi secrets for the French Resistance, though they finish off the war at the Ravensbrück concentration camp. After the war, they're asked to track down the Nazi doctor who tortured Josie's mother, a distinguished Jewish singer visiting her daughter in Paris, even as they learn that the son taken from Arlette during the war may still be alive. From the author of Lilac Girls, which has sold 1.8 million copies in the United States alone; with a 200,000-copy first printing.
Mackintosh, Sophie. Cursed Bread. Doubleday. Apr. 2023. 208p. ISBN 9780385548304. $28. lrg. prnt. Downloadable. HISTORICAL
In 1951, the residents of the French village of Pont-Saint-Esprit seems collectively to have lost their minds, an event that historians have variously attributed to mercury poisoning, covert government testing, or fungus-infected bread. Mackintosh, author of the Man Booker long-listed The Water Cure, reveals her own ideas in her first historical, which centers on the taut relationship between baker's wife Elodie and the new-in-town ambassador and his wife. With a 40,000-copy first printing.
Nguyễn Phan Quế Mai. Dust Child. Algonquin. Mar. 2023. 336p. ISBN 9781643752754. $28. CD. HISTORICAL
In 1969, after Trang and sister Quỳnh become bar girls in Sài Gòn to help their parents pay off debts, Trang becomes involved with a U.S. helicopter pilot. Decades later, a U.S. veteran travels to Việt Nam to face the past, even as Phong—the son of a Black American soldier and a Vietnamese woman and therefore disparaged by the Vietnamese as "the dust of life"—wants to find a way to leave his country for the United States. From the author of the internationally best-selling The Mountains Sing; with a 60,000-copy first printing.
Penner, Sarah. The London Séance Society. Park Row: Harlequin. Mar. 2023. 328p. ISBN 9780778387114. $28.99. HISTORICAL
In 1870s Paris, spiritualist Vaudeline D'Allaire famously summons the spirits of murder victims to help identify their killers, and Lenna Wickes seeks her help regarding her own sister's death. She ends up joining Vaudeline as understudy on an important trip to London, where they join forces with the wily men of the city's Séance Society—and realize that they might actually be part of a crime instead of just investigating one. Following Penner's debut, the New York Times best-selling The Lost Apothecary; with a 300,000-copy first printing.
Robson, Jennifer. Coronation Year. Morrow. Apr. 2023. 400p. ISBN 9780063297104. $28.99; pap. Morrow Paperbacks. ISBN 9780063074149. $17.99. lrg. prnt. HISTORICAL
In 1953 London, Edie Howard has hatched a plan to save her beloved Blue Lion hotel: on the day of Queen Elizabeth II's coronation, her coach will pass directly by the Blue Lion, and Edie can charge her guests exorbitant fees. Already there: Stella Donati, a young Italian photographer and Holocaust survivor in town for work, and James Geddes, an artist and war hero scorned for his Indian ancestry. But anonymous threats could wreck the day. Following the multi-starred Out Darkest Night; with a 150,000 paperback and 30,000 hardcover first printing.
Rosen, Renée. Fifth Avenue Glamour Girl. Berkley. Apr. 2023. 432p. ISBN 9780593335666. pap. $17. HISTORICAL
In 1938, Gloria Downing works diligently at a New York City beauty parlor, struggling to remake herself after a family scandal and dreaming of success. She meets another ambitious young woman, gets swept up in her vision, and soon is helping Estée Lauder become that phenomenon that she was. From the author of the LJ-starred, USA TODAY best-selling The Social Graces.
Click here for additional new Prepub Alert columns