Vanished teenagers, Russian espionage, and other thrills.
Click here for additional new Prepub Alert columns
Campbell, Michele. The Intern. St. Martin's. Oct. 2023. 384p. ISBN 9781250274977. $29. Downloadable. THRILLER
Hardworking Harvard Law student Maddy Rivera is thrilled when she wins an internship at the firm of magnetic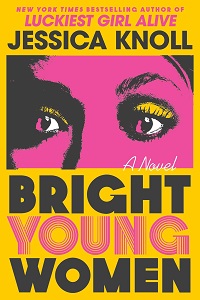 professor Kathryn Conroy. Then her reprobate younger brother is arrested, with Kathryn the presiding judge at his trial, and she suspects she's being deployed as a decoy when it appears that someone wants Kathryn dead. With a 75,000-copy first printing; following The Wife Who Knew Too Much, multiply acclaimed a best book of summer.
Chizmar, Richard. Becoming the Boogeyman. Gallery: S. & S. 336p. ISBN 9781668009161. $27.99. CD. THRILLER
In the metafictional New York Times best-selling, LJ -starred Chasing the Bogeyman, a character named Richard Chizmar recalls the murder of four teenage girls in his Maryland hometown in the 1980s. In this wrap-up, which examines our contemporary obsession with true-crime accounts, the characters have been so dangerously seduced by the gruesome events that they've put themselves at risk.
Johnston, Tim. Distant Sons. Algonquin: Workman: Hachette. Oct. 2023. 384p. ISBN 9781643753591. $29. Downloadable. THRILLER
When his rust-rimmed Chevy truck breaks down in a small Wisconsin town, Sean Courtland stays put, drawn by a waitress at the local tavern and picking up carpentry and plumbing jobs with another recent arrival named Dan. The town remains haunted by the disappearance of three boys in the 1970s, and as Det. Corinne Viegas struggles to solve the case (as her father never could), secrets spill forth and events verge toward violence. With a 50,000-copy first printing.
Knoll, Jessica. Bright Young Women. Marysue Rucci: Scribner. Oct. 2023. 384p. ISBN 9781501153228. $27.99. CD. THRILLER
When she learns that a violent attack at a Florida State University sorority has left two women dead and two badly injured, Tina Cannon reaches out to the sorority president, sensing a connection to her friend Ruth's disappearance in Seattle. And that connection is a smooth-talking, Ted Bundy–like character being called the All-American Sex Killer. The New York Times best-selling Knoll (Luckiest Girl Alive) intends to demythologize her killer, portraying him an unremarkable man built up by the media—certainly nothing like the "bright young women" whose lives he took.
McCloskey, David. Moscow X. Norton. (Damascus Station, Bk. 2). 432p. ISBN 9781324050759. $30. THRILLER
When CIA operatives Sia and Max travel to Russia, hoping to recruit Putin's private banker and his wife, Anna, also a banker and an intelligence officer as well, they soon realize that Anna is the better bet but has her own guarded priorities. From former CIA officer McCloskey, who debuted with Damascus Station, an ITW Best First Novel finalist.
Matheson, Nadine. The Kill List. Hanover Square: Harlequin. (Inspector Anjelica Henley Thriller, Bk. 3). Oct. 2023. 400p. ISBN 9781335455055. $30. CD. THRILLER
After The Jigsaw Man and The Binding Room, Black, London-based Inspector Anjelica Henley takes on another eye-popping, blood-churning case. Andrew Kenan has languished in jail for 25 years, but now fresh DNA evidence proves that he's not the serial killer who sewed up his victims' eyes and buried them alive. Then he is found dead in his cell, and Anjelica returns to a case that has long haunted her, looking for the real killer.
Morrissey, Hannah. When I'm Dead. Minotaur: St. Martin's. (Black Harbor Novel, Bk. 3). Oct. 2023. 320p. ISBN 9781250872340. $28. Downloadable. THRILLER
While investigating the death of her daughter's best friend, Medical Examiner Rowan Winthorp learns that her own daughter, Chloe, is missing. Soon, she and her husband realize how little they know about Chloe and her ultimately transgressive behavior, and Rowan must face the sins of her own past. Following Hello, Transcriber and The Widowmaker, both attention getters.