Stories often embedded in family.
Click here for additional new Prepub Alert columns
Berg, Elizabeth. Earth's the Right Place for Love. Random. Mar. 2023. 288p. ISBN 9780593446799. $27. lrg. prnt. COMING OF AGE
Brown, Diane Marie. Black Candle Women. Graydon House: Harlequin. Feb. 2023. 336p. ISBN 9781525899911. $27.99. CD. FAMILY
Fedor, Emma. At Sea. Gallery: S. & S. Mar. 2023. 320p. ISBN 9781982171544. $27.99. CD. FAMILY
Jimenez, Claire. What Happened to Ruthy Ramirez. Grand Central. Mar. 2023. 240p. ISBN 9781538725962. $28. FAMILY
Langbein, Julia. American Mermaid. Doubleday. Mar. 2023. 336p. ISBN 9780385549677. $28. HUMOROUS
Napolitano, Ann. Hello Beautiful. Dial. Mar. 2023. 416p. ISBN 9780593243732. $28. FAMILY
Novey, Idra. Take What You Need. Viking. Mar. 2023. 256p. ISBN 9780593652855. $27. FAMILY
Steel, Danielle. Worthy Opponents. Delacorte. Mar. 2023. 256p. ISBN 9781984821805. $28.99. lrg. prnt. CONTEMPORARY
In Berg's Earth's the Right Place for Love, a stand-alone connected to her popular Truluv series, Arthur tries to contain his crush on gorgeous Nola McCollum (who's crushing on his older brother) while steering clear of his violent war-veteran d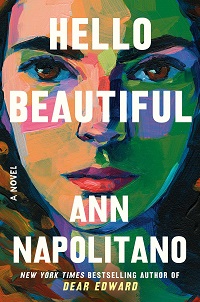 ad; then tragedy upends his family. In debuter Brown's Black Candle Women, three generations of Montrose women must carefully tell sparkling young teenager Nickie that a curse delivered decades ago by a New Orleans vodou sorceress means that anyone she falls in love with will die. In Fedor's debut, Carla is shattered when the man she loves disappears with their baby but heartened years later when a man and child are spotted At Sea calmly treading water—Brandon claimed to be part of a U.S. Special Forces experiment that allowed him to stay longer than humanly possible beneath the waves. Puerto Rican sisters living on Staten Island, Jessica and Nina may finally learn What Happened to Ruthy Ramirez, their long-lost little sister, when Jessica spots a look-alike on a reality TV show; from debuter Jimenez, the winner of multiple honors for her story collection Staten Island Stories. In standup comedian Langbein's debut, Hollywood hacks are trying to turn the androgynous, eco-crusading protagonist ofNapolitano's Penelope Schleeman's feminist novel American Mermaid into a vampy teen, and creepy things (e.g., threats suddenly materializing in the script) are starting to happen. Following New York Times best-selling Dear Edward, Hello Beautiful features reserved William, who's hamstrung by his upbringing in a household shadowed by tragedy but lucky enough to have found effervescent Julia and gained her sisters' seal of approval—until trouble from his past threatens the relationship. From award-winning poet/novelist Novey (Ways To Disappear), Take What You Need returns Leah to the Appalachian home of her recently deceased stepmother Jean, from whom she had been estranged and who has left her with some surprises. Steel's Worthy Opponents pits Spencer Brooke, now owner of her family's luxury department store in New York and a divorced mother of twins, against overeager investor Mike Weston.