Night flights, red queens, and collateral damage.
Click here for additional new Prepub Alert columns
Black, Cara. Night Flight to Paris. Soho Crime. Mar. 2023. 336p. ISBN 9781641293556. $27.95. THRILLER/ESPIONAGE
Waving a momentary au revoir to beloved mystery star Aimée Leduc, Black brings back Kate Rees from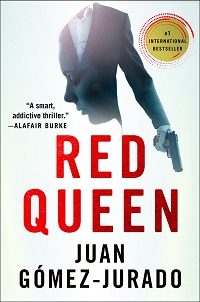 Three Hours in Paris, Black's successful 2020 foray into thrillerdom. Now the British Secret Service has returned Oregon-born and -bred sharpshooter Kate to Paris with a triple-decker assignment: bring penicillin to a group of sick children, assassinate a high-ranking German operative, and rescue a British agent who once saved Kate's life. Can she do it all? With a 100,000-copy first printing.
Bose, Disha. Dirty Laundry. Ballantine. Mar. 2023. 304p. ISBN 9780593497388. $27. PSYCHOLOGICAL
Picture-perfect Ciara Murphy rules over the mothers of her Irish village, who include best friend Mishti Guha, raising her children in the damp and cultural dissociation of Ireland to escape an arranged marriage in India. Mishti's a bit envious of Ciara, and outsider Lauren resents her exclusion from the mommy group, but Ciara's murder soon shows that nearly everyone could have benefited from Ciara's death. Film/TV rights bought by Sony TriStar.
Briscoe, Connie. You Never Know: A Novel of Domestic Suspense. Amistad: HarperCollins. Mar. 2023. 288p. ISBN 9780063246584. $27.99. CD. THRILLER
Alexis Roberts can give few details about the intruder who broke into her home and tried to assault her; it was night, and without her cochlear implants she couldn't hear much. But her husband, Marcus, vanished after she learned that his first wife was missing and presumed dead, and she's terrified that he's come back. The New York Times best-selling author of romantic and historical fiction goes scary. With a 50,000-copy first printing.
Burt, Anne. The Dig. Counterpoint. Mar. 2023. 288p. ISBN 9781640096042. $26. THRILLER/LEGAL
Pulled from a bomb-gutted apartment in 1990s Sarajevo, siblings Antonia and Paul are raised by a prominent family of contractors in Thebes, MN, which Antonia escapes by attending law school. She had no intention of returning but unexpectedly accepts a promising job there, only to discover that her activist brother has disappeared and that her adoptive family is hiding some ugly secrets. From debuter Burt.
Coben, Harlan. I Will Find You. Grand Central. Mar. 2023. 400p. ISBN 9781538748367. $30. CD. THRILLER/DOMESTIC
Following his chart-topping The Match, the Edgar, Shamus, and Anthony Award–winning Coben tells the story of a father serving life for a murder he didn't commit—that of his own son. Then he learns that his son might still be alive and must find a way to spring himself from prison to discover what's happening. With a 750,000-copy first printing.
Finlay, Alex. What Have We Done. Minotaur: St. Martin's. Mar. 2023. 368p. ISBN 9781250863720. $27.99. CD. THRILLER/SUSPENSE
Jenna, Donnie, Nico, Arty, and Ben became best friends at Savior House, a group home for troubled teenagers that was closed down when several residents disappeared. Some 25 years later, they are managing adulthood, if imperfectly, but they are now being murdered one by one, with the survivors gathering to figure out why this is happening and how they can survive. With a 75,000-copy first printing.
Gómez-Jurado, Juan. Red Queen. Minotaur: St. Martin's. Mar. 2023. 384p. ISBN 9781250853677. $27.99. CD. THRILLER/INTERNATIONAL
The daughter of a British diplomat and a Spanish mother, brilliant detective Antonia Scott refuses to work or even leave her apartment after personal trauma. Disgraced Bilbao police officer Jon Gutierrez is tasked with coaxing her back to solve a gruesome murder that seems to be spawning other crimes. First in a trilogy that sold over two million copies in Spain and is being produced as an Amazon streaming series. With a 100,000-copy first printing.
Jance, J.A. Collateral Damage. Gallery: S. & S. Mar. 2023. 320p. ISBN 9781982189150. $28.99. CD. THRILLER
Ali Reynolds is muddling through her first Christmas without her father when she learns that her husband, the founding partner of High Noon Enterprises, has been injured in a suspicious automobile accident. He wants her to take his place at an important ransomware conference in London, but she's got to ask: Who wants to take their tech company out of the picture, and is the rest of the team now in danger? Next in the New York Times best-selling series.
Landay, William. All That Is Mine I Carry with Me. Bantam. Mar. 2023. 336p. ISBN 9780345531841. $28.99. CD. PSYCHOLOGICAL
Nothing was out of place—not even her pocketbook—when Jane Larkin vanished from her home in November 1975, and though the police suspect her husband, a criminal defense attorney, nothing can be proved. Two decades later, when her remains are found, her three children must decide whether their father is innocent or guilty. From Strand/Dagger winner Landay.
Lansdale, Joe R. The Donut Legion. Mulholland: Little, Brown. Mar. 2023. 304p. ISBN 9780316540681. $28. Downloadable. CRIME
Charlie Garner is worried: former wife Meg, who worked at a donut shop run by a shadowy evangelist cult that believes their compound will soon host an extraterrestrial Second Coming, has gone missing. Some investigating leads to a giant stash of weapons and a leashed chimpanzee—but still no Meg. Edgar and multiple Bram Stoker winner Landsdale takes a break from his "Hap and Leonard" series for conspiracy in East Texas. With a 25,000-copy first printing.
Matthews, Owen. White Fox. Doubleday. Mar. 2023. 304p. ISBN 9780385543446. $28. Downloadable. THRILLER/SUSPENSE
Newly in charge of a Soviet penal colony, a post typically reserved for disgraced agents, Lt. Col. Alexander Vasin flees during a bloody revolt in the company of an enigmatic prisoner claiming he knows who ordered John F. Kennedy's assassination. Wrapping up the "Alexander Vasin" trilogy, begun with Black Sun (long-listed for the John Creasey, i.e., "New Blood," Dagger Award) and Red Traitor (a Financial Times Best Thriller of 2021).
Oates, Nathan. A Flaw in the Design. Random. Mar. 2023. 304p. ISBN 9780593446706. $28. THRILLER
When his sister and brother-in-law are killed in a car accident, creative writing professor Gil reluctantly takes on their only child, 17-year-old Matthew, who placed Gil's daughter in a dangerous situation when he last visited seven years ago. Now Matthew is back, chilly as ever, and when he takes Gil's class, he submits stories imagining the death of Gil's family. A debut novel for Oates after his Spokane Prize–winning story collection, The Empty House.
Patterson, James & Mike Lupica. The House of Wolves. Little, Brown. Mar. 2023. 400p. ISBN 9780316404297. $29. lrg. prnt. CD. THRILLER/SUSPENSE
Following up their last outing, The Horsewoman, the Patterson/Lupica team introduce readers to California's powerhouse family, the Wolfs. Mid-thirties Jenny is now in charge, running the San Francisco Tribune and the professional football team, the Wolves, while looking into her father's murder. But her three brothers are plotting her overthrow. With a 400,000-copy first printing.
Sullivan, Connor. Wolf Trap: A Thriller. Emily Bestler: Atria. Mar. 2023. 480p. ISBN 9781982166427. $28.99. CD. THRILLER/ESPIONAGE
Covertly managed by the CIA, Ground Branch is unacknowledged by the U.S. government but is asked to step in with more shadowy tactics (e.g., sabotage, assassination) when diplomacy and military intervention don't work. Here, Brian Rhome, a former Ground Branch paramilitary officer, is called back to the fold when a worldwide conspiracy looms. Readers rallied around Sullivan's 2021 Sleeping Bear.
Sullivan, Justine. He Said He Would Be Late. Holt. Mar. 2023. 304p. ISBN 9781250842855. $27.99. THRILLER/PSYCHOLOGICAL
Liz Bennet is suddenly not so happily married; she's discovered a suspicious text on her husband's phone, replete with kissy-face emojis, and she starts a deep dig into her husband's life to see whether he's cheating. Obviously, things are going to be more complicated than she expects. From debuter Sullivan; with an 80,000-copy first printing.