Click here for additional new Prepub Alert columns
Corbin, Keith & Kevin Alexander. California Soul: An American Epic of Cooking and Survival. Random. Sept. 2022. 256p. ISBN 9780593243824. $28. Downloadable. MEMOIR
Raised in L.A. projects where the Grape Street Watts Crips held sway, Corbin was cooking crack by age 13,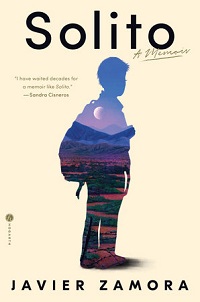 then learned cooking for real during ten years in prison (he was inspired by inmates making tamales out of ground-up Fritos). Upon his release, he was hired as a kitchen manager at Locol, a string of restaurants meant to bring chef-quality meals and jobs to underserved neighborhoods. Battling ongoing personal tragedy and the burdens of sudden celebrity, Corbin rose to become chef of the highly regarded Alta West Adams. His vision: California soul food using local produce and West African cooking techniques. Told with the James Beard Award–winning food journalist Alexander.
Enninful, Edward. A Visible Man. Penguin Pr. Sept. 2022. 272p. ISBN 9780593299487. $30. Downloadable. MEMOIR
When he became the first Black editor in chief of British Vogue, Enninful lit up the insular, exclusionary world of fashion by putting first responders, octogenarians, and civil rights activists on the cover and championing diverse designers, models, and photographers. His memoir chronicles the life of a gay, working-class refugee from Ghana who found a home in fashion and has helped change not just our sense of style but our understanding of what beauty really means.
Farah, Boyah J. America Made Me a Black Man: A Memoir. Harper. Sept. 2022. 240p. ISBN 9780063073357. $24.99. MEMOIR
Shaped by codes of conduct that helped him survive tough living conditions and civil war in Somalia, a self-confident Farah felt he would thrive when he arrived in America. Instead, he was shocked by the racism and police brutality he encountered. As an African refugee and a Black man in America, he offers a unique insider-outsider perspective on these issues. With a 30,000-copy first printing; originally scheduled for September 2021.
Geter, Hafizah Augustus. The Black Period: On Personhood, Race, and Origin. Random. Sept. 2022. 432p. ISBN 9780593448649. $28. Downloadable. MEMOIR
The queer, Nigerian-born daughter of a Nigerian Muslim woman and a Black Southern American Baptist man, Geter is a distinguished poet whose debut collection, Un-American, was an NAACP Image Award winner and PEN Open Book Award finalist. Here, she can be expected to use the ringingly lucid, nail-sharp language evident in her poems as she blends memoir and Afrofuturist thought to trace her journey through an unwelcoming United States even as she turns to art, music, and love to survive and thrive.
Granda, Giancarlo & Mark Ebner. Off the Deep End. Morrow. Sept. 2022. 352p. ISBN 9780063227347. $29.99. lrg. prnt. Downloadable. MEMOIR
When Miami Beach pool attendant Granda reported that he had had a longtime affair with Jerry Falwell Jr.'s wife Becki, claiming that he often had sex with her while her husband watched, the fallout forced Falwell Jr.'s resignation as president of Liberty University. The Falwells portray him as a predator who launched the relationship and then wanted to blackmail them; here's Granda's side of this seamy, steamy mess. With a 100,000-copy first printing
Hassan, Ali. Is There Bacon in Heaven?: A Memoir. S. & S. Sept. 2022. 256p. ISBN 9781982149178. pap. $17.99. MEMOIR
Actor (e.g., Goon), stand-up comic, and popular host of CBC's Canada Reads, Hassan navigated a childhood encompassing friends of multiple religions and ethnicities and grew up to embrace his own sense of identity as a Muslim, which includes failing to learn Arabic and loving pepperoni. Family and friends can be either supportive or skeptical of his stance, and he still wonders how to explain to his children what being Muslim really means to him. With a 20,000-copy first printing.
Hsu, Hua. Stay True. Doubleday. Sept. 2022. 208p. ISBN 9780385547772. $26. Downloadable. MEMOIR
The son of Taiwanese immigrants, New Yorker staff writer Hsu grew up in the Bay Area and as a teenager befriended Ken, whose Japanese American family had been in the United States for generations. Abercrombie & Fitch–loving frat boy Ken was very different from the scrubby, zine-reading Hsu, but they bonded over their outsider status in the United States. Then Ken was killed in a carjacking, and Hsu uses this memoir to explore friendship, identity, and belonging.
Marshall, Cynt. You've Been Chosen: Thriving Through the Unexpected. Ballantine. Sept. 2022. 256p. ISBN 9780593359419. $28. Downloadable. MEMOIR
Raised in the Richmond, CA, projects by an abusive father and a mother who often gave up dinner so her children could eat, Marshall studied hard and rose to become one of the first Black female officers at AT&T by age 40. A decade later, as president of AT&T North Carolina, she was diagnosed with Stage 3 colon cancer. Here she shares how she helped along aggressive chemotherapy with prayer and strong spiritual conviction, creating uplifting online posts that inspired followers around the world. Now she's breaking ground again as the CEO of the Dallas Mavericks.
Milch, David. Life's Work. Random. Sept. 2022. 304p. ISBN 9780525510741. $28. Downloadable. MEMOIR
Son of a drug-addicted surgeon. Stealing liquor at age eight. Summa cum laude graduate of Yale. Thrown out of Yale Law School for shooting out streetlights. Taking off time from the Iowa Writers' Workshop to manufacture acid in Cuernavaca. Becoming sober, creating and writing Deadwood and NYPD Blue, and losing a fortune by horse betting like his dad. And now facing Alzheimer's. Milch has some story to tell.
Tamimi, Ahed & Dena Takruri. They Called Me a Lioness: A Palestinian Girl's Fight for Freedom. One World: Ballantine. Sept. 2022. 288p. ISBN 9780593134580. $27. Downloadable. MEMOIR
Palestinian activist Tamimi grew up in the occupied West Bank with checkpoints and home raids, her father imprisoned, her mother shot, and her uncle killed by the Israeli army. She herself gained fame as a child for confronting Israeli soldiers during weekly demonstrations and was jailed at age 16. To many, she's a freedom fighter, to some a gullible agitator. Here she joins forces with award-winning Palestinian American journalist Takruri of Al Jazeera Media Network to share her viewpoint.
Totenberg, Nina. Dinners with Ruth: A Memoir on the Power of Friendships. S. & S. Sept. 2022. 256p. ISBN 9781982188085. $27.99. MEMOIR
In a memoir constructed around the strength of women's friendships to bring about social change, NPR's award-winning legal affairs correspondent Totenberg focuses on her friendship with Ruth Bader Ginsberg. They met when Totenberg was a reporter at the National Observer, seeking information on Ginsberg's legal brief asking the Supreme Court to declare a law that discriminated on the basis of sex to be unconstitutional, and the result was a 50-year friendship. With a 125,000-copy first printing.
Wenner, Jann. S. Like a Rolling Stone: A Memoir. Little, Brown. Sept. 2022. 592p. ISBN 9780316415194. $35. Downloadable. MEMOIR
Cofounder and publisher of Rolling Stone and the youngest inductee ever to the American Society of Magazine Editor's Hall of Fame, Wenner here tells the story not just of the magazine or of rock music since the Sixties but of the generational change he has witnessed and the huge cultural upheaval that resulted.
Young, Daniella Mestyanek. Uncultured: A Memoir. St. Martin's. Sept. 2022. 352p. ISBN 9781250280114. $28.99. Downloadable. MEMOIR
Raised in Brazil in a religious cult called the Children of God, which originated in the United States and is currently called the Family International, Young was denied an education and was physically, emotionally, and sexually abused. She escaped to Texas, enrolled in high school, and graduated from college as valedictorian of her class. She then entered the army, achieving the rank of captain and becoming one of the first women to conduct ground combat operations. In the military, though, she found an atmosphere remarkably similar to that of her cult upbringing. With a 100,000-copy first printing.
Zamora, Javier. Solito: A Memoir. Hogarth. Sept. 2022. 400p. ISBN 9780593498064. $28. Downloadable. MEMOIR
When Zamora was nine, he traveled from El Salvador to Guatemala and Mexico, finally crossing the border into the United States to join his parents, having not seen his mother for four years and his father since he was one. What was to have been a two-week journey lasted two harrowing months. He has since become a Stegner Fellow at Stanford and a Radcliffe Fellow at Harvard and published a debut poetry collection, Unaccompanied, that began his exploration of how war and immigration have affected his family. Here he provides a detailed memoir of his traveling "solito"—alone, but surrounded by people who became a surrogate family.