Revisiting thriller friends.
Click here for additional new Prepub Alert columns
Bentley, Don. Tom Clancy Untitled. Putnam. (Jack Ryan Jr., Bk. 11). Aug. 2023. 496p. ISBN 9780593422816. $29.95. CD. THRILLER
Byrne, James. Deadlock: A Thriller. Minotaur: St. Martin's. (Dez Limerick Novel, Bk. 2). Aug. 2023. 368p. ISBN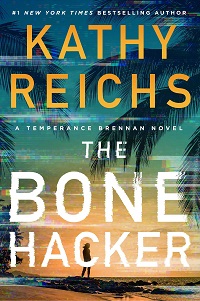 9781250805782. $28. Downloadable. THRILLER
Glass, Ava. Game of Spies. Bantam. Aug. 2023. 272p. ISBN 9780593496824. $28. THRILLER
Graham, Heather. Cursed at Dawn. Mira: Harlequin. (Blackbird Trilogy). Aug. 2023. 352p. ISBN 9780778305217. $30; pap. ISBN 9780778334262. $9.99. THRILLER
Lodge, Gytha. A Killer in the Family. Random House Trade Paperbacks. (Jonah Sheens Detective, Bk, 5). Aug. 2023. 400p. ISBN 9780593242940. pap. $16.99. THRILLER
Moore, Taylor. Ricochet. Morrow. (Garrett Kohl, Bk. 3). Aug. 2023. 352p. ISBN 9780063292376. $30. CD. THRILLER
Reichs, Kathy. The Bone Hacker. Scribner. (Temperance Brennan, Bk. 22). Aug. 2023. 352p. ISBN 9781982190057. $27.99. CD. THRILLER
Rose, Karen. Beneath Dark Waters. Berkley. (New Orleans Novel, Bk. 2). Aug. 2023. 592p. ISBN 9780593336328. $28. THRILLER
Slaughter, Karin. After That Night. Morrow. (Will Trent Thriller, Bk. 11). Aug. 2023. 400p. ISBN 9780063157781. $32. lrg. prnt. THRILLER
In Bentley's Tom Clancy Untitled, the second of three Clancy titles this year, Jack Ryan Jr. stands ready to protect President Jack Ryan Sr. from Chinese threats; going forward, three Clancy titles will be published each year, alternating between one or two Jack Jr. and one or two Jack Sr. titles. Following Byrne's debut, the LJ-starred The Gatekeeper, Deadlock sends retired mercenary and eager band member Desmond ("Dez") Aloysius Limerick to Portland, OR, to help a fellow musician's sister, hospitalized by an attack following her coverage of an auditor who was killed while assessing a major multinational technology company (150,000-copy first printing). In Glass's Alias Emma follow-up, Game of Spies, British spy Emma Makepeace goes undercover on a Russian oligarch's superyacht after an MI6 agent is assassinated. Wrapping up a trilogy spun from Graham's "Krewe of Hunters" series, Cursed at Dawn pits FBI agents Della Hamilton and Mason Carter against self-proclaimed king of the vampires Stephan Dante, who's just escaped from prison (400,000-copy paperback and 10,0000-copy hardcover first printing). In Lodge's A Killer in the Family, a woman who uploaded her DNA with hopes of finding her missing father is instead contacted by series star Jonah Sheens, who explains that her DNA matches that of a serial killer. In Moore's Ricochet, DEA Special Agent Garrett Kohl agrees to launch a hush-hush investigation at a nuclear weapons plant near his Texas ranch and discovers that Iranian operatives are blackmailing plant employees, aiming for sabotage. As she examines the deeply seared body of a lightning strike victim in Reichs's The Bone Hacker, durable forensic anthropologist Temperance Brennan discovers an odd tattoo that ultimately leads her to the disappearance of young male tourists on the Turks and Caicos Islands over the last seven years. Rollins's Following the series starter Quarter to Midnight, Rose's Beneath Dark Waters features new-in-town New Orleans public prosecutor J.P. "Kaj" Cardozo, who turns to Val Sorensen of Broussard Investigations when his young son is threatened with kidnapping. In After That Night, Slaughter returns with Georgia Bureau of Investigation's Will Trent and medical examiner Sara Linton (250,000-copy first printing).