Click here for additional new Prepub Alert columns
Margaret Atwood & others. Fourteen Days: An Unauthorized Gathering. Harper. Sept. 2022. 384p. ISBN 9780358616382. $27.99. lrg. prnt. CD. LITERARY
Calling on a Lower East Side tenement as COVID descends, this novel introduces us to 14 characters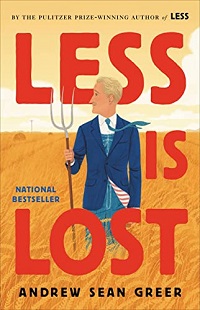 dealing with the crisis. The cool thing: each character is written by a different author, all of them outstanding; they range from Margaret Atwood, Douglas Preston, and Emma Donoghue to Diana Gabaldon, Ishmael Reed, and Tommy Orange. This conversation starter has a 100,000-copy first printing.
Bialosky, Jill. The Deceptions. Counterpoint. Sept. 2022, 320p. ISBN 9781640090248. $26. LITERARY
An executive editor and vice president at Norton, a poet honored by the Poetry Society of America, and a New York Times best-selling memoirist (History of a Suicide: My Sister's Unfinished Life), Bialosky is also an accomplished novelist (The Prize). Her protagonist here, an empty nester who teaches Greek mythology at an elite boys' high school in New York, tries to relocate the meaning of her life and her weakening marriage as she strolls the Greek and Roman wing of the Metropolitan Museum of Art, anxiously anticipating the forthcoming publication of her debut poetry collection.
Cruz, Angie. How Not To Drown in a Glass of Water. Flatiron: Macmillan. Sept. 2022. 208p. ISBN 9781250208453. $27.99. LITERARY
After decades at the local lamp factory, Cara Romero has lost her job in the Great Recession, and she's meeting with a job counselor. Instead of talking about work, though, she spends 12 sessions spilling forth her story of wild love affairs, close but querulous relations with neighbor Lulu and sister Angela, her financial struggles and frustration with gentrification, and her heart-rasping estrangement from son Fernando. With a 100,000-copy first printing; from the author most recently of Dominicana, a Women's Prize finalist and a Good Morning America Book Club pick.
D'Erasmo, Stacey. The Complicities. Algonquin. Sept. 2022. Gree304p. ISBN 9781643751962. $27. LITERARY
When her husband goes to prison for running a Ponzi scheme that lost people millions, Suzanne disappears to a ratty little seaside town and tries to put him and her old life behind her. His early release complicates matters, all the more because Suzanne has self-righteously given whatever money they had left to an oceanic foundation. How much did she know? What are her responsibilities now? Following 2014's NPR and BBC best-booked Wonderland.
Escoffery, Jonathan. If I Survive You. MCD: Farrar. Sept. 2022. 272p. ISBN 9780374605988. $27. LITERARY
This debut from Plimpton Prize winner Escoffery links together sharply conceived scenarios to tell the story of a Jamaican family striving to make it in Miami. As they survive hurricane, recession, marital breakup, lousy houses, subpar jobs, and discrimination, they wrestle with issues of self and identity; here they are Black, while back home folks say they're no longer Jamaican. At the narrative heart is younger son Trelawny, figuring out how to survive. A buzzing debut and at first glance refreshingly original and caustically beautiful; with a 100,000-copy first printing.
Gilliss, Meghan. Lungfish. Catapult. Sept. 2022. 320p. ISBN 9781646220915. $26. LITERARY
From Pushcart and Glimmer Train nominee Gilliss, this debut features a couple driven by debts from the husband's addiction to hide away on a deserted island off the coast of Maine, where they live illegally while trying to scrape together enough money to depart before the winter snows—or maybe the police—arrive. With the husband attempting to detox, the story is essentially the wife's, following her as she tends to their daughter, forages for berries and mussels, and struggles with the vast emptiness within and without.
Giraldi, William. About Face. Liveright: Norton. Sept. 2022. 336p. ISBN 9781324091356. $28. LITERARY
Broke 30-year-old journalist Seger Jovi is tasked with profiling Val Face, a Kahlil Gibran–like guru worshiped by millions and surrounded by pumped bodyguards and officious handlers, and promptly crucifies him in print. Then he falls under Val Face's spell, even as a stalker comes gunning. Giraldi's LJ-starred Hold the Dark is now a Netflix original film.
Greer, Andrew Sean. Less Is Lost. Little, Brown. Sept. 2022. 336p. ISBN 9780316498906. $31. lrg. prnt. CD. LITERARY
In his latest, the author of the Pulitzer Prize–winning Less reveals what his hapless if lovable protagonist is stumbling through next. Faced with a financial shortfall even as he grieves the death of an old lover, Less accepts a series of speaking engagements that send him careening cross-country in a rust-ridden van, with black pug Polly riding shotgun. Alas for his ego, he keeps getting mistaken for someone else; maybe growing that handlebar mustache wasn't wise.
Homes, A.M. The Unfolding. Viking. Sept. 2022. 416p. ISBN 9780735225350. $27. LITERARY
Angered by Barack Obama's election to the presidency, the Big Guy joins with likeminded buddies as they plan disruptions to the nation's forward momentum, seeking to hang on to their large slice of the pie. Meanwhile, his wife mourns her wasted life and his daughter realizes that her father's version of history is not hers. Investigating the meaning of truth, freedom, and democracy—and how those words signify different things to different people—Homes shows us a divided country within a divided household. From the author of the Women's Prize–winning May We Be Forgiven.
House, Silas. Lark Ascending. Algonquin. Sept. 2022. 288p. ISBN 9781643751597. $27. LITERARY
With much of the United States destroyed by fire, its inhabitants become refugees, and Lark and his family grab room on a boat sailing for Ireland, the last country in an extremist-plagued Europe willing to accept huddled masses from across the water. He alone survives but finds Ireland less welcoming than rumored and is soon on the run, befriending an abandoned dog and a woman seeking her lost son. Near-future dystopia from the author of the award-winning Southernmost.
Jaye, Lola. The Attic Child. Morrow. Sept. 2022. 384p. ISBN 9780063260375. $27.99. LITERARY
In early 1900s Britain, young Celestine lives in an attic in a house by the sea, having been taken from his African home to act as an unpaid servant to English explorer Sir Richard Babbington. In 1974, orphaned Lowra, whose privileged family has suffered misfortune, is trapped in the same attic, where she finds mementos and a message carved in an unknown language by her predecessor. British therapist/novelist Jaye (Being Lara) turns to historical epic in a story inspired by the photograph of a boy named Ndugu M'Hali taken from his home in Tanzania; with a 75,000-copy first printing.
Li, Yiyun. The Book of Goose. Farrar. Sept. 2022. 320p. ISBN 9780374606343. $27. LITERARY
In benighted postwar rural France, Fabienne and Agnès survive by creating a secret world of their own until Fabienne concocts a plan that sends Agnès into the larger world. Ten years later, Agnès is living in the United States when she learns that Fabienne is dead. A study of friendship and the uneasy workings of fate; with a 50,000-copy first printing; from MacArthur Fellow and Windham-Campbell Prize–winning Li.
McEwan, Ian. Lessons. Knopf. Sept. 2022. 480p. ISBN 9780593535202. $30. LITERARY
In a narrative that moves from the Suez Crisis to the fall of the Berlin Wall to the current pandemic, Roland Baines has lessons to learn, starting with adjusting to an unconventional boarding school as an 11-year-old life and experiencing the complexities of his piano teacher's attentions. Decades later, as Chernobyl scars the landscape, Roland is left with his little son when his wife vanishes, and he starts looking to better understand his life as he seeks comfort in art, friendship, sex, and hard-to-grasp love. From the multi-award-winning author of Atonement.
Mestre-Reed, Ernesto. Sacrificio. Soho. Sept. 2022. 456p. ISBN 9781641293648. $27. LITERARY
In 1998 Havana, fresh-from-the-country Rafa, an African-Cuban orphan, falls in with his boss's son, Renato. Renato is the mastermind behind "Los Injected Ones," a group of young, HIV-positive counterrevolutionaries planning to overthrow the Castro government during Pope John Paul II's historic visit to Cuba, and his disappearance sets Rafa on a search through tourist hotels, an AIDS sanatorium, and finally the distinctively slapped-together slum that serves Los Injected Ones as home. From the Guantánamo-born, New York–based author of The Second Death of Única Aveyano.
O'Farrell, Maggie. The Marriage Portrait. Knopf. Sept. 2022. 304p. ISBN 9780593320624. $28. lrg. prnt. LITERARY
Having won a stack of awards for the Shakespearian meditation Hamnet, O'Farrell moves on to 1550s Florence, where barely pubescent Lucrezia de Medici is content to be the obscure third daughter of the grand duke. Then an older sister dies on the eve of marrying the ruler of Ferrara, Moderna, and Regio, and the groom opts for Lucrezia instead. Lucrezia can't understand her new husband is both a lover of the arts and a fearsome politician, but her job is clear: to produce an heir.
Serpell, Namwali. The Furrows: An Elegy. Hogarth: Crown. Sept. 2022. 288p. ISBN 9780593448915. $27. LITERARY
When Cassandra Williams is 12, her younger brother, Wayne, vanishes in a terrible accident; his body is never found, and her family crumbles as her father leaves to start another family and her mother begins an organization dedicated to missing children. Cassandra herself goes through life thinking that she sees her brother everywhere, finally meeting a man named Wayne who seems achingly familiar. Windham-Campbell/Caine Prize/Ronna Jaffe honoree Serpell (The Old Drift) offers a study of grief; as Cassandra says, "I don't want to tell you what happened; I want to tell you how it felt."
Shamsie, Kamila. Best of Friends. Riverhead. Sept. 2022. 288p. ISBN 9780593421826. $26. LITERARY
Close friends since childhood in Karachi, Zahra and Maryam have successfully bridged differences in their backgrounds and their beliefs, even after one awful night of adolescent excess that changed the directions of their lives. Three decades later, they're well established in London when two shadowy figures emerge from the past to challenge the very basis of their friendship. From the author of the LJ best-booked, Women's Prize–winning Home Fire.