Suspense looms for the New Year.
Click here for additional new Prepub Alert columns
Burke, Alafair. Find Me. Harper. Jan. 2022. 320p. ISBN 9780062853363. $26.99. lrg. prnt. THRILLER
After a car wreck, the woman who now calls herself Hope Miller was left with no memory but appreciates how residents of the New Jersey town where she was found took her in.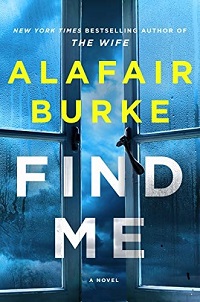 Still, after 15 years she feels the need to start over, moving to East Hampton and promptly disappearing, to the alarm of best friend Lindsay Kelly, a Manhattan defense lawyer.
Gardner, Lisa. One Step Too Far. Dutton. (Frankie Elkin Novel, Bk. 2). Jan. 2022. 400p. ISBN 9780593185414. $27. lrg. prnt. THRILLER
In this follow-up to Before She Disappeared, middle-aged recovering alcoholic Frankie Elkin keeps up the job she has crafted for herself: finding people after everyone else has given up. Here she goes after a young man lost in the forest but soon realizes that it's not a simple case; other people are vanishing in a situation that's turning more ominous by the moment.
Golden, Christopher. Road of Bones. St. Martin's. Jan. 2022. 240p. ISBN 9781250274304. $27.99. THRILLER/SUPERNATURAL
In this latest from New York Times best-selling and Bram Stoker award-winning Golden, a film crew is investigating a ghost story more haunting than most. The setting is the Kolyma Highway, which runs through Russia's Far East, and the bodies of the thousands of gulag prisoners who died building it are interred beneath its gravelly surface. With a 60,000-copy first printing.
Griffin, W.E.B. & William E. Butterworth. The Attack. Putnam. Jan. 2022. (Badge of Honor). 368p. ISBN 9780525541752. $28. CD/downloadable. ACTION & ADVENTURE
Philadelphia homicide sergeant Matt Payne is sure he knows who killed the suburban high school cheerleader found floating in the Delaware…but maybe he's wrong. Next in New York Times best-selling "Badge of Honor" series, originally scheduled for August 2019, then postponed to June 2020 and finally January 2022.
Gudenkauf, Heather. The Overnight Guest. Park Row: Harlequin. Jan. 2022. 352p. ISBN 9780778333166. $28.99; pap. ISBN 9780778311935. $17.99. THRILLER
Known for her small-town thrillers, the New York Times best-selling Gudenkauf here takes us farther afield, with true-crime writer Wylie Lark snowbound in a remote farmhouse where two people were murdered and a little girl vanished. Then she discovers a shivering child outside her door and gets the distinct feeling that she is being watched.
Hamilton, Karen. The Ex-Husband. Graydon House: Harlequin. Jan. 2022. 320p. ISBN 9781525899881. $28.99; pap. ISBN 9781525811609. $16.99. THRILLER
Charlotte happily grabs a job as personal assistant for an engagement party aboard a private luxury cruise ship, eager to start over after divorcing her disreputable con-artist husband, Sam. But Sam has gone missing after leaving her opaque messages about threats he's been receiving, and as increasingly creepy events unfold, Charlotte wonders if someone onboard knows about her past. Following the best-selling The Perfect Girlfriend and The Last Wife.
Kepler, Lars. The Mirror Man. Knopf. Jan. 2022. 480p. tr. from Swedish by Alice Menzies. ISBN 9780593321027. $28.95. THRILLER
Five years after her abduction at age 17, Jenny is found dead in a public park, and Det. Joona Linna of Sweden's National Crimes Unit recognizes similarities to a presumed suicide years before. Now another teenage girl has vanished, and the police realize that they are dealing with a serial killer. His victims' voices are heard in the grisly background of this latest thriller from Sweden phenomenon Kepler, a husband-and-wife team.
Krentz, Jayne Ann. Lightning in a Mirror. Berkley. Jan. 2022. NAp. ISBN 9780593337752. $28. THRILLER
In the "Fogg Lake" trilogy, wrapping up here, weird things keep happening in a tiny Washington town after an underground explosion decades ago, and nothing is weirder for Olivia LeClair than having Harlan Rancourt—long assumed dead—approach her table at a speed-dating event and tell her she must help him find the shrouded-in-mist Vortex lab. The director of Olivia's psychic investigation firm says she's got to help, regardless of Harlan's motivations; Vortex is a lethal threat.
Lippman, Laura. Seasonal Work: Stories. Morrow. Jan. 2022. 384p. ISBN 9780063000032. $26.99. lrg. prnt. THRILLER/SHORT STORIES
A husband's secret cellphone, a father's secret past, a mother's secrets, period—easy to hide behind the veneer of ordinary housewife; these are the scenarios found in this collection from award-winning thriller master Lippman. Included here is "Just One More," a previously unpublished novella about a couple whose efforts to juice up their marriage have unfortunate consequences.
Lutz, Lisa. The Accomplice. Ballantine. Jan. 2022. 368p. ISBN 9781984818263. $28. Downloadable. THRILLER
Rich, cranky Owen and straight-shooting Luna have been practically joined-at-the-hip buddies since college, their friendship hiding the usual secrets—and one that's truly dangerous. So when Luna, who's lately been doing a lot of secret drinking with Owen, finds Owen's wife brutally murdered, a lot of ugliness pours forth and spells ruin for their tight bond. A stand-alone from the author of the New York Times best-selling "Spellman File" series.
Nakamura, Fuminori. My Annihilation. Soho Crime. Jan. 2022. 264p. ISBN 9781641292726. $27.95. NOIR
"Turn this page, and you may forfeit your entire life." What would you do if you read those lines? Can reading a diary implicate its interrogator in a terrible crime? Can an offhand suggestion turn someone into a murderer? These are the questions carefully weighed by award-winning Japanese author Nakamura in his latest literary noir.
Petrie, Nick. The Runaway. Putnam. Jan. 2022. 400p. ISBN 9780525535508. $27. Downloadable. THRILLER
Peter Ash, a veteran of the Iraq and Afghanistan wars who now battles post-traumatic stress disorder, is driving through Nebraska's backroads when he comes upon a pregnant woman stranded when her car runs out of gas. Of course, he'll give her a lift, but that puts the woman's furious ex-husband—also an ex-cop—on their trail. Alas for Helene, she saw something she shouldn't have.
Taylor, Brad. End of Days. Morrow. Jan. 2022. (A Pike Logan Thriller, Bk. 16). 464p. ISBN 9780062886101. $28.99. lrg. prnt. THRILLER
Taskforce operators Pike Logan and Jennifer Cahill are sitting out COVID-19 in Charleston, SC, when terrorist hunters Aaron and Shoshana arrive at their front door with a new mission for them. The former head of Israeli intelligence has been bloodily dispatched in Switzerland; an Iraq-based, Iranian-funded militia group claims responsibility for this and other deaths; and our Taskforcers must determine who is really behind the violence.
Tracy, P.J. Desolation Canyon. Minotaur: St. Martin's. Jan. 2022. 352p. ISBN 9781250754950. $27.99. THRILLER
In the LJ-starred series-starter Deep into the Dark, LAPD Detective Margaret Nolan joined forces with bartender Sam Easton, an emotionally shattered Afghanistan war vet, when he was accused of a crime she believed he didn't commit. No plot details yet, but they're back for a new round in this latest from New York Times best-selling Tracy, who wrote the celebrated "Monkeewrench" series with her late mother, P.J.