Fantasy, folklore, and cyberpunk.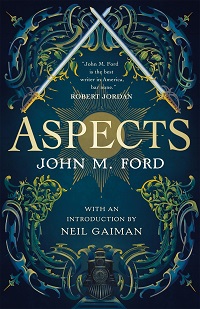 Click here for additional new Prepub Alert columns
Crowley, John. Flint and Mirror. Tor. Apr. 2022. 256p. ISBN 9781250817525. $26.99. FANTASY/HISTORICAL
Davenport, N.E. The Blood Trials. Harper Voyager. Apr. 2022. 464p. ISBN 9780063058484. $27.99. CD. SF/ACTION & ADVENTURE
Ford, John M. Aspects. Tor. Apr. 2022. 496p. ISBN 9781250269034. $26.99. FANTASY/EPIC
Griffith, Nicola. Spear. Tordotcom. Apr. 2022. 192p. ISBN 9781250819321. $19.99. FAIRY TALES/FOLKLORE
Kenyon, Sherrilyn. Shadow Fallen: A Dream-Hunter Novel. Tor. Apr. 2022. 288p. ISBN 9781250773869. $27.99. ROMANCE/FANTASY
Kingfisher, T. Nettle & Bone. Tor. Apr. 2022. 256p. ISBN 9781250244048. $25.99. FAIRY TALES/FOLKORE
Martinez, Gama Ray. God of Neverland: A Defenders of Lore Novel. Apr. 2022. 352p. ISBN 9780063014633. $27.99. CD. FANTASY/HISTORICAL
Monáe, Janelle. The Memory Librarian: And Other Stories of Dirty Computer. Harper Voyager. Apr. 2022. 368p. ISBN 9780063070875. $28.99. SF/CYBERPUNK
Power, Rory. In a Garden Burning Gold. Del Rey: Ballantine. Apr. 2022. 416p. ISBN 9780593354971. $27. Downloadable. FANTASY/EPIC
Roanhorse, Rebecca. Fevered Star. Gallery: Saga: S. & S. Apr. 2022. 416p. ISBN 9781534437739. $27.99. CD. FANTASY/LGBTQ+
Ward, J.R. Lover Arisen. Gallery: S. & S. Apr. 2022. 512p. ISBN 9781982179991. $28. CD. PARANORMAL/ROMANCE
In Flint and Mirror, with the Irish battling English encroachment, Hugh O'Neil, Lord of the North, is torn between England's Elizabeth the Great, who signals her devotion to him with an obsidian mirror, and the flint-bearing ancient Irish arising from the underworld to make him the country's savior; from Crowley, winner of the World Fantasy Award for Lifetime Achievement (75,000-copy first printing). In Davenport's debut, a young Black woman faces both racism and misogyny when she commits herself to the Praetorian Trials—better called The Blood Trials, as only a quarter of the participants survive—to find out who assassinated her grandfather and seek revenge (75,000-copy first printing). Award-winning author Ford was working on Aspects at his untimely death in 2006, and the novel—set in an alternate 18th century and blending swords and machine guns, magic fantasy and politics—has finally achieved publication (60,000-copy first printing). With Spear, Nebula and Lambda award–winning Griffith offers a queer retelling of the Arthurian legend, with a girl raised in a cave following her destiny to the court of King Artos of Caer Leon (100,000-copy first printing). In Kenyon's Shadow Fallen, set during the Norman Conquest, an invading knight—actually son of one of the universe's more deadly powers—realizes that a noblewoman he encounters is an immortal transformed by sorcery into a flesh-and-blood human, and he must restore her to her rightful place or tragedy awaits (250,000-copy first printing). In the Hugo and Nebula award-winning Kingfisher's Nettle and Bone, reticent Marra is fed up with the way her kingdom's prince mistreats her sisters and seeks the help of a gravewitch so that she can get rid of him for good. Reimagining J.M. Barrie's Peter Pan, Martinez's God of Neverland features the adult Michael Darling on a rescue mission to his erstwhile home, where magic is threatened and Peter Pan (whose real name is Maponos) has gone missing (75,000-copy first printing). Star-dusted singer, songwriter, and actor, Monáe puts to page the Afrofuturistic world evident in her celebrated album Dirty Computer in The Memory Librarian, exploring how race, gender identity, and love fare in a totalitarian environment as Jane 57821 decides that she does not want to lead the life intended for her (200,000-copy first printing). From Power, the New York Times best-selling author of Wilder Girls, In a Garden of Burning Gold features twins Rhea and Lexos, who must contend with activists challenging their irascible father's governance of their small, ever-teetering country. Having won Hugo, Nebula, and Locus awards, Roanhorse follows up her award-finalist epic Black Sun with the sequel Fevered Star, set in the Meridien, where magic is controlled, the gods smashed down, and sea captain Xiala caught up in the ensuing chaos (75,000-copy first printing). Ward returns with Love Arisen, next in the "Black Dagger Brotherhood" series, stark, shadowy, and erotic but no details yet (125,000-copy first printing).
Click here for additional new Prepub Alert columns