Flying high in June with leading fantasy titles.
Click here for additional new Prepub Alert columns
Basu, Samit. The City Inside. Tordotcom. Jun. 2022. 256p. ISBN 9781250827487. $25.99. SF/CYPERPUNK
In a near-future Delhi, reclusive video-gamer Rudra accepts a job from Joey, who supervises the multimedia multi-reality livestreams of a booming South Asian online celebrity who happens to be a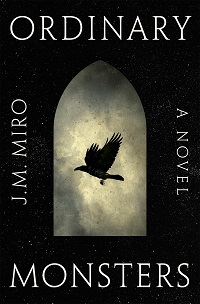 former lover. Soon, Rudra and Joey find themselves swamped by ugly surveillance capitalism, branching conspiracies, and a shadowy world where nothing is as it seems. From leading Indian author Basu; with a 75,000-copy first printing.
Coates, Darcy. From Below. Poisoned Pen: Sourcebooks. Jun. 2022. 480p. ISBN 9781728220239. pap. $15.99. HORROR
Vanishing seemingly off the face of the earth after sending an incomprehensible message, the SS Arcadia is discovered 60 years later in the depths of the ocean, far from its intended course. Not surprisingly, as this is USA Today best-selling horror master Coates, the divers tasked with exploring the wreck to discover what happened soon find themselves trapped in a nightmare.
Harrow, Alix E. A Mirror Mended. Tordotcom. Jun. 2022. 144p. ISBN 9781250766649. $18.99. FANTASY
Having awakened sleeping beauties, burned injurious spindles, and consorted with raucous good fairies and importuning royals, professional fairy-tale fixer Zinnia Gray wishes these characters would mend their own problems, already. Then she sees an unfamiliar face, gorgeous and cruel, in her mirror: Snow White's Evil Queen wants her own improved ending. From the Hugo Award–winning author of the "Fractured Fables" series; with a 100,000-copy first printing.
Johnson, Mat. The Invisible Things. One World: Ballantine. Jun. 2022. 288p. ISBN 9780593229255. $27. SF/SPACE EXPLORATION
Claiming Hurston/Wright and John Dos Passos honors, plus a United States Artist James Baldwin Fellowship, Johnson crafts the imaginatively allegorical tale of a spaceship captained by vainglorious capitalist Bob, who's circumnavigating the Jovian moon Europa with a mostly fawning crew. The exceptions are Dwayne and Nelani, but they're the ones to make the big discovery: a domed city mirroring U.S. habitations and peopled by generations of UFO abductees. Who's in control here?
Liu, Ken. Speaking Bones. Gallery: Saga: S. & S. Jun. 2022. 1072p. ISBN 9781982148973. $29.99. CD. FANTASY/EPIC
Claimant to a stack of Hugo, Locus, Nebula, and World Fantasy trophies and finalist ribbons, Liu wraps up the "Dandelion Dynasty" with Princess Théra and Pékyu Takval fearing they cannot follow their ancestors' dream and the people of Dara struggling to survive in the face of the bloodthirsty Lyucu. With a 50,000-copy first printing.
McClellan, Brian. In the Shadow of Lightning. Tor. Jun. 2022. 576p. ISBN 9781250755698. $28.99. FANTASY/EPIC
"Powder Mage" author McClellan launches a new series with Demir Grappo returning from an outlier life to head his family after the murder of his mother. And none too soon, as godglass, the magical power that keeps the empire humming, is fast running out, and Demir must build up allies to save it. With a 100,000-copy first printing.
Miro, J.M. Ordinary Monsters. Flatiron: Macmillan. Jun. 2022. 672p. ISBN 9781250833662. $28.99. CD. FANTASY
In 1882 London, two children with unexplained powers—the self-healing Charlie and foundling Marlowe, who can mend damaged flesh or melt it—join a crew of Talents at a school in Scotland, escorted by a female detective soon to be shocked out of her indifference. At the school, the worlds of the living and the dead abide uneasily, and the children have monsters to face. A series launch with a jaw-dropping 500,000-copy first printing.
Reid, Ava. Juniper & Thorn. Harper Voyager. Jun. 2022. 368p. ISBN 9780062973160. $27.99. FANTASY
Reid sets her retelling of the Brothers Grimm fairytale "The Juniper Tree" in the world of her internationally best-selling The Wolf and the Woodsman, crafting the story of Marlinchen and her two sisters, the only true witches left in Oblya and unfortunately burdened with an overbearing wizard father. Marlinchen is just beginning to rebel when her magic is needed to save Oblya from a looming monster. With a 100,000-copy first printing.
Robson, Eddie. Drunk on All Your Strange New Words. Tordotcom. Jun. 2022. 288p. ISBN 9781250807342. $26.99. SF/MYSTERY
Lydia, who works diligently if not brilliantly as a translator for the Logi cultural attaché to Earth, suddenly finds herself amid an intergalactic dustup with nowhere to turn. British sf/comedy writer Robson has honed his skills on the sitcomWelcome to Our Village, Please Invade Carefully and various Doctor Who spinoffs; with a 40,000-copy first printing.
Rowland, Alexandra. A Taste of Gold and Iron. Tordotcom. Jun. 2022. 480p. ISBN 9781250800381. $27.99. FANTASY/EPIC
Cohost of the Hugo Award–nominated podcast Be the Serpent and author of the LJ-starred A Choir of Lies, Rowland dreams up the tale of a prince who gets on the wrong side of a powerful ambassador to the court and must call on his sister Kadou to help him prove his loyalty to the queen. Kadou investigates a break-in at one of their guilds and discovers a conspiracy that could ruin the kingdom, where myth and history entwine. With a 50,000-copy first printing.
Whitten, Hannah. For the Throne. Orbit: Hachette. Jun. 2022. 448p. ISBN 9780316592819. pap. $17.99. FANTASY/EPIC
In her New York Times best-selling debut, For the Wolf, Red is to be sacrificed to the Wolf to save her kingdom but meets a different fate. Here, Red and the Wolf have dispelled the danger posed to their world by the Old Kings, who are nevertheless gaining control in the Shadowlands, where Red's beloved sister Neve is now lost. With a 55,000-copy first printing.