Debuts, series wrap-ups, and big-name authors.
Click here for additional new Prepub Alert columns
Fantasy
Banker, Ashok K. The Blind King's Wrath. Mariner: Houghton Harcourt. (Burnt Empire Saga, Bk. 3). May 2022. 448p. ISBN 9780358451334. pap. $17.99. FANTASY/EPIC
Clinching the "Burnt Empire Saga," this follow-up to the LJ -starred Upon a Burning Throne has Krushni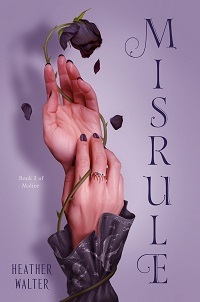 seeking to avenge her father's death even as a wedding contest in Gwannland is secretly meant to destroy the place forever. The series has been called an Indian Game of Thrones, with Banker dubbed India's leading fantasy author.
Bear, Elizabeth. The Origin of Storms. Tor. (Lotus Kingdoms, Bk. 3). May 2022. 384p. ISBN 9780765380173. $28.99. FANTASY/EPIC
Two-time Hugo Award winner wrap ups her "Lotus Kingdoms" series with four claimants clamoring for the sorcerous throne of the Alchemical Emperor, deploying three armies among them. Rajni Mrithuri is the most likely heir but needs an heir of her own to maintain her position. With a 35,000-copy first printing.
Estep, Jennifer. Tear Down the Throne. Harper Voyager. (Gargoyle Queen, Bk. 2). May 2022. 464p. ISBN 9780063023093. pap. $16.99. FANTASY/EPIC
In this second in her "Gargoyle Queen" series, spun off from her best-selling "Crown of Shards" trilogy, Gemma Ripley of Andvari is determined to defend her kingdom, which leads her to a summit among competing kingdoms and another meeting with Prince Leonidas, son of conniving Queen Maeven Morricone of Morta. He's a threat to Gemma, but she can't help feeling attracted. With a 50,000-copy first printing.
McGuire, Seanan. Seasonal Fears. Tordotcom. May 2022. 496p. ISBN 9781250768261. $29.99. FANTASY
Awards-laden McGuire returns to the world of Middlegame, where the queen of summer is fading toward death and the king of winter bemoans his fate: a life without her sunshine. Then they see an alternative and take it, trailed by those who wish them harm. With a 175,000-copy first printing.
Walter, Heather. Misrule. Del Rey: Ballantine. (Malice, Bk. 2). May 2022. 432p. ISBN 9781984818683. $27. Downloadable. FANTASY/EPIC
In the much-praised Malice, librarian Walter's thorny reimagining of Sleeping Beauty, Princess Aurora saw the best in the Dark Grace Alyce, which others didn't see. Now she lies sleeping endlessly under a terrible curse that cannot be lifted even by powerful Alyce, who become the utterly wicked villain everyone imagined her to be to save her beloved.
Dystopian
Swan, Erin. Walk the Vanished Earth. Viking. May 2022. 384p. ISBN 9780593299333. $ 27. POST-APOCALYPTIC
Pushcart-nominated debuter Swan's story swirls from a buffalo hunter on a Kansas plain in 1873, to a mute teenage girl crossing the same plain in 1975, to an engineer who constructs a floating city above the submerged streets of New Orleans in 2024, to a girl named Moon on Mars in 2073, who looks down on what's now called the blue planet—once Earth, completely covered by water. Does she want to help repopulate Mars with humans? Comparisons to Emily St. John Mandel's Station Eleven.
Vara, Vauhini. The Immortal King Rao. Norton. May 2022. 400p. ISBN 9780393541755. $27.95. DYSTOPIAN
King Rao created a whole new world with his personal computer, the Coconut, and a corporate-run government now reigns supreme. His daughter, Athena, belongs to a resistance group wanting to live tech-free—except that she's in prison, accused of her father's murder and stuck with his memories via biotechnological innovation, which allows her to revisit his Dalit childhood in 1950s India. Former Wall Street Journal Vara, from a Dalit background, claims O. Henry Prize and Rona Jaffe honors.
Yoon, David. Citiy of Orange. Putnam. May 2022. 352p. ISBN 9780593422168. $27. FANTASY/PSYCHOLOGICAL
An award-winning, best-selling YA author who went adult with 2021's Version Zero, Yoon sets his new work in an apocalyptic landscape, where the protagonist wakes up solitary, injured, and almost completely bereft of memories. As he frantically searches for food and water, he encounters a young lad and starts to realize that things aren't what they seem.
Magic realism
Erlick, Nikki. The Measure. Morrow. May 2022. 368p. ISBN 9780063204201. $27.99. lrg. prnt. MAGIC REALISM
One day, everyone on Earth receives a small wooden box bearing the inscription "The measure of your life lies within" and containing a length of string—with different lengths for different recipients. Terrified to contemplate how much time they have to live, people fall back frantically on past belief or forge bold new connections as debuter Erlick considers how best to live life. With a 150,000-copy first printing.
Miller, Kirsten. The Change. Morrow. May 2022. 352p. ISBN 9780063144040. $27.99. lrg. prnt. MAGIC REALISM
Widowed empty-nester Nessa James begins hearing voices and realizes that like her foremothers she can commune with the dead. Harriett Osborne remains indoors after both career and marriage crash, undergoing an extraordinary transformation. Former executive Jo Levison has always felt tortured by her body but realizes with menopause that she's found a special power she can deploy. The three join forces, guided by Nessa's voices, to discover the truth about a teenage girl whose body was cruelly dumped on a Long Island beach. From top feminist YA author Miller ("Kiki Strike" series); with a 150,00-copy first printing.