Memoir as history, plus reflections on life.
Click here for additional new Prepub Alert columns
Coulter, Kristi. Exit Interview: A Memoir. MCD: Farrar. Sept. 2023. 384p. ISBN 9780374600907. $29. Downloadable. MEMOIR
In 2006, Coulter (Nothing Good Can Come from This) left a secure, uneventful job for the excitement of working for Amazon.com and instead discovered seven-day workweeks, burned-out colleagues, and a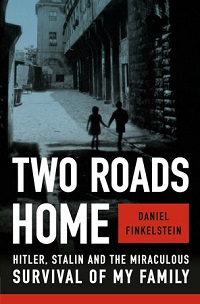 culture of fear. Here's why she stayed and why she finally left. With a 50,000-copy first printing.
DiGiulian, Sasha. Take the Lead: Hanging On, Letting Go, and Conquering Life's Hardest Climbs. St. Martin's. Sept. 2023. 288p. ISBN 9781250280701. Downloadable. $29. MEMOIR
A world-champion climber, DiGiulian sits on top of the world but has still had to struggle with social media pressures, body-image issues, her place in a male-dominated sport, and a potentially career-shattering injury. Here she tracks her life from novice climber to adventurer, environmentalist, and entrepreneur. With a 150,000-copy first printing.
Finkelstein, Daniel. Two Roads Home: Hitler, Stalin, and the Miraculous Survival of My Family . Doubleday. Sept. 2023. 416p. ISBN 9780385548557. $32.50. MEMOIR/HISTORY
British political columnist Finkelstein's maternal grandfather was a German Jewish intellectual who foresaw the Holocaust and led his family to Amsterdam, where they still weren't safe; as a child, Finkelstein's mother was interned in Bergen-Belsen with her mother and sisters. Eventually, the grandfather founded the Wiener Holocaust Library, the world's oldest Holocaust archive, housed at the University of London. Finkelstein's paternal grandfather, from a wealthy Polish Jewish family, was deported to Siberia during World War II while his wife and son endured forced labor in Kazakhstan. Finkelstein here blends two family stories of suffering and survival that define a tragic era in world history.
McPhee, Martha. Omega Farm: A Memoir. Scribner. Sept. 2023. 320p. ISBN 9781982197995. $28. MEMOIR
In March 2020, as her mother started sliding into dementia, novelist McPhee (Gorgeous Lies, a National Book Award finalist) returned to her childhood home in New Jersey with her husband and nearly grown children. At Omega Farm, she discovered a property in disrepair, with a broken septic tank and dying ash trees, and took up the multiple tasks of caregiving, fixing the damage, and recalling a complicated childhood there with her four sisters, five stepsiblings, and her mother and stepfather.
Raban, Jonathan. Father and Son: A Memoir. Knopf. Sept. 2023. 336p. ISBN 9780375422454. $28. MEMOIR
After a massive hemorrhagic stroke in 2011 that paralyzed the right side of his body, Raban went through a lengthy rehabilitation as he relearned basic tasks like walking, dressing, and climbing stairs. He even rethought how to approach reading and writing. Here, the recently deceased author, whose multiple awards include the Pen West and National Book Critics Circle awards, relates his own struggle to his father's fighting during World War II.
Simmons, Ruth J. Up Home: One Girl's Journey. Random. Sept. 2023. 208p. ISBN 9780593446003. $27. Downloadable. MEMOIR
The daughter of Black East Texas sharecroppers, Simmons was raised in a shack without running water or electricity. Her path from that shack took her through Houston and New Orleans, to the civil rights movement and a commitment to education that led to her becoming president of Smith College and Brown University; now she's the outgoing president of Prairie View A&M, Texas's oldest historically Black college or university. Here's her remarkable story.
Stewart, Rory. How Not To Be a Politician. Penguin Press. Sept. 2023. 352p. ISBN 9780593300329. $29. Downloadable. MEMOIR
Famed for his two-year walk across Central and South Asia in the early 2010s after leaving diplomatic service (see his best-selling The Places In Between), Stewart was elected to Britain's House of Commons as an unconventional Conservative representing the rural district of Cumbria, then ran for prime minister after nine years of service and six ministerial roles. Abhorring his party's hard turn to the populist Right, he resigned from the Cabinet and eventually the Conservative Party when Boris Johnson was elected and stood down as MP. Focusing on his political career, Stewart here provides an eye-opening look at politics today.