I keep hearing that horror is making a big comeback and keep replying, "It never went anywhere." That said, dark times are great for dark fiction, and there's no doubt horror is going through a revival thanks to the current sociopolitical landscape.
I keep hearing that horror is making a big comeback and keep replying, "It never went anywhere." That said, dark times are great for dark fiction, and there's no doubt horror is going through a revival thanks to the current sociopolitical landscape. The uglier things get, the more we turn to darkness we can control. It's a wonderful coping mechanism. But that's just the tip of the proverbial iceberg. Why is horror so popular now? The answer is complicated.
One of the main reasons horror fiction's popularity has skyrocketed in recent years is that we crave emotion. Our current addiction to screens and hectic schedules have wedged themselves between us and our ability to stay in constant touch with our feelings. We work, pay bills, go to school, take care of kids, get stuck in traffic, buy groceries, and survive each day while using our computers and checking our phones. That's when horror comes in and saves the day, even if the saving is achieved through mayhem and murder. Horror allows us to feel fear, empathy, tension, relief. It tickles our reptilian brain, triggering our fight or flight mechanisms and momentarily yanking our consciousness from domesticity. Most of us are thrill seekers to some degree, and horror is an endless rollercoaster.
Horror stories also appeal to our humanity. Take these three examples: Paul Tremblay's The Cabin at the End of the World, Tim Lebbon's The Silence, and Josh Malerman's Bird Box, the latter arguably being the biggest horror phenomenon of the past year. These narratives all feature a family at their core. We want to protect our loved ones, and horror is most effective when it can sink its teeth into our very real fears and empathy. These three novels, and the popular film adaptations of the last two, do just that. Great horror is able to make readers forge relationships with characters; we suffer when they suffer, we fear with them, we keep reading to see what happens next, hoping it all goes well but exhilarated nonetheless by the bad things that happen on the page. We become those characters, but we can also close the book and go back to our lives relatively unscathed.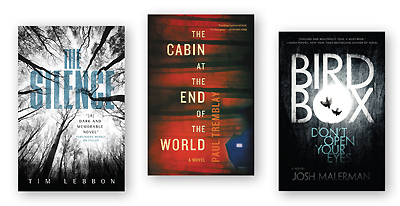 The real horrors of our country are plenty: children in cages, the systematic destruction of women's rights, rampant racism, the threat of war, etc. These real-life horrors are impossible to escape or control. They permeate the 24-hour news cycle and turn into an oppressive, omnipresent force in our lives, a hegemonic demon. Books, however, offer us relative control. We can close them. We can choose what we read. We can pick our monsters and the level of gore we want and even the atmosphere and age in which our narratives take place. We are surrounded by bad things, but we escape into horror because it's not real despite the plethora of feelings it triggers in us.
For many readers, there is no more enjoyable experience that digging into a story where people are in danger and things that shouldn't be, are. When done well, no genre can compare to horror in terms of pure entertainment value. And none of this is stopping any time soon. On the contrary; it's growing, getting better. The new wave of horror is different than fiction from previous generations; it's more exciting and diverse, rich in variety and new ideas. For example, a new crop of outstanding independent presses are publishing top-notch horror: Word Horde, Flame Tree Press, Broken River Books, Apex Book Company, Cemetery Dance Publications, Lethe Press, Journalstone, Necro Publications, Bloodshot Books, Inkshares, ChiZine Publications, Crystal Lake Publishing, and Perpetual Motion Machine Publishing are just some of the indie presses churning out superb horror and dark fiction.
The increasing diversification of the genre is one of the most important reasons for its recent rise in popularity. At this year's StokerCon, I witnessed, for the first time at a horror conference, a wide range of diverse panels instead of panels about diversity. There are more women, people of color, and members of the LGBTQA+ community getting published than ever before. This diversity translates into new horror, fresh voices, unique approaches and styles, and different points of view. It enriches the literary community as a whole and offers readers more to pick from, a wonderful variety of flavors that cater to a wide variety of tastes.
When taken as a whole, elements like our political reality, the success of authors like Josh Malerman and Caroline Kepnes, and the variety of new voices getting published add up to an exciting time and a promising future for horror. Librarians are our main gatekeepers, and, judging from the outpouring of passion at StokerCon's recent Librarians' Day, they are excited about horror, as are the publishers eager to get their books into the library market.
All of this renewed energy around horror means more books in more hands; more books getting read, sold, and celebrated. It's a wave that's bloody, scary, and full of monsters, but it's also a beautiful wave we should all be excited about.
Gabino Iglesias is a writer, editor, journalist, and book reviewer in Austin, TX. He is the author of Coyote Songs, Zero Saints (both from Broken River), and Gutmouth (Eraserhead). His work has been nominated for the Wonderland Book, Locus, and Bram Stoker awards. His literary criticism appears regularly in NPR, Vol. 1 Brooklyn, the Los Angeles Review of Books, Criminal Element, HorrorDNA, and other venues. He is book reviews editor at PANK Magazine and a columnist for LitReactor and CLASH Media. He teaches at Southern New Hampshire University's MFA program. You can find him on Twitter at @Gabino_Iglesias