Major writers turn in their next set of thrills.
Click here for additional new Prepub Alert columns
Box, C.J. Shadows Reel. Putnam. Mar. 2022. 384p. ISBN 9780593331262. $28. lrg. prnt. THRILLER
A moose-poaching incident investigated by Wyoming Game Warden Joe Pickett turns out to be ugly—a local game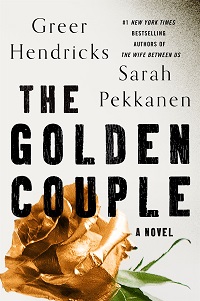 warden has been tortured to death—just as a bland, unmarked package delivered to the library proves traumatic. When it's opened by Joe's wife, Marybeth, it contains the devastatingly awful photo album of a Nazi official. Where did it come from, and what does it mean for the entire Pickett family as Thanksgiving approaches?
Brown, Graham. Untitled. Putnam. Mar. 2022. 400p. ISBN 9780593419670. $29. lrg. prnt. CD/downloadable. ACTION & ADVENTURE
Launched in 1999 as Cussler's first series not featuring Dirk Pitt, "NUMA Files" titles have proved to be perennial New York Times best sellers; the most recent title, Journey of the Pharaohs, debuted in the third spot on the paper's best sellers list. No plot details on this latest in the series, continued by longtime Cussler coauthor Brown after Cussler's 2020 death.
Coben, Harlan. The Match. Grand Central. Mar. 2022. 400p. ISBN 9781538748282. $29. THRILLER/DOMESTIC
Wilde, the child rescued from the wilderness and grown to manhood in 2020's No. 1 New York Times best-selling The Boy from the Woods, returns to follow clues to who his parents were and why they abandoned him. Complicating matters, these clues are linked to a present-day disappearance that has been presumed suicide—but who knows? With escalating sales and an exclusive multiyear deal with Netflix to develop published and future projects, Coben is booming bigger than ever.
Finlay, Alex. The Night Shift. Minotaur: St. Martin's. Mar. 2022. 368p. ISBN 9781250268884. $27.99. THRILLER
Having scored lots of attention (and LibraryReads credentials) when he debuted with Every Last Fear, Finlay returns with the tale of two nights in Linden, NJ. On New Year's Eve in 1999, three teenage girls working at a Blockbuster Video were left dead in an attack, with a fourth just managing to survive. Flash forward 15 years, and four girls are attacked one night at the local ice cream parlor. Again, only one girl survives, and FBI agent Sarah Keller, who investigated the first event, is hauntingly tasked with investigating the second. With a 75,000-copy first printing.
Hendricks, Greer & Sarah Pekkanen. The Golden Couple. St. Martin's. Mar. 2022. 336p. ISBN 9781250273208. $28.99. CD. THRILLER/DOMESTIC
Never mind that Avery Chambers's approach to therapy is so controversial that she's lost her license. Marissa Bishop willingly signs up herself and her husband because Avery says she'll take on only clients whose problems she can mend in ten sessions. Marissa intends to confess her infidelity, but far more dangerous secrets sneak into the room when the "golden" Bishops join their new therapist to talk. With a 350,000-copy first printing.
Macmillan, Gilly. The Long Weekend. Morrow. Mar. 2022. 352p. ISBN 9780063074323. $27.99. lrg. prnt. THRILLER/PSYCHOLOGICAL
Tough former soldier Jayne, diffident newlywed Emily, and Ruth, ambitious doctor and overwhelmed new mom, travel together for some down time at Dark Fell Barn in a remote corner of the British Isles, regretting only that recently widowed friend Edie can't join them. When they arrive, they find a note saying that one of their husbands will be murdered, and without phone or cell service they don't know what to do. Echoes of the Academy Award–winning film A Letter to Three Wives (1949); with a 100,000-copy first printing.
Meltzer, Brad. The Lightning Rod: A Zig and Nola Novel. Morrow. Mar. 2022. 432p. ISBN 9780062892409. $28.99. lrg. prnt. CD. THRILLER/ESPIONAGE
Remember Meltzer's No. 1 New York Times best-selling The Escape Artist, which saw U.S. Air Force mortician Jim "Zig" Zigarowski desperately seeking mercurial U.S. Army artist-in-residence Nola Brown? He's seeking her again in this follow-up. As he prepares the body of star military man Archie Mint, killed while trying to prevent a robbery at his home, Zig realizes that Archie had a connection both to Nola and to a top-secret military group that could compromise the nation. Finding Nola requires linking up with her equally difficult brother. With a 250,000-copy first printing.
Patterson, James & Dolly Parton. Run, Rose, Run. Little, Brown. Mar. 2022. 448p. ISBN 9780759554344. $30. CD/downloadable. THRILLER
Yes, that's the Dolly Parton, contributing plot points to this story of a talented young singer-songwriter who has followed her dream to Nashville but remains terrified of the seething troubles she left behind. Will shadowy figures from her past come get her? Parton wrote 12 songs especially for the book. With a one-million-copy first printing.
Pitoniak, Anna. Our American Friend. S. & S. Feb. 2022. 336p. ISBN 9781982158804. $27. THRILLER/ESPIONAGE
Fed up with the outré behavior of President Henry Caine (sounding familiar?), White House correspondent Sofie Morse is about to quit her job when she gets a call from First Lady Lara Caine, who wants Sofie to write her official biography. The enigmatic Lara was born in the Soviet Union, raised in Paris, and worked as a model; little else is known about her. But does she have some amazing Cold War secrets to spill. From the author of Necessary People; with a 100,000-copy first printing.
Scottoline, Lisa. What Happened to the Bennetts. Putnam. Mar. 2022. 400p. ISBN 9780525539674. $28. lrg. prnt. CD/downloadable. THRILLER/SUSPENSE
As star court reporter Jason Bennett drives his family home from his daughter's lacrosse game, two men in a pickup truck attempt to carjack his shiny new Mercedes. As a result, Jason's daughter is killed, and the rest of the family is placed in the witness protection program; the would-be carjackers are associated with an ominous criminal enterprise that distributes illicit opioids. Soon, though, Jason senses that the government isn't being straight with him and sneaks out to do some investigating on his own.
Searles, John. Her Last Affair. Custom House: Morrow. Mar. 2022. 336p. ISBN 9780060779658. $27.99. lrg. prnt. THRILLER/PSYCHOLOGICAL
Still living on the grounds of the now-shuttered drive-in movie theater she ran with her husband, Skyla is mourning his death and contemplating its inevitable little infelicities of their marriage until she rents a cottage to British charmer Teddy Cornwell. Meanwhile, Teddy is conducting an online affair with Linelle, dissatisfied with her marriage and jobless after a compromising photo from her youth bubbles up on social media. Teddy was Linelle's first love, and embittered writer manqué Jeremy is hunting for his first love as well. These lives come together combustibly in these latest from the New York Times best-selling Searles. With a 75,000-copy first printing.
Swanson, Peter. Nine Lives. Morrow. Mar. 2022. 320p. ISBN 9780062980076. $27.99. lrg. prnt. THRILLER/SUSPENSE
Nine strangers find their names on a list mailed anonymously, and soon bad things start happening to them, from a beloved older man's drowning at the beach to a young father's being shot while running in his quiet neighborhood. What links them? FBI agent Jessica Winslow would surely like to know, because she is on the list. Swanson sells brilliantly here and abroad, and a handful of his books have been optioned for film. With a 100,000-copy first printing.
Ward, Annie. The Lying Club. Park Row: Harlequin. Mar. 2022. 352p. ISBN 9780778333180. $28.99. THRILLER/PSYCHOLOGICAL
An office assistant at a fancy private school in Colorado, Natalie has nothing in common with wealthy school moms Brooke, a controlling heiress, and perpetually worried Asha—except that all three are attracted to the school's dashing young assistant athletic director, Nicholas. What's that got to do with two deaths at the school that eventually overturn the entire community? Ward is back after debuting with the LibraryReads pick Beautiful Bad.